Entertainment
Fox News' Arthel Neville: Married Life, Husband, and Divorce History
Neville was married to Dallas Cowboys running back Derrick Lassic in 1995. But,the marriage, unfortunately, led to divorce in 1998. Neville and her first husband, " Lassic" first met in February 1994 at the Miss USA  pageant  in South Padre Island where she was a co-host and Lassie was a judge. She found Derrick very cute and was dared by a friend for 10 bucks to introduce herself to Lassie, which apparently she won easily.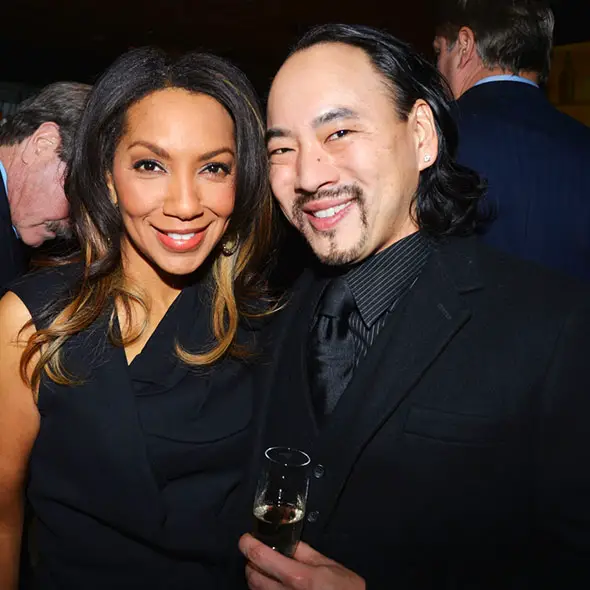 Quick Information
Divorce/Split

Yes (Once)

Lesbian

No

Eye Color

Dark Brown

Hair Color

Dark Brown

Hair

Long

Weight

N/A

Height/ How Tall? 5'8" (1.73 m)
High School

St. Mary's Dominican High School

Career

1980-present

Net Worth

Not Disclosed

Dating/Affair

No

Ex-Husband

Derrick Lassic (m. 1995–1998)

Wedding Date

2001

Date of Birth Oct 20, 1962
Husband/Spouse

Taku Hirano (m. 2001)

Relationship Status

Married

Children/Kids

Not Yet

Brother/s

Ian Neville

Mother

Lorraine Neville

Father

Art Neville

Ethnicity/Race

African-American

Zodiac Sign

Libra

Profession

Journalist

Birth Place

New Orleans, Louisiana, United States

Nationality

American
African-American Journalist/TV personality has led quite an interesting marriage life. With two marriages with quite eccentric individuals, her marriages have a lot to tell. Let's delve more into these stories.
Marriage and Divorce with Football star Derrick Lassic:
Neville got married to Dallas Cowboys running back Derrick Lassic in 1995. But, the marriage, unfortunately, led to divorce in 1998. Neville and her first husband, Lassi first met in February 1994 at the Miss USA pageant in South Padre Island where she worked as a co-host and Lassie was a judge.
She found Derrick very cute and was dared by a friend for ten bucks to introduce herself to Lassie, which she accepted.
Arthel's mother liked Lassie a lot, and she even invited him to her home for Mardi gras. 
Soon Lassie and Arthel went to Alabama to meet his parents. Lassie proposed her for marriage with a 3.7 karat diamond engagement ring hidden in a special dessert. On 22nd April 1995, at the age of 32, she married Derrick Lassie who was approximately seven years younger.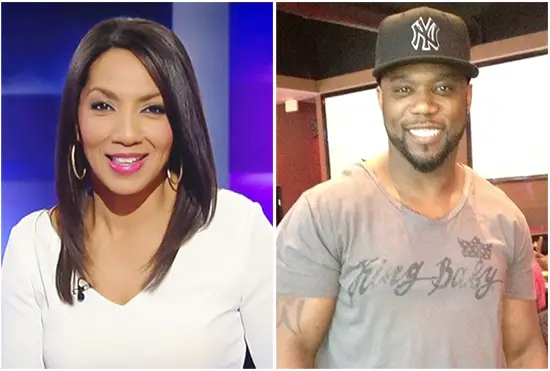 Caption: Arthel Neville and Derrick Lassic.
Source: Liveramup.com
This marriage had lasted for a few years before the couple got divorced in 1998. There were no known rumors of an affair by either partner.
Interracial Marriage with Taku Hirano:
 In 1999, in New Orleans on the backstage of a concert Arthel met Taku Hirano, her future second husband. Taku Hirano is a Music producer as well as a percussionist known for his work as the electronic Duo 'Tao of Sound'
 They dated for 2 years getting married in 2001; the couple has been living happily together since.
AXS TV is playing the Fleetwood Mac 2012 Boston concert. Unbelievable percussion work by @takuhirano — Paul A'Barge (@pabarge) December 25, 2015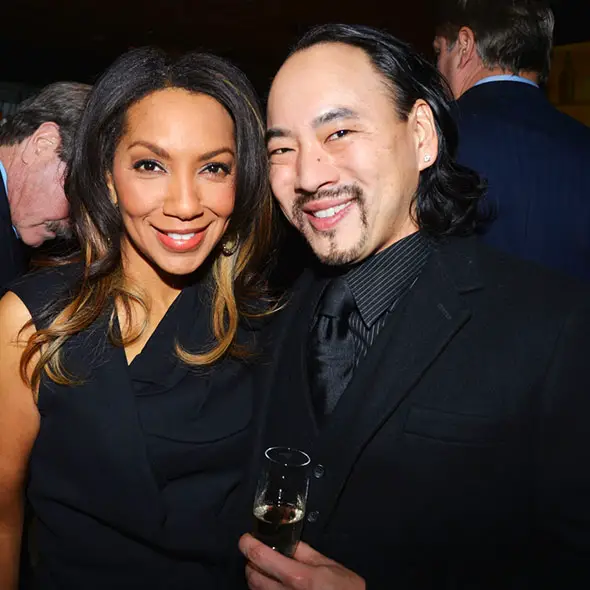 Caption: Arthel posing with husband Taku Hirano at Erica Rivera's 40th birthday on Friday, January 30th, 2015 at Monkey Bar in New York.
Source: lawlormediagroup.com
Hirano asked Arthel's parents for permission to marry Arthel. Reluctantly, they gave the couple their blessing. Arthel commented on this action stating
The initial hope in any Black family is that you will marry someone Black. But ultimately they want you to have someone who loves you and is good to you.
Sources suggest that Hirano Proposed to her in Venice, Italy, and the couple took their vows in Hawaii, on a beach.
They went to Japan to meet Hirano's family where they spent their honeymoon. They have been inducted into the list of the longest successful interracial marriage unions of all times. They do not have any children yet.
Taku Hirano snapped the photo of his wife catching up with John Travolta.
Arthel and Taku are part of the same breed: Music-loving, nomadic, driven to succeed, fiercely supportive of each other and focused on faith and family.
Taku is part of the electronic Duo 'Tao of Sound' whose music incorporates Electronic music with Jazz and Soul, similar in essence to the music of world-renowned producer Nujabes(who is of the same Japanese origin as Taku.)
Similarly, Arthel's father Art Neville is an American song artist/Keyboardist who has worked in the genre of Funk and Soul and is the founder of music groups The Hawketts, The Meters, and The Neville Brothers. It is obvious that Art would hit it off with Hirano who worked in a similar music industry as him.
Neville wished her father's a very happy day as she gives her father a very warm regard .she said that she got a chance to wish her, Art "Poppa Funk "Neville, a Happy Father's Day at the end of her new cast.
Lovely wife and Dedicated Journalist
Arthel Neville is renowned for her work as she opened the door of Journalism for African American women. With over 25 years of experience in media work, she has worked for major news network such as CNN, Fox News, E! Entertainment TV,  KVUE-TV and much more.
She has formerly worked as a co-anchor with Anderson Cooper for weekend news on CNN, a co-anchor of Bill O'Reilly on The O'Reilly Factor, co-hosted the Miss Teen USA pageant with Dick Clark, co-hosted Celebrity Hobbies with Steve Edwards and Debbie Matenopoulos as well as many more known news personalities.
She has been rewarded the Texas Exes' award for her work in the field of broadcast journalism and was nominated for 2009 Woman of the Year Award.
Known for her dedication, she doesn't shy away from pressing different personalities for truth and her ability to work professionally in any environment. Here is a recent video of hers, where she presses Katrina Pierson on Donald Trump's tax returns, something a large part of United States of America was curious about.
Arthel Neville born on October 20, 1962, is an American journalist, television personality, and weekend anchor for Fox News Channel. The University of Texas alumni, Arthel Neville currently serves as a co-anchor for Americas News HQ(Saturdays at 1PM) and is based in New York. Neville first joined FNC in 1998, where she served as a contributor until 2001. She rejoined the network in 2010 as a New York-based anchor.