Entertainment
Fox News' Lauren Green Married Life With NYC Attorney Husband Ted Nikolis. Children? Divorce Rumors?
It's Summer and at this time just like the weather you usually see a lot of romantic things. What could be any more romantic than weddings, something you keep on seeing at this time of the year. Speaking of weddings did you know Lauren Green just got married? Find out all about it below.
It's Summer and at this time just like the weather you usually see a lot of romantic things. What could be any more romantic than weddings, something you keep on seeing at this time of the year. Speaking of weddings did you know Lauren Green just got married? Find out all about it below.
Her Married Life and Husband:
Lauren Green is in the news again but thankfully not because of another one of her interview-gone-wrong. Yes, the 57-year old is confirmed married to the NYC attorney, Ted Nikolis. They had just thrown a Big Fat Greek Orthodox Cathedral Wedding in May 2015.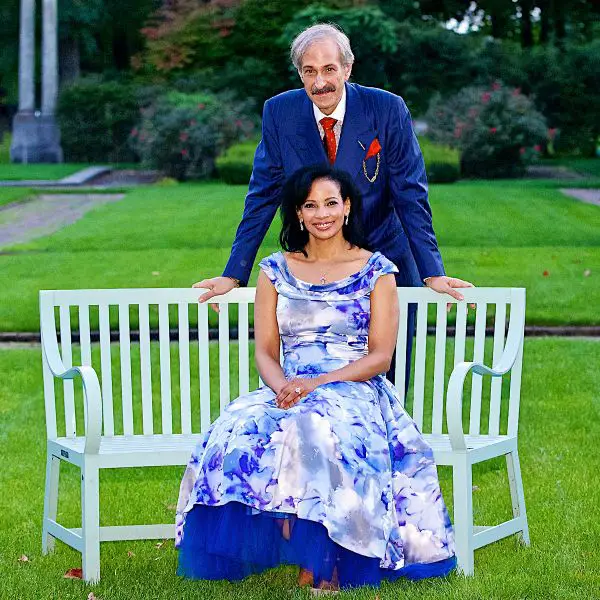 Caption: A picture of Lauren Green and Ted Nikolis.
Source: weddingwire.com
The couple had decided to take their relationship up a notch after a 3-years period. Green, who is the Chief Religion Correspondent for the Fox News channel hasn't been this famous since her single most cringe-worthy interview with Reza Aslan. (who at that time was promoting his book, 'Zealot: The Life and Times of Jesus of Nazareth' where she asked the Muslim author why he had written a book on Christianity. It caused an outbreak of chaos in the media and religious communities. She was lucky enough to escape that incident.
Caption: Lauren Green about Reza Aslan's newest book and questions his motive behind writing it.
But it seems she has moved on, putting everything else behind her. She couldn't be much happier than to have Nikolas as her Husband. The newlyweds, both have neither faced a divorce nor a marriage before. The wedding is first for the both husband and wife, so they seem thrilled by the experience.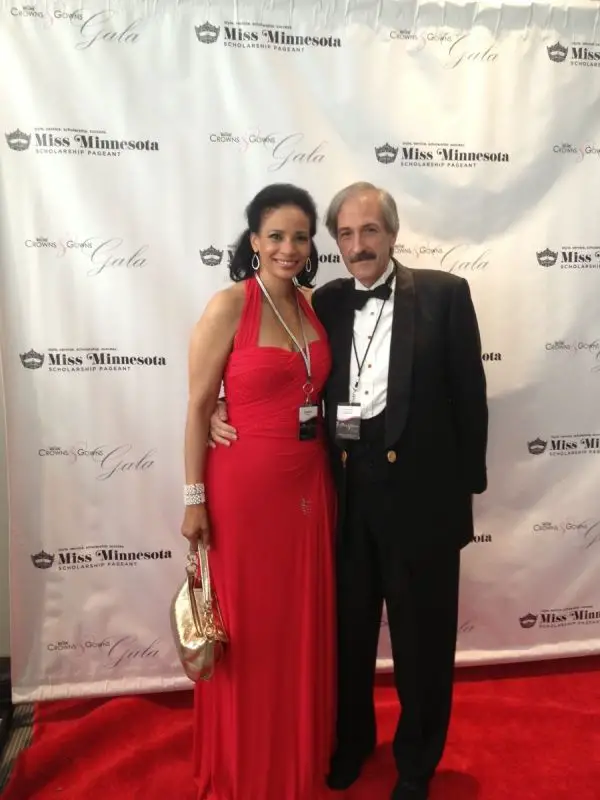 Caption: Ted Nikolis and Lauren attending the MissMinnesota pageant.
Source: weddingwire.com
Her Music Performance:
There are only a few people who are aware that Lauren is that she has a Bachelor of Music degree. She has got to use her talents at one of the greatest moments of her life. She got the chance to play the piano for the Pope Benedict XVI's brother with the pope himself in attendance in January 2014. She considered it an "Honor of a Lifetime." She has also released an album of her own called 'Classic Beauty' back in 2004.
Lauren on religion, Faith And Finding Meaning Of Life Through Assistance Of A Friend
In her new book Lighthouse Faith: God as a Living Reality in a World Immersed in Fog, Lauren Green compared her Faith to a Lighthouse. The basis for such assertion is her experiences, the difficulties she faced throughout her life and how she overcame them with her belief in God and how it made a better person by the end.
"What looked to me like adversity, calamity, and disaster was actually God looking beyond my faults and my wants, and seeing to my needs." says the Fox News Chief Religion Correspondent. 
In her book, she shows how one of her closest friend Cathy saved her in dark times when she lent Green a hand in the time of need and asked her to stay with her at her Summer house. 
Reading her book, it is evident that Lauren holds Cathy with high regards and respects her for her faith, her beliefs and how she has perserved through much more than Lauren has and yet remains thankful to the Lord.
Cathy, who Lauren met through her work as a Religion Correspondent is a Widow but one who lost a son as well. At some point, Cathy invited Lauren to her Summer home in Long Island during tough times.
At that point, Lauren had just been moved from a news cut-in anchor for a popular morning show to a religion correspondent, which felt like a demotion to her. After going through a rough breakup with no domestic or mental stability, trying to find herself in one of the biggest and most expensive city in the world, Lauren admitted to feeling lost at that point. At that time she accepted to visit Cathy's summer home which felt like a sanctuary to her.
Caption: Lauren talks about her faith and accepts the ideas of Science, Religion and Mutual Acceptance as well as her belief in Ten Commandments
Lauren explains Cathy's summer home which is a 'simple, almost farmhouse-like, with a cottage on about an acre and a half that has been in Cathy's family for several generations' as a place which holds spiritual powers, made spiritually potent by what God chooses to reveal to us while we are there. She talked about the summer house with warm feelings in her book saying,
So coming to Cathy's simple home was like coming to a sanctuary. I felt reborn and rejuvenated. Instead of coiled up like a fetus in my New York City apartment, I was able to stretch my limbs both physically and emotionally in the home's welcoming arms: its cozy fireplace radiated a sense of security; the stuffed sofa and chairs in the living room cushioned my contorted conscience, and the front porch where I'd sit staring at the lawn brought a solace I had long forgotten. 
Couple that with lots of family photos on the walls and the constant whir of conversation and cooking in the kitchen, and it restored in me the belief that my life had meaning and purpose, that relationships mattered immensely, and that one in particular was guiding me ever so lovingly and mercifully.
This revelation led her to finding her faith once again and what her duty to God was, counting her blessings and her gifts. She further thanked Cathy and talked about her revelation stating,
Through Cathy, the grace of God shone bright. I knew it for certain because of one quiet moment when God spoke to me through something so ordinary and so common—the depth of relationship and the calming presence of his created world.
Even though, the couple spoke about being fruitful and multiplying as a part of the Christian ceremony. Let's be honest; the couple is not even in their 40s so they will probably not rush into having children.