NBC Atlanta's Francesca Amiker struggled a lot to become a journalist.
Even after working at 12 internship position, helping to create Vanderbilt Television and emerging as one of the top ten students of her class from the Vanderbilt University; she couldn't land a job. She remained jobless for 13 long months post graduation.
But, she didn't give up and kept honing her craft. It was her hard work which led her to become the three-time 2019 Emmy winner and one of the youngest correspondents to report from the 63rd Emmy Awards' red carpet.
Add to that; she got called to work at the BET Hip Hop Awards' black carpet for a prestigious two times.
Today, she hosts NBC Atlanta's 11 Alive News and Morning Rush - where she gives the inside scoop on Georgia's TV, music and film industry. She is also the recipient of NBC ATL Employee of the Year.
Francesca Amiker Bio
Francesca celebrates her birthday on 6th May every year.
Born in 1990, the 29-year-old host has a sister named Franjellica. She is extremely close to her family; her parents, grandmother, and sister often feature in her heartfelt Instagram and Twitter posts.
In the line of such declarations of love, she posted an adorable post dedicated to her father on the occasion of father's day on 17th June 2019.
The TV host of Black ethnicity does know a thing or two about flaunting her love for the parents.
It was her guardians, who sent her to the Vanderbilt University post her high school degree. So, Francesca showed immense dedication while pursuing her education in Bachelors of Art in Communication and Media Studies and passed the program with flying colors.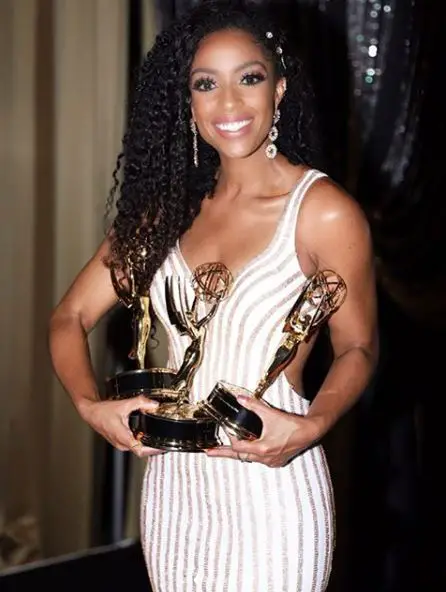 Francesca Amiker smiles as she holds her Emmy awards on 16th June 2019 at Grand Hyatt Atlanta in Buckhead (Photo: Francesca Amiker's Instagram)
Struggling for work post graduation, she got her first job as a full-fledged reporter at WLNS in 2013. After working for more than a year, Francesca joined WJXT for three years. In September 2017, she joined NBC Atlanta.
On 24th February 2019, the TV host put up a post featuring Hollywood actor Dwayne Johnson - height 6 feet 2 ½ inches (1.89 m) - after interviewing the A-lister about his upcoming movies.
She has also interviewed other big names like LL Cool J, Nelly, Busta Rhymes, Twista, Tyler Perry, and Oprah Winfrey.
Is Francesca Married?
Francesca is Georgia's darling.
People love the NBC Atlanta host for sharing all the entertainment juice at Morning Rush. While she gives all the inside information about local celebrities, people cannot help but wonder about her dating life.
In 2014, she tweeted an Instagram link about her boyfriend but, she later deleted it. The move implied that she broke up with the said boyfriend. Since then, she has been focused on her family rather than sharing her potential husband to the world.
Another Talented TV Host:- Katie Beasley Age, Husband, Children, Family
Far from getting married, she hints about her single status now and then. On 13th February 2019, Francesca posted a clip from hosting 11 Alive News where she revealed that she was indeed single and waiting for the potential husband to come along.