Entertainment
Shantel Jackson & Rapper Nelly Relationship | Married & Net Worth Talks
Reality star Shantel Jackson stood behind her boyfriend, Nelly, even amid the sexual allegation charges against him. She indeed has a soothing relationship with her current partner, but her past relationship didn't work out the same.
Shantel - previously engaged and on the verge of getting married - failed miserably in her relationship and now both she and her former fiance are on each other's back. It's not sure whether Shantel can ever make peace with her ex-boyfriend, but she certainly has a blossoming relationship with Nelly.
Dating Rapper Nelly, Engaged And Married?
While Shantel maintains a soothing romance with Just A Dream rapper Nelly, the origins of their relationship is yet unknown. The couple's affair first came to light when they were starring together in the 2014 TV series, Nellyville.
Recommended:- Luke Mably Dating & Girlfriend | Meet The Girl He Might Get Married To!
Over the years, the duo has been together through thick and thin; celebrating togetherness during different occasions including birthdays, Valentines', and more.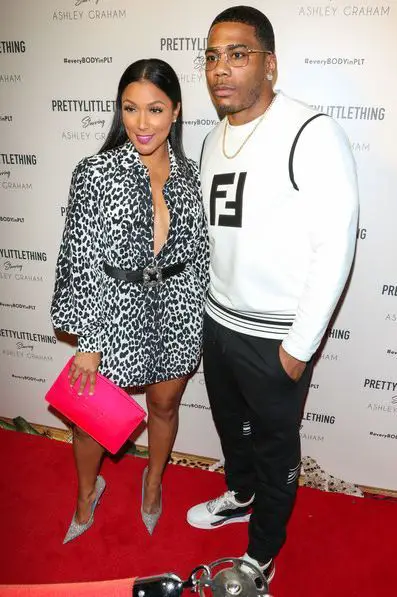 Shantel Jackson with boyfriend Nelly at the Delilah Nightclub in Los Angeles in September 2018 (Photo: Zimbio.com)
There have also been several rumors about the pair's apparent engagement with the most significant being in September 2016. When Shantel mentioned herself as "reserved forever," fans all the world assumed the couple to be engaged.
Newly Engaged:- Crystal Leigh Is Engaged, Meet Her Fiance 5SOS'S Guitarist Michael Clifford
However, there was a small flaw in the rumor: Shantel had no ring on her finger. The dilemma was solved in October 2017 when she was spotted shopping for an engagement ring alongside fellow reality TV personality, Nazanin Mandi.
Apparently, she liked a $200,000 worth ring, however, whether she bought it or not has not been disclosed. On top of that, the couple has not come forward with any engagement news or plans for getting married. Yet! their love seems to be blossoming which can be known from all the support Shantel has provided to her boyfriend amid his sexual allegations.
When a woman named Monique Green accused Nelly of raping on a tour bus after one of his concerts, Shantel objected to the claims explaining that she was on the bus at the time and her boyfriend could not have done the alleged job. For her statement, Shantel was also asked to testify in court through a video, which she did to defend her man.
Away from such challenges now, Shantel and her partner - who has a net worth of $600 thousand and $60 million respectively - relish their time together.
Feud With Ex-Fiance Leads To Court
Shantel, who inherited a black-white-Indian ethnicity from her parents, was previously in a relationship with a professional boxer, Floyd Mayweather.
The couple first met in 2006 when Shantel was working as an event hostess in Georgia. The romance soon blossomed, and the pair got engaged; however, the engagement didn't last long, and the couple broke up due to Floyd's multiple girlfriends or "side chicks".v
Nevertheless, Floyd tried getting back together with Shantel, and in his desperation, he even blackmailed her with her naked photos that he took while they were dating.
Similar Legal Fights:- Fox News' Boss Roger Ailes, in Sexual Harassment Lawsuit, Against Former Anchor Gretchen Carlson
Shantel, aged 34, didn't comply with the threats and filed a lawsuit against the boxer with charges of physical assault and violation of privacy. In return, her ex-fiance accused her of stealing money.
As the verdict on the case of Shantel is yet to be decided, one thing that's sure is justice will prevail!