Entertainment
Freema Agyeman's Interview Regarding Lesbian Sex Scene: Dating With Boyfriend Luke Roberts?
Freema Agyeman is an excellent actress who has continuously expanded her boundaries with every job. But she has recently extended her experience to a whole new level as she plays the role of a Lesbian Writer. Her steamy lesbian sex scene became very popular. What about her real life? Is she really dating Luke Roberts?
British actress Freema Agyeman is an excellent actress who has continuously raised her bar with her incremental triumphs in the acting industry.
She has recently extended her performance to a whole new level, as she played the role of a Lesbian writer. Her steamy lesbian sex scene became very popular which led to immense criticism about her sexuality in real-life.
Besides her on-screen lesbian role, she has been in the longtime relationship with the British actor-boyfriend. And they are more strong than ever!
Out-of-Comfort Lesbian Sex Scene:
Freema Agyeman, who is known for her role as a time traveler medical companion 'Martha Jones' in the science-fiction series 'Doctor Who,' oozes with sex appeal and explores her sensual side in the Netflix series, 'Sense8.'
She plays the lesbian writer, Amanita, who is the girlfriend of the Translesbian character 'Nomi', in the American science fiction drama web television series. American actress Jamie Clayton portrays the character, Nomi one of the very initial scenes of Freema includes a very naughty sex scene with Clayton. 
Tabloids are known for their tendency to interview celebrities on such matters, and they did the same with Freema as well.
See Also:- Kelsey Plum & Boyfriend Talks Amid Lesbian Rumor! What Is Her Ethnicity?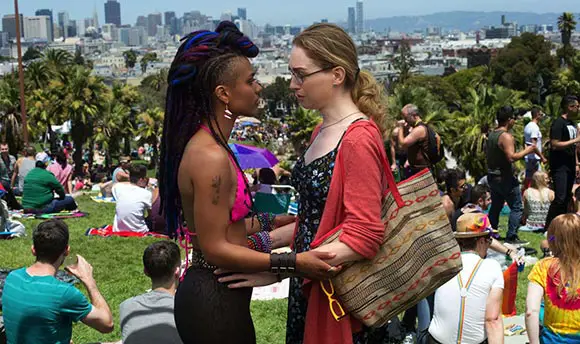 Freema Agyeman with Jamie Clayton shooting for the 'Series8' (Photo: pinknews.co.uk)
The Big Issue covered her interview in an article "FREEMA AGYEMAN INTERVIEW: "THAT REALLY BLEW MY MIND..." on Oct 23rd, 2015, where she opened up about nudity, transgender storylines, and why there's a momentum shift in TV.
She said:
"It scared me in so many ways – it was my first American role, my first nudity, my first real love relationship. The pressure to convey that emotion authentically was a huge challenge."
She also expressed how the role was out of her comfort zone but very significant. She further added that even though she was intimidated by the scene but found her way into the role later,
"Once you take your clothes off and dive in it's strange how quickly it becomes comfortable."
But as always, Freema delivered a magnificent performance, and they are good friends off the set as well.
Dive In:- Fran Lebowitz Married & Partner | Lesbian Author Has Love To Flaunt?
British Boyfriend; Got Married?
While her on-screen lesbian character turned to amuse her fans about her real-life sexuality, she dismissed her lesbian label after hustling about her boyfriend and dating life.
The English actress is dating the handsome hunk, actor Luke Roberts for a long time. Though she has not publicly talked about her relationship with the British actor, she never misses gushing about their romantic life on social media.
Read Also:- Zoe Lyons Candid On Partner/ Wife; Lesbian Love At Finest
Back in September 2015, she Instagrammed the glimpse of her Game of Thrones star boyfriend, Lucas Robert (longtime boyfriend) where he was baking a cake for her.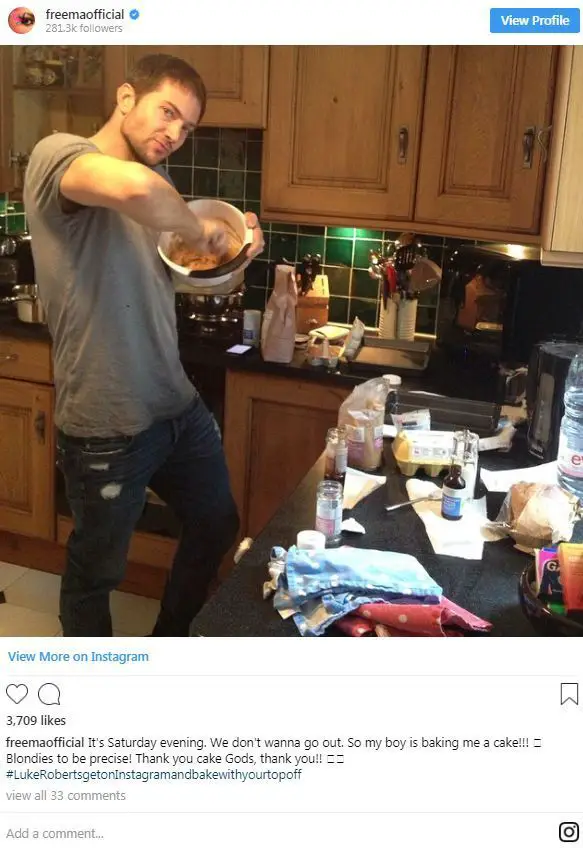 Freema Agyeman's boyfriend Luke Roberts (Photo: Freema Agyeman's Instagram)
Well, though they do not much flaunt their dating life on social media, they have perfectly carried out their low-key dating life. Freema celebrated Easter with her boyfriend in 2016 and the couple seems to be enjoying each other's company.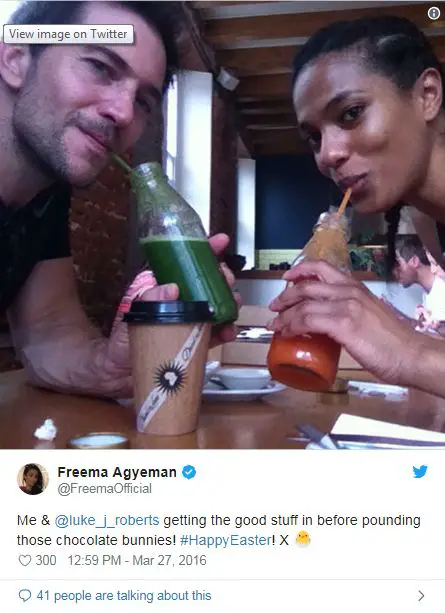 Freema, boyfriend Luke Roberts celebrating Easter in 2016 (Photo: Freema Agyeman's Twitter)
Well, since Freema has hinted about her strong dating life until 2016,  as of now she has wrapped the information about her dating life.
Seemingly, in her low-key life, Freema and Luke might have already exchanged the vows of husband and a wife, but they have not yet come front with the disclosure of their married life.
Recommended:- Vicky Beeching Dating Difficulty; Being Lesbian Threatened Existence
A Short Bio on Freema:
Freema Agyeman was born on 20 March 1979 in London, UK, to her father of Ghana descent and mother of Iranian descent. 
Freema has a tattoo on her arm that says "baha" meaning "free" in Iran language. She attended 'Our Lady's Convent RC High School' and studied at 'AnneScher Theatre School'. She later went on to graduate in arts and drama from Middlesex University. She is currently working on the shooting of the second season of 'Sense8' (2015-present).