Entertainment
Garbine Muguruza Personal Life Amid Lesbian Talks, Who Is Boyfriend?
Spanish professional tennis player, Gabrine Muguruza is one of the few players to have garnered a significant success in her short career.
With two tennis titles to her name, she has caught the attention of the media and fans likewise. Famous for her in-court performance, her personal life is also a topic of focus to her admirers.
Often rumored as a lesbian for her low-key personal life, Gabrine had a smart reply when a published author accused women in tennis of being lesbian. 
Her relationship with a close ally has also had many asking if the lesbian rumors were true. And if the author's comments were genuine, has Gabrine also been dating a partner?
Single Without Boyfriend; Smart Reply To Anti-Lesbian Remarks
Unlike her success on the court, Gabrine's love life hasn't been much fruitful. Her dating life shows no history of a boyfriend and Tennis World USA even reported her to be single in 2018.
However, the tennis diva has often been assumed to be a lesbian. When Gabrine started training with former player Conchita Martinez, the speculations further increased as Conchita too has not been married her whole life.
You May Also Like:- Where Is Aurelia Dobre & Husband Today As Family Name Takes Over World
The two ladies' chemistry on the court led many to believe that Gabrine and Conchita were not just succumbed to being trainer and trainee, and they were partners beyond the court. Gabrine was fine with the rumors and didn't make any statement either affirming or disproving the gossips.
But, she wasn't about to remain silent when a famous author would accuse Gabrine and her rivals of being lesbian. Margaret Court, a former tennis player, and a published author, came forward with an anti-gay remark in May 2017 accusing that tennis was full of lesbians. 
Margaret said during an interview,
"I mean, tennis is full of lesbians, because even when I was playing there was only a couple there, but those couple that led took young ones into parties and things. And you know, what you get at the top is often what you'll get right through that sport."
When Gabrine was asked about the topic, she responded,
"Quite honestly, I really don't give a damn what she says."
BBC Sport even posted a tweet marking Gabrine reply,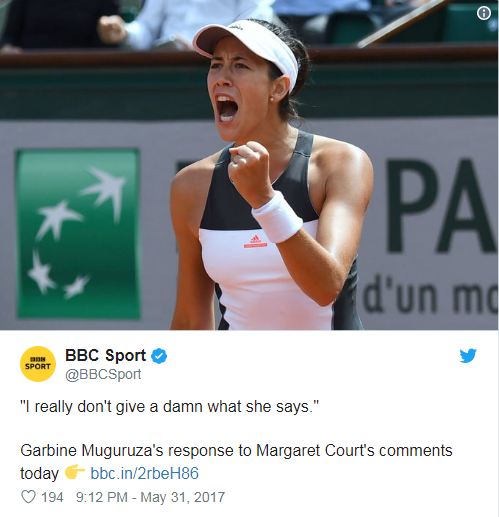 BBC Sport shares Gabrine's reply to Margaret's remarks (Photo: BBCSports' Twitter)
Don't Miss:- Blake Griffin - The Dating Affair Of The Young Athlete Who Has The Most Desired Woman As His Girlfriend
Even though Gabrine response showed her carefree attitude towards Margaret's comment, she didn't actually deny the rumors of her being a lesbian which has led many to assume that the tennis star could be a homosexual in real life.
But, until Gabrine comes forward to reveal her sexuality, fans will have to wait to know if their favorite tennis player is gay or straight.
More About Gabrine Muguruza: Age, Height, And Net Worth
Born as the youngest child of Jose Antonio and Scarlet Blanco, Gabrine was raised among her two elder brothers: Asier and Igor. She started playing tennis at a young age of three and to this day has been successful in winning two grand tournaments including the 2016 French Open Championship and the Wimbledon title in 2017.
Further, she has also participated in some international competitions including the Australian Open and US Open but hasn't been successful in having a title to her name in these tournaments.
She currently ranks 18 in the singles category; whereas, the doubles ranking lists her at number 493. Standing tall at the height of 6'0" (1.82 M), Gabrine, age 25, has also been successful in having amassed a substantial net worth.
More From LiveRamp Up:- What Is Rachel De Barros Age & Net Worth? "All Girls Garage" Star's Bio
She currently possesses a net worth of $12 million, which is assumed to go high up in the coming years.