Entertainment
Where Is Aurelia Dobre & Husband Today As Family Name Takes Over World
Aurelia Dobre, the retired artistic gymnast, is happily married to her husband...the couple shares...years of togetherness since they tied the wedding knot back in...The partners are parents to...children together who are off taking the family name onto the world through...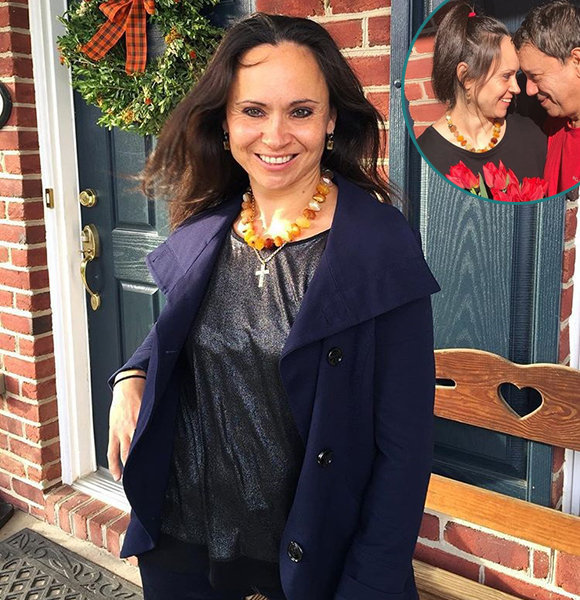 Children are the ones who carry down the family name onto another generation. While Aurelia Dobre is a well-known name in the world of gymnastics, her children are popularizing the family name in the world of entertainment.
Aurelia, who shares her children with husband of years, is a proud parent as her offsprings have made a name for themselves. Aurelia's children earned the fame through their back-flipping and prank pulling videos on a Youtube channel, which they own. 
Evidently, considered the male version of the Kardashians, they reside in Maryland!
Together With Husband For Years, Children Carry On Family Name
Aurelia Dobre, the retired artistic gymnast who won three gold medals at the 1987 World Championships, is a wife and a proud mother. She has been married to her husband Boz Mofid, who has worked as an Iranian gymnastics coach for over 25 years.
See Also: Meleasa Houghton Reason For Divorce With Husband Israel Revealed! Full Report
The couple exchanged the wedding vows back in 1992 and has been together sharing a family. Even after years since they first fell in love, the couple enjoys strong romance till today.
They are the perfect example of a blissfully married couple as the love between them grows along with time. The former gymnast and her husband celebrated their 25 years of togetherness back on 7 November 2017.
Aurelia posted a picture with her other half on her Instagram while cherishing the moments they have shared over the years. Through the caption, she revealed that what the couple had in the past is still there between the two.
She wrote,
"What was still is. Celebrating 25 Years Together. Happy Anniversary!"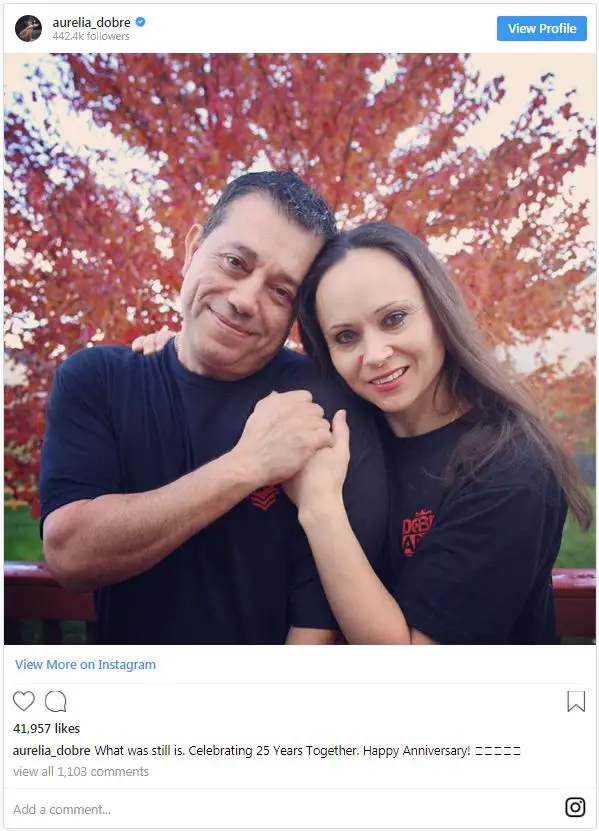 Aurelia Dobre anniversary post on their 25th anniversary. (Photo: Aurelia Dobre's Instagram)
Don't Miss:'Kin' Star Myles Truitt Age 16 With Supportive Parents | Net Worth & Facts
Likewise, Aurelia does not miss any chance she gets to appreciate her husband. She often posts pictures with him just as she cherishes his presence in her life. She has posted photos on occasions like Valentine's day and Boz's birthday while appreciating the love that he showers upon her.
Indeed, they sure are the perfect couple and an example in today's world of make-ups and break-ups. 
Parents To Four Kids; Family Of Six 
The married couple is also the proud parents of their four kids - Cyrus, age 25, Darius, age 22, and twins Marcus and Lucas who are at the age of 19.
While the couple owns a gym in Maryland, their kids are in the spotlight making videos and earning both fame and fortune. Her four boys are the youtube sensations who get over 10 million views per day on their youtube videos posted five times a week.
They even recorded their rap songs increasing their fan following. The brothers are set to reach the height of success just as they got signed with CAA for representation in all areas.
You May Also Like:Openly Gay James Charles, Exceptional Makeup Artist Boyfriend | Dating?
Well, they sure are taking the family name over the world while making their parents proud.