Entertainment
Garry Lyon Is Having A Scandalous Affair That Spread Like Wildfire After His Married Life With Wife Melissa Lyon Ended With A Divorce
Ups and downs in life are unavoidable, and on this journey, a companion need is necessary. You test different person to find the perfect partner for you. Even after several years of getting married, you can find your partner imperfect.
Likewise, former AFL Footy Show host Garry Lyon's heart could not get along with his wife Melissa Lyon which ended their marital relationship with a divorce. Right after the end of his married life, there was a scandalous affair of him which spread like wildfire in February 2016.
Split Family Life: Married Life Ended With Divorce After Affair With Best Mate's Wife:
Garry, who was previously married to Melissa Lyon in 1993 was said to be in a relationship with the ex-wife of his best friend, Billy Brownless. Garry and Melissa had a divorce in 2005. However, the ex-couple has not yet revealed the actual reason behind their separation.
His affair with Nicky Brownless was explosively revealed in February 2016. Due to this incident, almost fifteen year of a friendship of Lyon and former Geelong player Billy came to an end.
You May Also Like: Lance Franklin Come Back To AFL After Kicking All Current Mental Stigma (Seizure) For 2016 AFL Season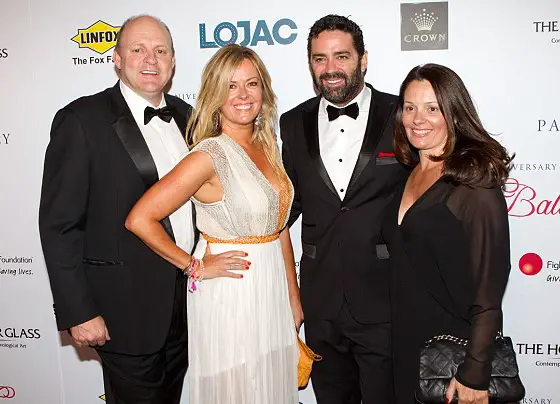 From left- Billy Brownless, his ex-wife Nicky Brownless, Garry Lyon and his ex-wife Melissa Lyon. (Photo: dailymail.co.uk)
It came as a blow to the AFL community when the news about Garry affair with his friend's ex-wife hit the limelight. In March 2016, Billy appeared on The Footy Show where he opened up about his falling out with close mate Garry. He revealed that he was hurt and shocked by their relationship.
"Initial feelings? I couldn't believe it. I found out three or four months ago that something was going on. I had a hunch. I did some investigation myself, sat Nicky down and we had a chat and she told me. My initial feelings were, like anyone — you get angry. You're headless, you're angry. I shot of a couple of texts to Garry and to Nicky which you wouldn't want to repeat on this show. And then after a couple of days, you get embarrassed. Now, I'm just disappointed."
Billy, who has four children with his ex-wife; Lucy, Ruby, Oscar, and Max also said that a best friend would never do something like what Garry did. He added-
"I had asked Gary and Nicky earlier on what is going on and they said they were just good friends. That's what hurts the most. You don't touch a man's wallet, you don't touch his wife. Let me tell you, by law it's legal to do what they're doing, but morally it's wrong in all aspects."
Billy had a belief that his ex-wife Nicky and close friend Garry's relationship had been going on for four years. He had been telling this to his friends.
Not only Garry and Billy but their ex-wives were also assumed to be good friends. Both of the family has also been on family holidays together. Garry and his ex-wife Melissa together have three children; Benjamin Lyon, Joshua Lyon, and Thomas Lyon whereas Billy and Nicky have four children; Lucy, Ruby, Oscar, and Max.
Read Also: One for the Family! AFL Star Nick Riewoldt and his Wife Catherine Welcome a Baby Boy!
Post his divorce with Melissa, and with the end to Nicky and Billy's relationship, both Garry and Nicky have made their relationship official. After being spotted together at the Cafe Brass launch in Richmond on March 2018, the duo admitted themselves to be in a relationship.
Nicky talked to the Herald Sun and mentioned how happy they were to be together.
"We're really happy to be out. It's nice to be together."
However, Garry's relationship with his best friend remains broken after his affair with Billy'swifee. In an interview, Garry mentioned how the two are still not on talking terms. 
"I haven't spoken to (Billy) since before Christmas previously, I spoke to Bill before this became public and beyond that, it's something for he and I to work through and we'll do it." 
With the friendship admired by many now hanging on the balance, fans of both the stars hope that they reconcile their differences soon.
Acquired a new multi-million dollar farmhouse:
At the end of 2016, Garry bought a new multi-million dollar farmhouse just after he announced that he would be returning to the media. He bought a $2 million-plus 20-hectare eco-friendly farmhouse on the picturesque Mornington Peninsula which can be a 'romantic escape' with his alleged girlfriend, Nicky Brownless.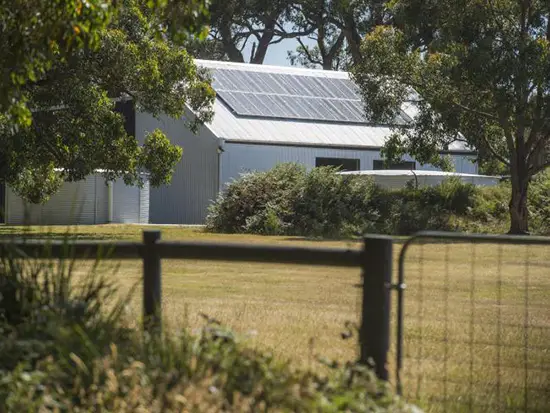 Garry Lyon's new $2 million-plus 20-hectare eco-friendly farmhouse on the picturesque Mornington Peninsula. (Photo: dailymail.co.uk)
After coming out in open about their relationship, Nicky has also kept her $2.2 million home up for sale, as the duo looks all set to reside together on Garry's home in Melbourne.
Garry took a break from his job to work with his mental health issues. But the former professional Australian rules football player has decided to return back to his work after taking a year off.
However, former AFL star Garry Lyon has since then left Channel Nine after more than two decades with the network on November 2017. He is currently fulfilling his duties as a commentator with Fox Footy.
Don't Miss: Bonnie-Jill Laflin Likes To Keep Dating Affair With Boyfriend Hushed-Up!​​​​​​​
Garry Lyon enjoys the net worth of $5 million. He has also played in the Australian Football League (AFL) as the captain of the Melbourne Football Club. Right after retiring from football, Lyon has been featuring on television mainly as an Australian rules football media personality.