Entertainment
Did Gary Carr Turn Publisher Girlfriend Into Wife? Family & Status Now
Often frustrated by the black stereotype roles he got, English actor Gary Carr finally landed his dream role of a jazz singer in the hit ITV series, Downton Abbey and even got a chance to date one of the hottest actresses in the series. 
Gary's real-life dating is no different than his onscreen counterpart as he enjoyed a healthy relationship with his girlfriend. Gary, who was once in a committed relationship, has his fans asking if he has married his longtime partner.
The Death In Paradise actor's silence has further raised suspicions if Gary is still together with his girlfriend. 
Onscreen Dating; Turned Girlfriend To Wife Or Separated?
The first black character to have acted on Downton Abbey, Gary portrayed the role of Jack Ross, a jazz singer, in the fourth season of the TV series. The actor even got the opportunity to romance with the beautiful Lady Rose (Lily James) onscreen.
Downton Abbey Related:- Brendan Coyle Married? The Status Of His Search For Wife
In the show, the couple first met at a club and started flirting with each other after which Jack gets invited to Downton.
The duo's biracial dating performance highlighted the diversity of Downton Abbey as interracial dating was rare during the 1920s-- the time where the show is set.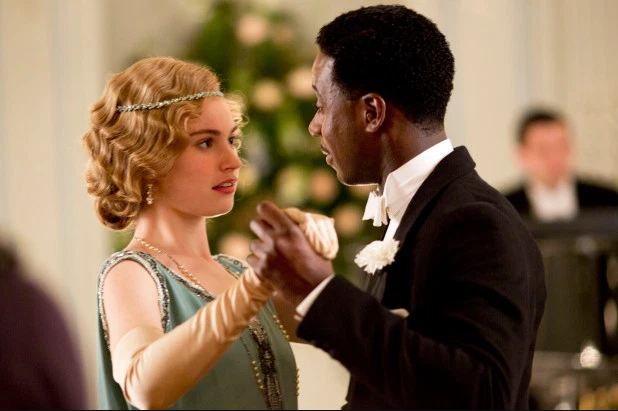 Gary Carr and co-star Lily James on the sets of Downton Abbey (Photo: NYPost.com)
Although the relationship between the onscreen couple was controversial- as many viewers argued there were no black men in Europe during the 20s- there are no controversies when it comes to his off-the-screen dating life. 
Gary, who was in a long-distance relationship back in 2013, is generally silent when it comes to his dating life and has provided only tiny details about his girlfriend.
Earlier, Gary, age 31, had mentioned that his girlfriend was a publisher and lived in Paris. He regularly visited his girlfriend in the city of France and even recorded some of his music during the conjugal visits. 
But it's been nearly five years since he talked about his girlfriend and many are wondering if he married his girlfriend and changed the status from lover to wife. 
Don't Miss:- Alex Russell Meets Actress Girlfriend Fraying Long-Distance Dating - They're A Match
Well, to sum up, there have been no reports of Gary getting married which probably implies that the actor standing at the height of 5' 10½" (1.79 m) is still a bachelor.
Furthermore, he hasn't revealed any intention of settling down with a wife, so he might not be in a hurry to get married and start a family. Also, he has not talked about his dating life with his girlfriend which raises the big question: Is the couple still together?
Unless Gary comes forward to talk about his married or dating life, there is no way to be sure about his relationship with his girlfriend or a possible wife. 
Family: Parents And Siblings, Net Worth Info
Gary, who grew up in London along with his family, is the son of a Trinidad and Tobago-native father but the origins of his mother have not been disclosed. His father previously worked as a DJ in his native land, but after migrating to the UK, he started his career as an ICT and business teacher.
He also has a younger brother named Daniel Carr, who is a professional footballer and is currently signed to Irish club, Shamrock Rovers. Gary also has a sister although not much about her has been revealed except for the fact that she is a fan of her brother's show, Downton Abbey.
See Also:- Jerome Boateng Fears Wife & Family Safety! Displays Height Of Care & Love
Gary, who started acting at the age of 8, is close to his family and still lives in a rented apartment near his parents' home in South Norwood.
Gary has further accumulated a considerable net worth and even earns a minimum annual salary of $50,529, but is still a down-to-earth person like he was before reaching the heights of his career.