Entertainment
Gay Activist Marc Lamont Hill: Was Married Once. Meet his Daughter, Wife?
Today, we have something to share about the personal life of Marc Lamont Hill, who is a well-known gay activist. Marc Lamont Hill may seem to be single now but was not in his early life. How do we know? Well, he has a daughter. Yes, Marc Lamont has a 12 years old daughter.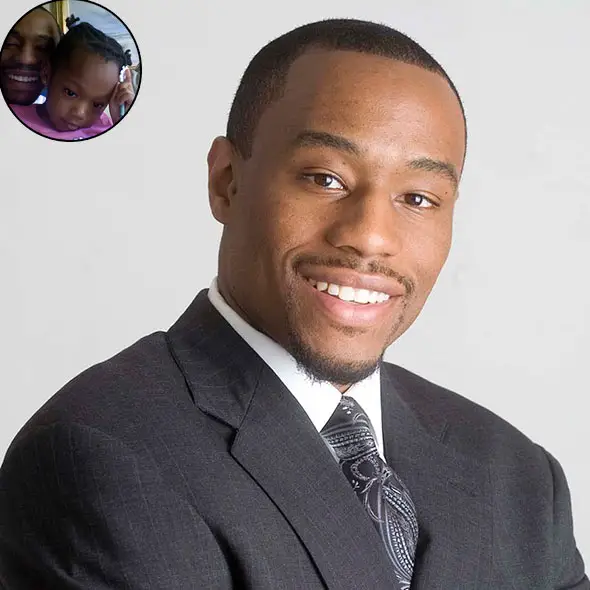 Quick Information
Gay

No

Eye Color

Black

Hair Color

Black

Hair

Short

Weight

N/A

Height/ How Tall? 6 Feet 3 Inches (190.5 cm)
College

University of Pennsylvania, Temple University

Career

2005-present

Net Worth

$1 Million (Estimated)

Dating/Affair

No

Date of Birth Dec 17, 1978
Ex-Wife

Name Unknown

Divorce/Split

Yes (Once)

Relationship Status

Single

Daughter/s

1

Ethnicity/Race

African-American

Zodiac Sign

Sagittarius

Profession

Television Personality, Academic

Nationality

American
Political commentator Dr. Marc Lammont Hill got fired from his gig at CNN following his "anti-Israel" speech at the UN. Thankfully, he has a strong support system at home to cope with the news.
A loyal supporter of the gay rights cause, Marc and his daughter are all too familiar with personal setbacks; case in point: Marc's ill-fated married life with his ex-partner.
Read Along to know more including Marc's girlfriend, net worth and more!
Married Or Not: Daughter With Girlfriend Or Wife?
Sadly, nobody has any idea as to who his "wife" or the mother of his daughter might be.
You May Also Like:- Quentin Tarantino & Fiancee-Turned-Wife, Married In An Intimate Ceremony
Likewise, there's little to no evidence that Marc got married to her, but he is a divorced man.
In an interview with ebony.com in 2012, Marc Lamont talked about co-parenting his daughter but didn't reveal the identity of his ex-wife. When the interviewer asked,
"You became a single father when you were working on your dissertation. How do you balance parenthood with being a professor, a lecturer, and a television show host?"
His response was:-
"I don't like the term single father. I think that whatever your relationship status, whenever two people are parenting it's co-parenting. I've been fortunate enough to co-parent my daughter in healthy and functional ways. It shows there are multiple ways to raise a healthy child. Because my schedule is demanding my daughter's mother has been flexible, and I'm grateful for that. Sometimes I have to be creative to make it work. I'm sure my daughter has been to more TV studios and lectures than she'd have liked to be but even those moments create opportunities to bond with her and that means everything. Our children deserve our attention and our love, it's one of those beautiful struggles."
He and his then-wife separated on amicable terms. The ex-couple has been successful in co-parenting their daughter together. Thanks to his flexible ex-wife, Marc managed to put in a considerate effort when he was too busy with his work.
Maybe he has been dating his secret girlfriend; perhaps he is a single guy, only time will tell.
Interesting:- How Chris Rock Wrecked Wife Relationship, Girlfriend Affair Fueled Divorce
Nevertheless, Marc seems to enjoy looking after his daughter, who attended the first day of high school not that long ago. His hands-on principle was on full display when he dropped his daughter off at her school.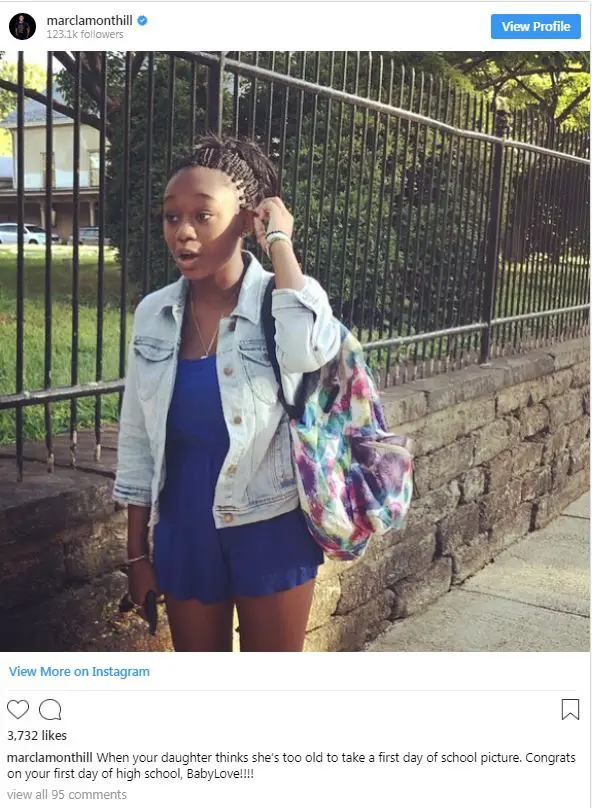 Marc posts a rare photo of his daughter (Photo:- Marc Lamont Hill's Instagram)
From dressing her daughter up for her first day in high school to attending her school's talent show, Marc seems to have mastered the motherly instincts otherwise performed by his ex-wife or a girlfriend.
Much like him, his daughter is also a staunch supporter of gay rights. Marc couldn't contain his happiness when he first learned about it. He tweeted:-
"My daughter just texted me, saying "Gay people can get married now!!!!" Her excitement made me as happy as the decision itself."
Nobody can't tell Marc that he hasn't didn't his daughter the right way.
On Marc Including His Net Worth & Gay Allegiance
Dr. Marc Lamont Hill was born on December 17, 1978, in Pennsylvania, U.S. 
Don't Miss:- Jim Rash Partner & Family | Believed Gay Man Personal Life & Net Worth
He joined Morehouse College, which is a private liberal arts college, but dropped out as a freshman. However, he later attended Temple University to finish his undergraduate and received his B.S in education and Spanish in 2000. He then earned his Ph.D. at the University of Pennsylvania.
In 2005, he started working as a professor of Urban Education and American studies at the Temple University. He left the role in 2009 to join the faculty of Teachers College as an associate professor of education. Later, he departed from the association to work at the Morehouse College, from where he had dropped out as a freshman, as a Professor of African American Studies.
He also enjoys TV Channel career. He has worked as a political contributor for the Mighty Fox News Channel. Before that, Marc, age 39, was also a commentator on CNN and MSNBC. With all the work he has done, he is now enjoying a net worth (estimated) of 1 million dollars.
Apart from everything, Marc has been a staunch supporter of gay rights. He has been an LGBT advocate for a long time.
In 2001, he started a literacy project using hip-hop culture to increase school engagement and reading skills among high school students. He not only organized but also taught adult literacy courses to high school dropouts in Philadelphia and Camden.
He has also written three books including his 2016 release, "Nobody: Casualties of America's War on the Vulnerable, from Ferguson to Flint and Beyond." His other books are, "The Classroom and The Cell: Conversations on Black Life in America(2012)" and "Beats, Rhymes, and Classroom Life: Hip-Hop Pedagogy and the Politics of Identity(2009)"
Read Also:- Who Is Detroit Pistons' Andre Drummond Dating Now? Girlfriend Rift
Currently, he has been following politics. His 2016 article titled "For real progressives, Jill Stein, is now the only choice gained tractions.
Stauch Gay Supporter Fired From CNN For His UN Speech
Less than 24-hours after delivering his infamous UN Speech, political commentator Marc got fired by CNN on 30th November 2018 amidst an outcry of protests from the right-wing defenders of Israel.
In his speech, the Pennsylvania native had used the phrase "free Palestine from the river to the sea" -- a slogan regularly used by anti-Israel terror groups including Hamas.
Following his speech, he received widespread backlash for indulging in the act of "dog whistling." Critics have accused him of advocating for the eradication of Israel -- an accusation, Marc has denied vehemently.
Temple University - Marc's employer where he works as a professor of Media studies & Urban education - however, didn't fire him claiming that the political commentators' views were his own.
Issues Apology
Less than a week after his speech at the United Nations assembly, on 4th December 2018, Marc issued an apology via an op-ed in Philadelphia Inquirer.
Discover:- Reece Shearsmith Interview Filled With Love For Wife, A 'Gay' Man Of Sorts
In it, the former CNN personality acknowledged the need to respond to the controversy surrounding his remarks. Reiterating his previous stance, he claimed that his comments got drawn out of context as it didn't endorse any form anti-semitism.
The University of Pennsylvania Alum then added:-
"Although this was the furthest thing from my intent, those particular words clearly caused confusion, anger, fear, and other forms of harm. For that, I am deeply sorry."
In the latter section of the piece, Marc lamented how his choice of words derailed his agenda of highlighting the plight of Palestinians. If anything, his UN Speech - and the subsequent firing from CNN - only helped further his career and boost his repertoire.
Since then, the 40-year-old political commentator has become a member of MESA, attended the University of Virginia as the event's keynote speaker, and discussed the global refugee crisis at the 2019 Doha Debates.