Entertainment
Does Gennady Golovkin Not Love Wife & Family? Inside Record Holder's Life
Gennady Golovkin - better known as GGG, God Of War and Golden Boy - is one of the most feared professional boxers, who's still active today. Besides, being the biggest export from Kazakhstan, the record holder is one of the top paid athletes in the world, with millions to show for it in net worth.
Success for the 36-year old boxer - who is of Kazak nationality - wasn't given. He literally had to fight for it. His poverty laden upbringing and the fact he had to lose his brothers to the Soviet War at a young age traumatized him for the rest of his life.
All in all, Gennady's early struggles have shaped into a stern family man that he is today - the one who prides in putting his profession ahead of his wife and kids.
Record Holder Doesn't Let His Wife & Kids Watch Him Fight
GGG is as professional as they come. It wouldn't be wrong to call him the last of a dying breed of men, whose professional life takes precedence over their life with family.
Get To Know Another Athlete:- Jerome Boateng Fears Wife & Family Safety! Displays Height Of Care & Love
This anecdote involving his pregnant wife, Alina Golovkina in September of 2017 should help better understand his unparalleled work ethic.
Eight days before the biggest fight of his career, Gennady had received a phone call about his wife going labor. Instead of hurrying back to the hospital to see his wife and newly born child, he opted to stay in the gym and prepare for his next fight.
A rare photo of Gennady and his wife, Alina from the day of their wedding (Photo:- Heavy.com)
It was later learned the distance from his gym and the hospital where his wife was admitted was just a couple of hours away. A week later, when a reporter asked him about his decision to not travel to the hospital to see his wife in labor, GGG replied sternly by saying:
"Can you please not ask me more about my family? It is just, different. My focus is on boxing. Boxing – business. Family is different."
Clearly, the aforementioned reporter isn't all too familiar with the record holder. Journalists acquainted with the 36-year-old professional boxer principles know better than to quiz him about his wife and family.
Discover:- Is U.S Senator Cory Booker Gay? Married/Girlfriend Detail Amid Scandal
It's a common knowledge that Gennady is very protective of his wife and kids. As a matter, he doesn't let them watch him fight on TV, let alone be by his ringside when he's fighting.
Family Tragedy: Losing Brother To The Soviet War
After turning pro in 2006, Gennady - who has reported the net worth of $30 million - moved his family including his wife and children (a son and a daughter) to Germany. Today. GGG and his wife - who got married in 2007 - call Santa Monica, California their home.
Meanwhile, back home in Kazakhstan, there's nothing but memories of family tragedy and loss for the professional boxer. His elder brothers, Sergey, and Vadim - both 10-years-old - joined the Soviet Army and never returned back.
In the 2017 Tribune article - he helped co-write - the 36-year-old Khazak peened a heart-wrenching line in the memory of his slain brother that read:
"These are the memories I don't want to have. That I don't want to talk about."
Lucky for GGG, he had a twin brother, Max to grieve together. He owes his life to him; after all, it was Max who first introduced him to the sports of boxing and while doing so, saving his life from the unforgiving streets of Karaganda, Kazhakstan.
Boxer In Our Vault:- Record Holder Saul Alvarez With Badass Net Worth! Training Reflects Career Success
What's interesting about his brother is the fact that Max used to be sparring partner when they were both just a couple of aspiring writers. Later, he had to quit just because GGG could realize his dream.
Today, Max helps him train for matches. GGG's professional boxing career record of 38 wins out of 40 matches including a draw wouldn't have been possible without him. The only person in the ring to beat him in the ring was Canelo Alvarez.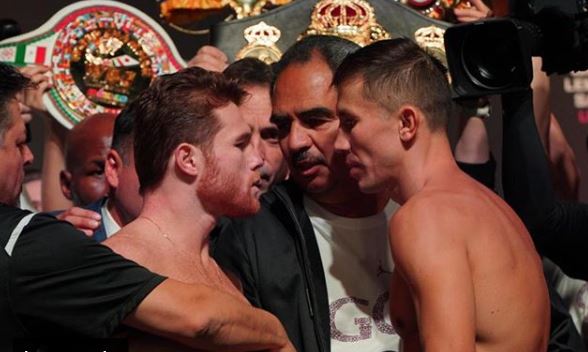 Gennady and Canelo face eye-to-eye ahead of their match (Photo:- Gennady Golovkin's Instagram)
All of the Golovkin brothers were to born to a Russian father - who was a coal miner - and a Korean mother, who worked as a lab assistant.