Entertainment
Geno Auriemma Salary & Net Worth; Among Richest With Inspiring Quotes
Geno Auriemma, at the age of ... makes a record of ... wins as the head coach of University of Connecticut Huskies women's basketball team......Geno joined the University of Connecticut in......With his involvement, he not only earned fame and awards but also garnered a substantial net worth of ... along with a salary of......On the other hand, Geno has an equally thriving married life...... He is married to his wife named ... and the two have been together for ... years......They also share a family of their own...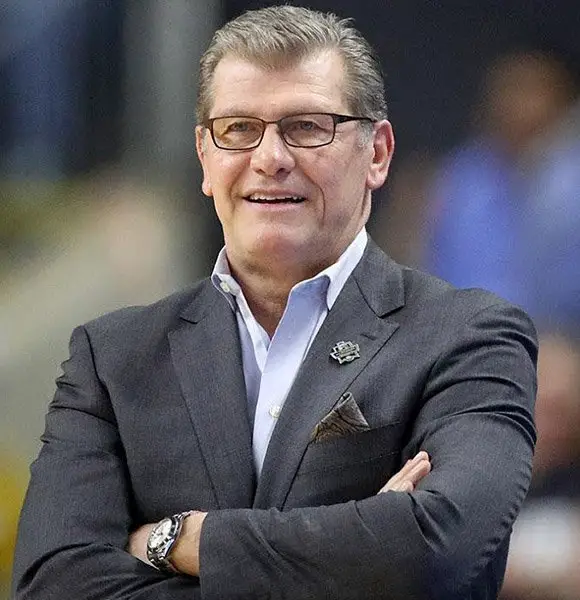 "We've won a lot of national championships, and we've never taken any of them for granted. Everyone is special" is what Geno Auriemma believes.
While the head coach of University of Connecticut Huskies' women's basketball team has eleven NCAA Division I national championships up his sleeve making a record in women's college basketball, it has never stopped him from working harder. He has never taken the wins and awards for granted like his quotes imply.
On the other hand, while his professional career is taking new heights, his personal life is just as remarkable. He has been with his wife for 46 years, even before Geno took his steps toward basketball. Now decades later, the coach is still together with his wife, with whom he shares a family, while also enjoying a career that is making history.
Records 1,000 Career Win, Body Language Define The Team
Geno Auriemma, at the age of 64, has reached over 1,000 career win which only a few coaches in Division I basketball have been able to achieve. With his quick wit, Geno has achieved the success that he was looking for.
Take A Look At: Bill Raftery And His Wife's Relationship Is Something Beautiful; A Man Who Always Makes Time For Family
An immigrant from Italy, he first stepped into coaching as an assistant coach at Saint Joseph's University after graduating from the West Chester University of Pennsylvania. Taking a break from college basketball, Geno coached at his former high school. 
In 1981, he joined the University of Virginia Cavaliers' women's team only to find himself getting acquainted with the University of Connecticut in 1985. Prior to his arrival, the women's team had only one winning season in its history. 
After hiring him, Connecticut quickly rose to prominence and finished above 500 for 30 consecutive seasons which including six undefeated ones. By the end of 2014-2015 season, he had a winning percentage of 87.3.
Geno, whose team is defined by the body language that they show, also has eight national Naismith College Coach of the Year awards to his name. He previously also served as the head coach for the United States women's national basketball team. 
See Also: Derek Fisher Arrested For Car Accident Caused By Alleged DUI; Girlfriend Gloria Govan Reportedly Not Injured
With his involvement, the basketball coach has not only earned fame and awards but has also garnered a considerable net worth. He receives a salary of $1.95 million adding up to his net worth of $10 million. 
Almost Five Decades Of Happily Ever After
While his career is kissing the height of success, his personal life is equally thriving. He has been married for years sharing the romance with his wife for over 46 years to be exact.
Geno has exchanged the wedding vows with his other half Kathy Auriemma and even shares a family with her. Indeed, they are proud parents of their three children - daughters Jenna and Alyssa and a son named Michael.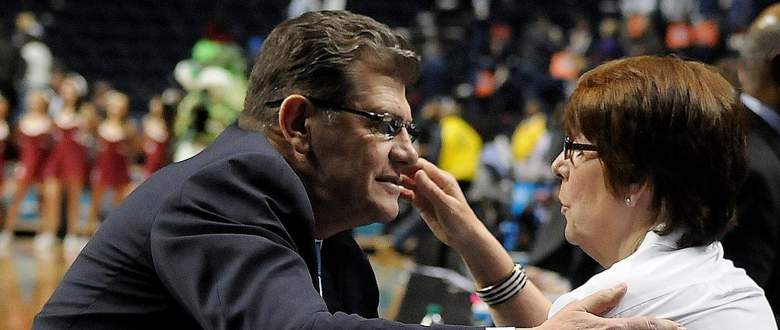 Geno Auriemma with his wife, Kathy. (Photo: heavy.com)
The pair has also become grandparents to their two grandchildren. To them, the beginning of their romance seems far away as Kathy was only 18 when they first sparked their love. Kathy was in a community college when they met for the first time, and during that time Geno had an interest in law. 
You May Also Like: Rebecca Lobo & Journalist Husband, Immense Love For Children & Family
In 1981, he completed his University education with a B.A. degree in political science, but the future had something else on hold for him. He took basketball as his career path while almost threatening his relationship with Kathy. 
However, the love between the two prospered with time leading them to share their happily ever after.