Entertainment
Geno Doak Wiki: Mama June Shannon's New Beau - A Bio Ranging From Age to Job!
Life has its perks! Only a few people get the second chance of redeeming themselves for the relationship which was long forgotten. But to our surprise, Geno Doak and Mama June Shannon are back together in the track after two years.
Geno Doak who is a  CEO of G & J Home Improvements is the man on the radar. Mama June, a new size 4 figure, recently lost some fat and gained some new relationship to cherish.
Well, only the lucky ones meet someone that smitten them on their job. This is what the case is for Geno Dork who is in the business of remodeling the houses.
If you want to know more about him, you might as well tag along. What's the harm in it anyways!
A Wiki-Like Bio of Geno Dork - Mama June Shannon's new Bae!
Geno Dork is the man with whom June Shannon is swirling around.
It has come to light that Mama June Shannon, a former "Honey Boo Boo" star met her man when he got hired to fix up her home in Hampton, Georgia. Apparently, according to Radar Online, they both were seeing each other back in late 2015, and after a break, they rekindled their romance last year.
Don't Miss: Tiffany Espensen Age, Ethnicity, Dating Status, & Facts Explicitly Revealed
However, June previously stated that she met her man through their mutual friends but hesitated to state his name before publicizing their relationship.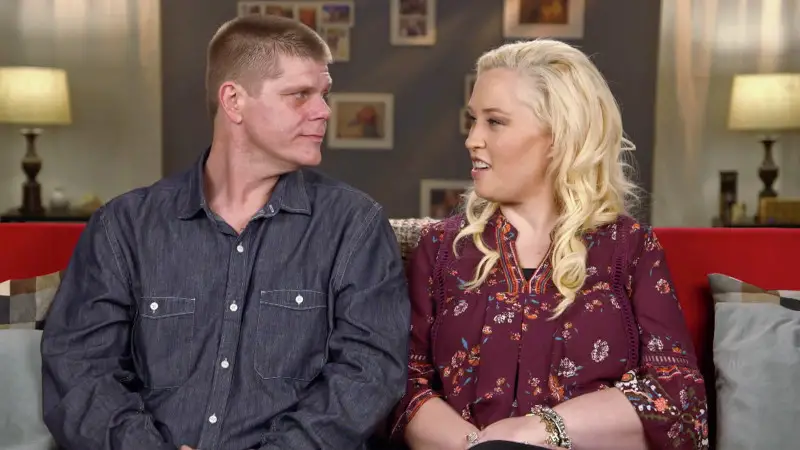 June Shannon and Geno Doak on 'Mama June: From Not to Hot'  (Photo: WE tv)
Geno, at the age of 42, is also a single parent. Doak is a dad to two younger daughters and an adult son. Well, as for June, she is a mother to her two daughters Lauryn 'Pumpkin' Shannon, who is now 18, and 12-year-old Alana 'Honey Boo Boo' Thompson.
It seems that they might be a perfect match for each other, parenting their children as one happy family.
You may also like: 34 Years BBC's Steph McGovern, is Still Single or Married? 4 Partners in Profession
Though Mama June had already opened up about her relationship status, she didn't introduce Geno to her kids because she wanted to make sure that her dating affair with him would last long. 
But her kids caught her "kissing" on the camera after which Geno was put on test to see if he gets along with her daughters or not. To June's happiness, Geno received "stamp of approval" from her 12-year old daughter.
In an interview with Us Weekly in January 2018, Toddlers & Tiaras alum, Alana said,
"I'm very proud that Mama got with him because she smiles if you say anything about him. I'm like, 'Mama has been so happy!'"
However, one of the reasons behind June not disclosing the identity of her new man to her daughter is her ex-husband Mike "Sugar Bear" Thompson. Alana's dad, Thompson, was accused of being "very emotionally and physically abusive" with June and others.
In this context, it became essential for June herself, and her daughters build up their trust after having them broken into pieces. 
However, Mama June who enjoys a net worth of 1 million Dollars, molded wet clay while interlocking her fingers with her new man, Geno Doke on their date night, a little while back.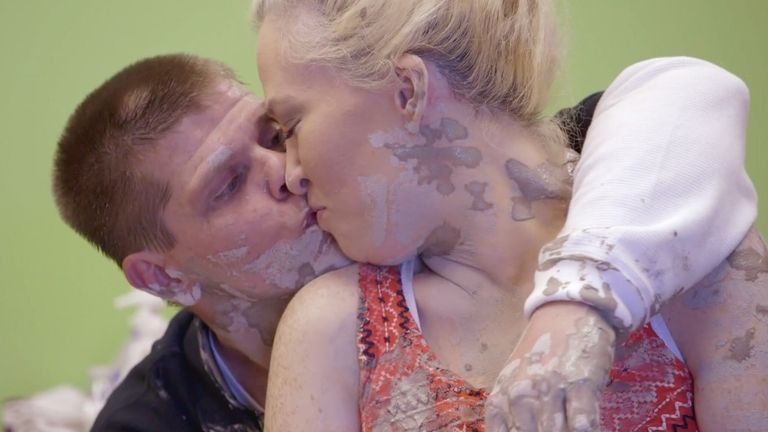 Geon Dork and Mama June Shannon kissing while molding wet clay (Photo: cosmopolitan.com)
This reality-TV personality, Mama June Shannon recently divulged to US Weekly that she is very serious about her relationship with Geno. Talking about her relationship, she explained,
"Geno is the first guy that I've dated really seriously since I lost the weight. I'm trying to keep this one to myself to see how it's going to work out. I've had some really terrible luck with guys and I've got burnt. So it's really hard for me to fully trust him right now.'
This statement of her might be a small sink of heart for Geno. However, Mama June has confessed to seeing Geno 24 hours a day which is nothing clingy but utterly romantic.
Read Also: Jay Mohr & Wife Divorce Settlement | Married Life Ends After Second Attempt​​​​​​​
Married Plans? Settling As "Family"?
Besides, the pair is picking up the pace quite rapidly, and June along with her fans are hoping to see an engagement ring on her finger soon. June is expecting a proposal soon but as Geno had been married for a long time, June thinks that he is hesitating to put forward the marriage proposal.
However, as of recent, the couple were seen lurking around in wedding dress shops where June is seen wearing wedding dressed which has caused everyone to think whether they are going to tie the knot.
Talking with US Magazine in June 2018, June also revealed that being with Geno makes her feels things she never expected to feel. She said,
"Geno makes me think of things that I never thought about before," 
Adding to it, she even confesses to the camera that looking at those white beauties made her feel that she wanted to wear on of those one day. She clearly said,
"Walking into the dress shop and seeing wedding dresses is like ... I wanna wear one of those one day."
Well, those words might sound a little crazy as June had never said to words before or felt anything like that. However, June hopes for the proposal for marriage even though Geno is quite nervous about popping the question to his girlfriend.