The team of BBC Breakfast is like a typical family, filled with love and hatred. Let's just take Stephanie Mc. Govern for an example, who shares a complicated relationship with all her co-hosts. But is it all for show and what is her relationship status of McGovern in her love life?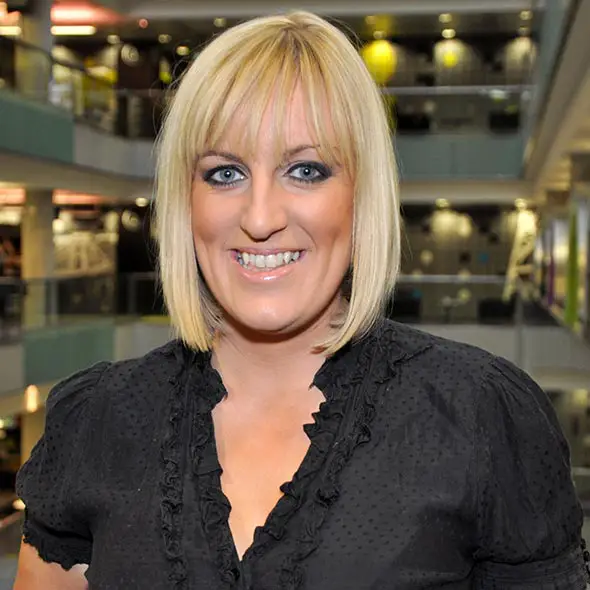 Quick Information
Divorce/Split

Not Yet

Rumors

Pregnancy(2018)

Twitter

twitter.com/stephbreakfast

Facebook

facebook.com/steph.mcgovern.appreciation

Hair

Short

Height/ How Tall? 5 Feet 9 Inches (1.75 Meters)
Education

Macmillan Academy

Net Worth

Not Disclosed

Boyfriend

Not Disclosed

Date of Birth 1982/05/31
Relationship Status

Single

Children/Kids

Not Yet

Father

Eamonn McGovern

Zodiac Sign

Gemini

Birth Name

Stephanie Rose McGovern

Profession

Journalist

Birth Place

Middlesbrough, England

Nationality

English
Veteran English financial journalist Stephanie McGovern, who struck BBC in 2018 for paying based on the poshness, is often embroiled in controversies ranging from false pregnancy to pig accusations.
The team from BBC Breakfast is more like a family, filled with love and an occasional demonstration of hatred. Steph, for instance, shares a complicated relationship with some of her co-hosts.
Read along to get answers to all of the questions related to her personal life, also attached to the report her relationship with all her co-hosts and her dating status.
Sour Relationship With Partner
McGovern is not short on girlfriends as she hosts the show with four other fellow female co-hosts.
She seems to bond well with Louise Minchin, Naga Munchetty, and Sally Nugent. Meanwhile, her friendship with Carol Kirkwood has been somewhat sour, though. They had their fair share of disputes on TV in February 2016.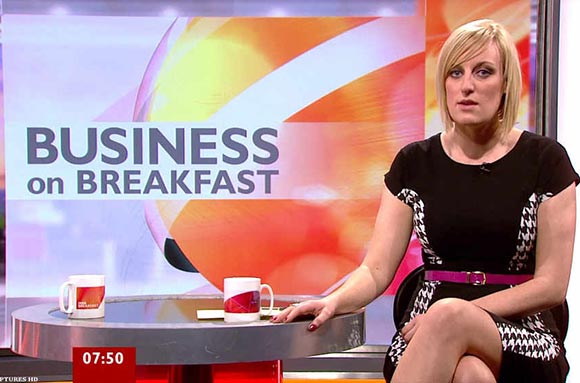 BBC Business and stand-in presenter Steph McGovern compares Carol's feet to pigs in Feb 2016 (Photo: Self)
It happened when the hosts were watching a video of McGovern reporting in Boroughbridge located in North Yorkshire. She happened to be in a barn full of pigs, and as she started to move, few of the pigs began to nibble at her shoes.
The stand-in business presenter tried to shake them off by running in circles, but the pigs kept on following her. So in jest, she cheekily referred to just how similar the pigs were to Kirkwood.
"This reminds me of when you've got a packet of biscuits in your pocket, and you see Carol Kirkwood."
Even the Scottish weather presenter, Carol Kirkwood herself burst into laughter. But, they later concluded this matter without making a major issue out of it. To further prove the point to the viewers, they then settled the problems while in the show accepting the request of Dan Walker, another co-host: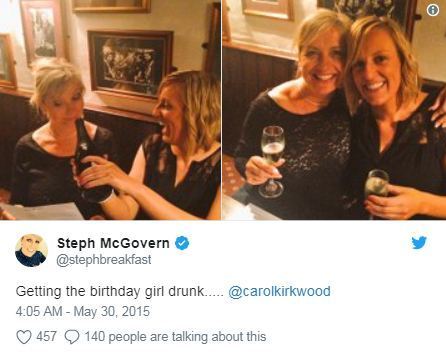 Steph McGovern with weather presenter Carol Kirkwood (Photo: Steph McGovern's Twitter)
Steph McGovern, a producer-turned-tv personality, also has a perfect friendship with the male co-host of the shows, especially with the relief sports presenter, Mike Bushell.
See Also:- Is Tina Daheley Dating Her TV Presenter Boyfriend? We Think So! 
In 2013 when Steph and Mike participated in 'UK Wife Carrying Race.' Unlike the name, one did not have to be husband and wife to join in that race. So, they participated in the competition, but with a slight twist. It was McGovern who carried Bushell.
They had rehearsed for the show in the sets of BBC Breakfast earlier. 
Was Steph McGovern Pregnant?
The co-host for the show BBC Breakfast, Steph made many close friends at BBC. She also covered some exciting news during her career, and the gorgeous 37-year-old has managed to land herself in quite a few. The most recent one includes the stories of her false pregnancy in 2018.  
The viewers assumed that she was pregnant and took on to social media to congratulate her while she was discussing the collapse of British firm Carilion. Unlike others, Steph gave a hilarious response in an interview with Mail Online in January 2018 stating,
"I am not with child, I am with a pot belly. I'd definitely be in the wrong job if I got offended by comments like that. Even my own auntie asked me once if I was pregnant after seeing me on the telly - that's just life on camera.
Further adding a humorous touch to her response, she said, 
"I just decided to tweet a reply about it today because I'd had a run of a few celebratory tweets and I wanted to clarify I wasn't and get in there before my boss started arranging my maternity cover. It's a pot belly, not a baby. Although I'm thinking about naming mine now after all the attention it's getting."
The former engineering scholar put the pregnancy rumors aside, but still didn't reveal anything about her love life, let alone talk about her husband or partner.
Pregnant At Last; Expecting Baby With Partner
Because Steph had never married, a lot got made about her possible husbands by media and fans alike.
Interesting Read:- Who Is Jack Monroe Partner? Engaged & Getting Married - Soon?
To all her boyfriend hopefuls' dismay, the BBC personality found a companion in her girlfriend, allegedly a TV executive. What's more, she and her mystery muse even conceived a child together.
In July 2019, a source close to the lesbian couple shared that Steph was five-months pregnant. Per the insider, the BBC Breakfast star and her girlfriend were beyond thrilled with the prospect of having a child, which was due on November 2019.
The unidentified source further claimed that the notoriously secretive Steph wasn't doing any photoshoot for a magazine. Back in July 2017, the veteran TV personality hinted being a lesbian by tweeting from the Pride Parade in London.
Facing Discrimination
Social discrimination and viewer's displeasure due to the reporter's characters are not unheard of, and Steph is a victim of such discrimination. The North Yorkshire native talked openly about the class discrimination in wage based on poshness with the Sunday Times.
Don't Miss:- Television Personality Zoe Ball Separated With Her Husband? What Might Be The Reasons?
In a conversation with the Sunday Times in February 2018, Steph said that class was also an essential factor while talking about the pay gap. She said, 
"Throughout my career I've had to argue about [pay]. It's not as simple as a gender issue, it's partly down to class.We concentrate too much on ethnic diversity and not enough on class.It's dead important to represent loads of different cultures. But what the BBC doesn't do enough of is thinking about getting people from more working-class backgrounds. It's just posh. There are a lot of women who do a similar job to me who are paid a hell of a lot more... who are a lot posher than me."
The Middlesbrough-born also revealed that her salary went to six figures after the BBC pay gap row.
Also, in July 2013, 37 years old reporter had shared how people asked the network to take her off-air due to her accent. She claimed that she received a letter to get 'correction therapy' to correct her pronunciation.
The reporter revealed about the discrimination she received in the media business saying,
"Despite being a business journalist at the BBC for 10 years, working behind the scenes on our high-profile news programmes, I was viewed by some in the organisation to be 'too common for telly. I remember at the end of one BBC job interview being told by the manager 'I didn't realise people like you were clever'. Sad, but true."
The daughter of a teacher and radiographer, Steph also received multiple letters citing their impression of her accent and sexuality, one of the senders even mailed her £20 to get a correction therapy.
"I even got one letter that politely said 'Dear Ms McGovern, I watched you on BBC Breakfast. 'I'm sorry about your terrible affliction. Here's £20 towards correction therapy'. The affliction they were talking about was my accent!"
But the journalist stood her ground defying all criticism and said that she credited her past for her reliable determination. The Middleborough native fondly talked about her origins saying,
Growing up in Middlesbrough I was taught to be resilient and competitive. My teachers made us believe that just because kids were at private school up the road, it didn't mean they were better than us. I learned we were all the same. Just because their mams and dads had loads of money, it didn't make a difference." The BBC bosses who put me on air have always said they love my accent. My editor Alison Ford was a big inspiration and she died of cancer two weeks ago. She put me on telly and she had other BBC managers say 'Is she not too common for telly?' But Alison fought for me.
The TV personality confessed that she received positive reviews about her work but always got put off by the negative ones, citing her experience of meeting a random woman on the street who called her out on her accident and asserted that she hated Steph's accent and that she couldn't believe she was on Television. However, Steph insisted that she always looked on the bright side of things.
 I ended up laughing because I thought, 'this person doesn't know me but she felt she could come up and slate my accent'. Now if she had criticised my content and said I didn't know what I was talking about I would have been upset, but she had judged me on my voice, which was ridiculous.
The BBC presenter also talked about her experience with other cynical viewers, especially with those who send the emails which suggested her to receive therapy for her 'ailment,' citing her accent as an illness. Some emails also advised her to go back to her council estate.
You May Also Like:- It's Confirmed! Lilah Parsons Is Dating New Boyfriend Laurence Fox
Naturally, she didn't mind them, but she confessed that she was surprised that people created such controversy and drama over accent in the current age of mutual acceptance.
While she was dealing with her discrimination, in June 2018, she made a football blunder while taking an interview to a former football player Robbie Savage to discuss the World Cup and matches between England and Belgium.
During the chat, Steph asked, "Can we win the World Cup?" and Robbie quickly pointed out that he is not English but a Welsh. He also cleared that he didn't care whether England loses or wins the World Cup.
Later on, she also expressed her apology to the viewers and realized that the happy family does not exist in the world of football.
Good Human Being!
The former Champion Irish dancer is not only a great journalist but also an exceptional human being.
Aside from her professional work, she gets involved in multiple human welfare activities out of which most notable ones include her presentation of the Yorkshire Children of Courage Awards. She was an essential part of the event that celebrated the social work and other efforts of youngsters. It looked like Steph had a blast there according to the Twitter picture below.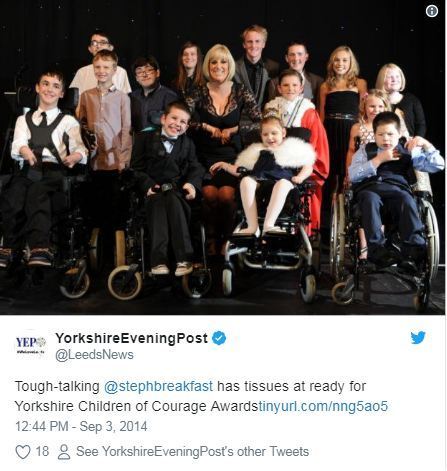 Steph McGovern at Yorkshire Children of Courage Awards (Photo: Yorkshire Evening Post's Twitter)
Steph is also one of the 16 members of 'College of the Future' commission alongside chair of Edinburgh College's management board Sir Ian Diamond, chief UK policy director at the Confederation of Business Industry Matthew Fell, National Union of Students president Shakira Martin, and FE Week contributor professor Ewart Keep. 
The commission would be working together to answer what future colleges may look.
Steph and the members are set to release a final report with recommendations by Spring 2020. They will meet five times throughout the year to achieve this.