Entertainment
George Santo Pietro Age Revealed; Net Worth, How Massive?
Mostly known as the ex-husband of a famous TV personality, George Santo Pietro's identity seems to be overshadowed by his former wife. But, George is a successful entrepreneur, who has tried his luck and succeeded in various fields.
 Even though his marriage didn't work for long, the same can't be said about his business as George never faced failure in his professional life. 
Aging in his 70s, the businessman has been able to make money through film-making, investing in real estate, and running restaurants. He currently enjoys a massive net worth which he earned through his hard work and dedication.
George Santo Pietro's Age, How Massive Is His Net Worth?
George Santo Pietro, age 71, was previously the owner of a famous Italian restaurant called Santopietro's located in a hidden strip mall in Bel-Air, California.
His restaurant was a hub for various Hollywood celebrities in the 1980s. Later, he opened a second outlet in the same complex named Sushi-Ko. The place remained a favorite sushi restaurant for nearly a decade.
You May Also Like:- Race Matters' Author Cornel West Wife Rift; Education, Net Worth & Facts
Further, George has also acted in the 1985 movie, Prizzi's Honor, and the TV show, The New Mike Hammer. He is also known to be a real estate developer and a film executive.
His net worth is not disclosed; however, previously owned a Beverly Hills mansion located adjacent to his wife's house, which he offered to sell for $50 million but later sold in 2010 for $22.6 million. As of today, George's net worth is assumed to be in millions, even though the exact figures are not disclosed.
Married For Nearly 12 Years, Children With Ex-Wife Vanna White
George was previously married to American TV personality, Vanna White. Vanna is famous for being the former letter turner girl on the game show, Wheel of Fortune.
Vanna was earlier engaged to actor John Gibson, but he sadly passed away in 1986 at the age of 37 in a small-plane crash.
George and Vanna first met when their mutual friends Tracy Vaccaro and Robert Demeo took her for dinner to meet the restauranteur in Studio City in 1985. The pair soon grew close and started dating. Five years after their encounter, George and Vanna got married on 31 December 1990.
See Also:- KTLA Anchor Chris Burrous Dies! What Is Death Cause At Age 43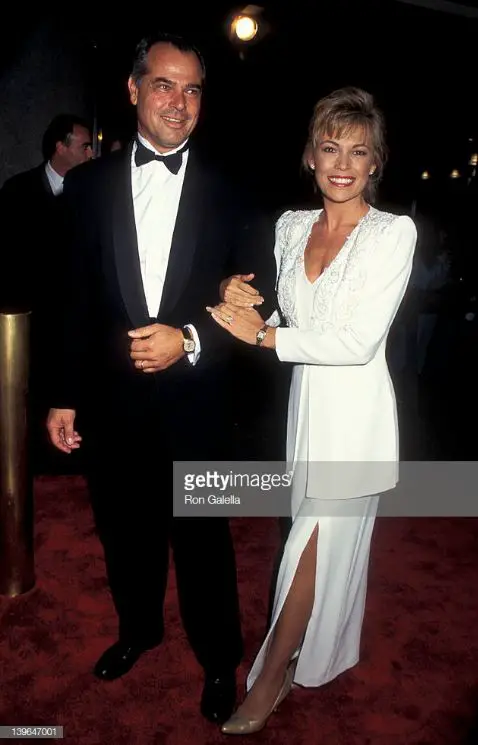 George Santa Pietro with his wife Vanna White in 1985 (Photo: GettyImages)
The couple also has two children from their marriage namely Niko Santo Pietro and Gigi Santo Pietro, aged 20. Vanna had earlier suffered a miscarriage in 1992. George's son Nikko, aged 24, is a gay man who was previously in a relationship with a "Hare Krishna cult-member" named Jaycee Akinsanya. 
On 15 May 2002, George and his wife separated thus ending their married life of almost 12 years. Despite the divorce, the former restauranteur and his ex-wife remain as friends. 
Recommended For You:- Forest Whitaker, Divorce From Wife Of 22 Years! Relationship Falls
During an interview, Vanna White talked about her relationship with her ex-husband.
"My ex-husband and I are great friends. Yes, we went through the horribleness of a divorce [in 2002], and it was painful, especially because we had children. But we're still close as a family, and I'm proud of the relationship I have with him."
Vanna White, aged 61, is currently dating a former construction worker named John Donaldson and the two are set to get married soon. The actress hasn't asked her boyfriend to sign a prenup even though the failure of the marriage means a significant loss to Vanna from her net worth of $50 million.
Similarly, George was also in an on-again-off-again relationship with TV mom Linda Evans before he met Vanna, but after the divorce George has been keeping a low-profile and is supposedly single