Glenn Scarpelli is a former child actor from the 70s; best recognized for roles in countless movies and TV shows such as Forced Entry, Nunzio, One Day At A Time, The Love Boat and MacGyver.
At the height of his acting career, he even had a segment titled The Bloodhound Gang on the PBS's educational show 3-2-1 Contact. Now way past his heyday, Glenn leads a modest life of an entrepreneur. Stroll through his personal life to know him better!
Essential Details - Family, Age & Height
Born on 6th July 1966 in Staten Island New York, Glenn always knew that he wanted to be an actor. So did his family, whose roots were Italian. Admittedly, at just five years of age, he begged his mother, Claire Scarpelli, to help him be on the school's plays.
Former Child Star:- Macaulay Culkin Returns As Kevin McCallister, Recreates Home Alone Scene
For his first ever professional gig for Celeste Frozen Pizza, he ate an astounding 27 pieces of pizza. He was eight at the time. By the age of 10, he had turned into a Broadway star, having debuted through Golda's Balcony.
There's no denying that the former child star's father Henry Scarpelli's industry connections helped kickstart his acting career. Henry is a revered Archie Comics artist, who passed away in 2010.
Now age 52, Glenn stands 5 feet and 6 inches (1.68 m) in height.
Net Worth Today
No longer enticed by the show-biz world, Glenn - while in his 20s - quit acting and instead pursued higher education. After acquiring a degree in Directing from New York University, he set out on his path to becoming an entrepreneur.
Subsequently, the former Jennifer Slept Here star founded the Sedona Arizona-based TV station Sedona Now Network. He also co-owns an organic lubricant company.
Discover New Content:- ESPN Tedy Bruschi Wife, Net Worth, Son
All his business endeavors today coupled with the TV and film royalties have netted him about $1 million in net worth.
Gay Or Married With Wife?
For Glenn, having a wife was always out of the question. By his admission, he always knew of being gay. However, fearing backlash and criticism, he never discussed his sexuality.
Despite his status as a heartthrob, the former child actor didn't have romantic ties with a man until he was 18. His sexual identity was the driving force behind the decision to quit the world of entertainment.
His private life as a gay man saw Glenn - who came out publically in MTV's Top 100 Teen Stars - ignite a romance with a man named Gary. To his dismay, his partner Gary succumbed to AIDS in the year 1992.
After Gary, he began dating Jude Belanger. By elevating their romance to the next label, the duo then got married in 1998.
Relationship Now
For the most part, the marriage between Glenn and his husband Jude was a fruitful affair. Together, the pair co-owns several business affairs.
Other Prominent Gay Figure:- Sam Smith Gay, Boyfriend, Dating, Weight Loss
In 2012, after 14 years as a married couple, they severed their relationship and announced divorce. In a statement, the One Day At A Time actor asserted that the duo remained friends.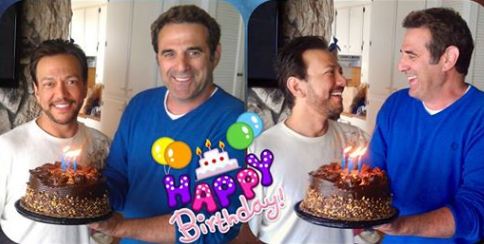 Glenn Scarpelli celebrating his boyfriend Jerry Gilden's birthday in April 2019 (Photo:- Glenn Scarpelli's Instagram)
The separation, however, didn't deter Glenn from building connections and relationships. He's now dating producer and writer named Jerry Gilden.