News
Macaulay Culkin Returns As Kevin McCallister, Recreates Home Alone Scene
Kevin McCallister is "Home Alone" once again!
Macaulay Culkin, most noted for his role as the protagonist in the first two movies of Home Alone franchise, recreated his childhood avatar for a Google Assistant ad, fending off burglars. 
As the year's end is approaching, the former child actor is re-living his 90's character from the Christmas-themed film; but now in a different persona than last year when he appeared as a troubled adult traumatized from his experience with the robbers. 
Take A Look At:- Michael Weatherly & CBS, Eliza Dushku Speaks About Sexual Harassment
Macaulay shared the Google ad, asking if his fans were curious how Kevin looks like as an adult. He shared a tweet along with the video,
"#heygoogle Have you ever wondered what Kevin McCallister is like as an adult?  Me neither. But just in case you're curious you should totally watch this #ad"
The recent video, which displays the various features of Google Assistant, shows an adult Kevin McCallister about to be re-visited by the bandits.
The ad from Google starts with an isolated Kevin checking his schedule for the day with Google Home Hub, which replies that he had the home for himself for the day.
As the video progresses, Macaulay flawlessly unveils his rogue style calling the pizza delivery guy a "filthy animal."
Kevin also puts on a cardboard cut-out like in the 90's movie, but uses the face of Kevin Durant instead of Michael Jordan. The ad also shows the protagonist using mannequins to scare off the robbers before they even enter the house.
Macaulay Culkin appears as a grown-up Kevin McCallister from the Home Alone movie (Published on 19 December 2018)
Later, Google posted a tweet mentioning that it's a lot easier to protect one's home using Google Assistant.
You May Also Like:- Kelsey Berreth Age 29 Reported Missing Enters 4th Week, Family Status Now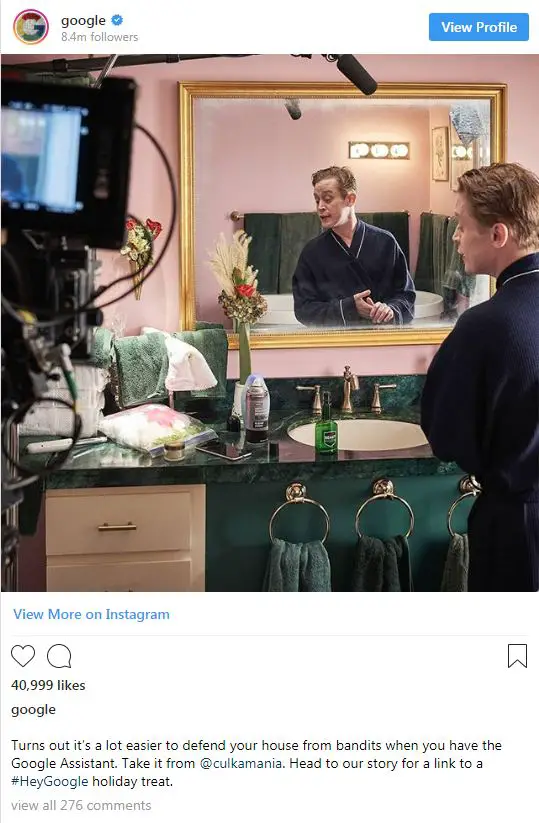 Google shares a tweet presenting Google Assistant's features (Photo: Google's Twitter)
Former child actor Macaulay Culkin has also appeared in movies other than Home Alone including Jacob's Ladder, Uncle Buck, My Girl, The Good Son, Party Monster, Getting Even With Dad, The Page Master, Richie Rich, and more. 
More Child Actor From 90s:- Travis Tedford in 2017; Where is He Now After All The Young Age Acting?
Macaulay, aged 38, has suffered a troubled past due to his drug addiction. He also revealed that drug abuse was the reason for leaving Hollywood for a brief period, also affecting his physique and health. 
However, the actor is currently rehabilitated, presently dating American actress, Brenda Song, which started since 2017. The Home Alone actor dated Mila Kunis for nine years, starting in 2002, which ultimately ended.