Entertainment
Grace Larson Wedding Details, Parents, Net Worth, Height
Grace Larson's bio reveals...husband is a...wedding held in the year...parents followed...career took off with the record...father served as...celebrated 27th birthday on...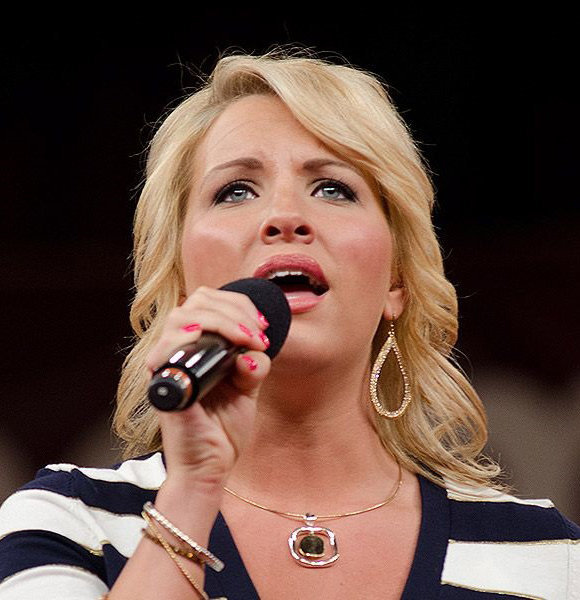 Grace Anna Larson is a Ministry singer that has been happily married for a little over six years now with Skyler Brumley. Their marriage garnered a lot of attention as Brumley was already in the news for opposing same-sex marriage in the United States. 
When It All Happened
Larson and her now-husband Brumley have been happily married for six years now. Getting married in 2015, the two recently celebrated their six years of togetherness in February, where Grace posted a beautiful picture with a heartfelt caption. She wrote,
You've challenged me, taught me, loved me, and given me more than I could have ever dreamed of. I'd say I couldn't love you more ... but I'm afraid I'd be lying. 
The love these two shares seems to be so pure, and we bless them for the lifetime of togetherness. 
The most amazing moment in their life happened when the two were blessed with a son in 2017 and a daughter in 2019.  
The so-loving couple cannot stop sharing their life with two babies. They can often be seen going swimming, to the beach, car drives, and all in all, just enjoying their life. It seems like the two little ones are very fond of each other themselves.
The brother-sister in most pictures can be seen hugging each other and smiling.
Suggested Read:- Juanita Bynum Confesses Sexuality After Married Life With Husband Failed!
The Love Of Her Life
This famous singer has kept her details away from the reach of the media. Not only her but her now-husband, Skyler Brumley, also has very few details about his personal life out.
While the two seem to enjoy living their life out of the public eye, we can't stop but wonder what the famous singer's husband does. 
Brumley completed his college from the Lamar University and later studied at WEBC, also known as World Evangelism Bible College in 2014.
It is not a shocker why these pair seem to go well so together as they seem to have a common interest in Christianity.
However, Larson, age around 30, also turned back from mainstream singing to now singing at ministries, whereas Brumley's journey has been quite different. 
Skyler admitted to living a life, completely different than he does now. He stated how he used to drink alcohol, substances, and parties, but upon discovering his love for what he believes in, Jesus Christ, he made a change in his life.
Since 2011, the singer's husband has completely changed and now devotes his time to being a debut evangelical Christian. Skyley being a Christian, believes that same-sex marriage should not be normal and opposes its approval. 
Skyley, apart from his devotion, also works as a manager at the Ketcham Fitness Center, where his wife, Larson, works as a distributor and promotes the brand.
Discover:- DWTS Star Elliana Walmsley Bio, Birthday, Height, Parents
The Networth Of The Singer
As her husband, Larson also studied at the World Evangelism Bible College. These two share an immense love for their religion and beliefs.
However, Larson, before devoting her time and life to her religion, had several mainstream releases. Still, the album that made people follow her and listen to her more was her Christian and Gospel album "The Promise." 
Now she is a singer at the Jimmy Swaggart Ministries and teaches her learnings and art at the FCA. Apart from giving most of her time to Worshiping and Preaching, the singer also seems very fond of living a healthy lifestyle. She is associated with First Fitness Nutrition, a company that produces nutrition and wellness products, of which the singer acts as a distributor. 
Larson also seems to understand the value of thrifting and second-hand clothing and seems to be resourceful. She has a Poshmark account of herself where she keeps her clothing up for sale. This is another source of income for the singer. 
While we can't be sure of what this amazing mother of two's net worth is, we are certain that the singer has accumulated a net worth of six figures.
Gospel Songstress You May Know:- Shirley Caesar Bio, Age, Husband, Gay, Net Worth