Legendary gospel singer Shirley Ceaser is many things -- an icon, The Queen of Gospel Music, an influential religious figure, a philanthropist, a well-respected songwriter and the recipient of a plethora of awards.
However, what gets lost in the juggernaut of all the Durham North Carolina native's accolades is the fact that she once led a fulfilling married life with her Bishop husband until his passing in 2014.
A traditionalist by definition, who once caught flack for her not-so-nice remarks on the gay & lesbian community, Shirley - even at her age - continues to dominate Gospel charts, which is evident in her ever-so-growing behemoth of net worth.
Husband Passes Away; So Does Mother-Like Sister
Shirley's wedding to her husband Bishop Harold Ivory Williams of Mount Calvary Holy Church in Winston-Salem was iconic as her prolific career.
Another Memorable Wedding:- Nick Jonas & Priyanka Chopra Unite Culture In Stunning Interracial Wedding
Married in 1983 at the Durham High School Auditorium, the wedding ceremony got attended by more than 2,500 friends, fans and family. On the day, both she and her then-fiance turned out dressed in all white.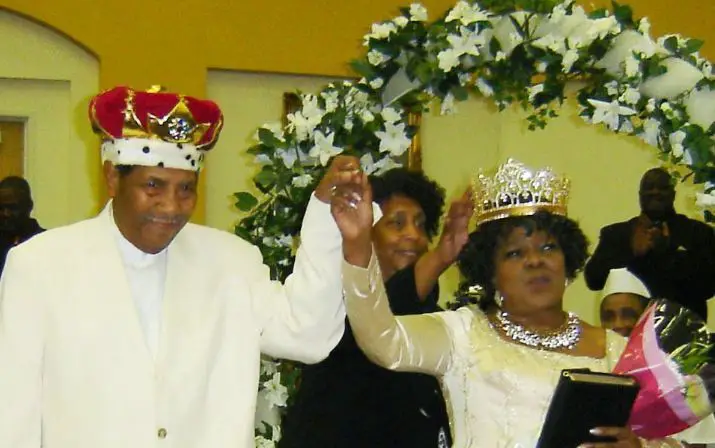 Newly-wed Shirley Caesar and Harold Ivory Williams raise each other's hand in unison at their marriage ceremony held in 1983 (Photo:- justenetertainment.com)
Over 140 people attended the wedding party including 14 groomsmen, 23 bridesmaids, 14 junior bridesmaids, and three best men. To place the icing on the cake, the bride and groom - who was walking down the aisle for the second time - sang their vows to each other.
The estimated cost of the whole affair, you ask? An astounding $25 thousand. Adjusting inflation, it accounts for a whopping $64 thousand.
Seeing the longevity of their marriage, it was indeed worth the investment. To put it in context, she and her husband remained in a happy marital relationship for more than three decades; before he passed away in 2014.
Grieving Loss Of Beloved One:- Kim Porter Dies At Age 47; Diddy Kids' Mother, What Is Cause Of Death?
That same year, Shirley also lost her oldest sister, who was a mother figure to her and the rest of her ten siblings. Following her sister's death, she did an interview where she claimed:-
"I miss her. But my sister Anne was the hardest one for me because we grew up together. Losing her felt almost like losing my mother."
The First Lady of Gospel - who stands above five feet and three inches (160 cm) in height - then followed up by professing the need to put all the pain on music, once she was able to forgo her duty as a pastor.
Net Worth From Timeless Songs
In her defense, that's one thing she has always done. Growing up in the South in the '40s where racist Jim Crowe Laws persisted, young Shirley rose from the dust of poverty using her musical talents as the ladder, first as a member of Albertina Walker's Caravans and then embarking on a solo career.
Her unique way of delivering songs coupled with the message in her lyrics made her an instant hit. Some of her memorable songs include "Don't Drive Your Mama Away," "No Change," "Faded Rose," "Jesus," and "Hold My Mule."
A recipient of 11 Grammys and seven Dove Awards, Shirley - at the age of 80 - boasts a net worth of $16 million. And, with the resurgence of the Gospel Music in the mainstream, the sum is likely to see a steep rise.
Similar Legendary Musician:- How Much Is Joseph Simmons Net Worth? Get Family & Kids Details Here
It might seem like that the Shaw University Alum is a saint reincarnated, but the fact is: she is still a human being with inherent flaws. In 2017, she received backlash for her anti-LGBTQ remark on one of her sermons. The likes of Ellen DeGeneres, Pharrell, Octavia Spencer, and Janelle Monae blackballed her.