Entertainment
Hannah Gross Enjoying Married Life With Husband Or In Furtive Dating Relationship?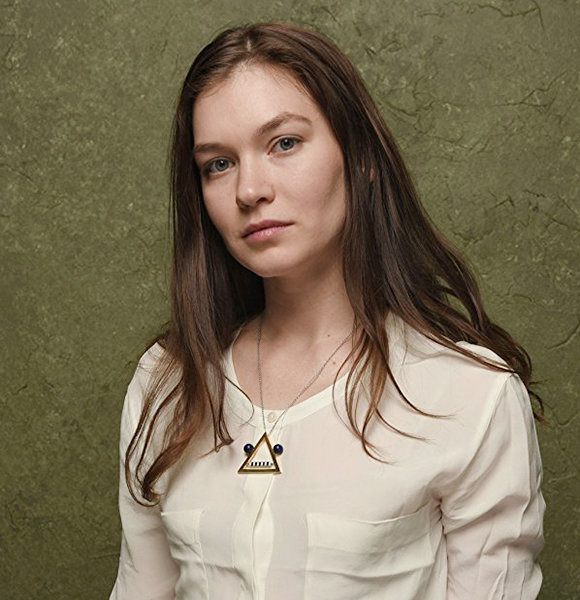 Canadian Actress Hannah Gross hooked the audience's eyes from her surreal performances in the movies Unless, Marjorie Prime and TV series Mindhunter.
The Toronto native displayed electric chemistry with her co-star Jonathan Groff in the series, which not only got massive acclaim but also led the fans' curiosity to her personal life.
However, the actress was once advised to avoid romantic relationships in her mid-20s! Find out how much of the advice your favorite actress has been following!
FBI Agent Boyfriend; Making It Big In Showbiz
Hannah Gross was deeply engrossed in s** with her FBI agent boyfriend Jonathan Groff, with the couple trying all sorts of sexual positions before lying down to catch some breath. However, as time passed, Groff was too profoundly grossed solving the cases of serial killers, causing his intimacy with Debbie slowly fade away. 
Linked To Onscreen Boyfriend:- Beautiful Samantha Jade's Dating Rumors Sparkling With Her Onscreen Boyfriend!
Hannah Gross and on-screen boyfriend, Jonathan Groff (Photo: Hannah Gross Fans' Twitter)
As real as it sounds, all was the excerpt of the TV series, Mindhunter, where Hannah portrayed the role of Debbie Mitford, while her co-star Jonathan played Holden. 
Hannah, who is not new to on-screen romance, parted her ways with her on-screen boyfriend on the series by the end of the first season. Portrayal as the University girl in love with a cop, Hannah pulled off the role very convincingly. 
It was part of the NewYork University alum's talents. Full blessings from her parents: Paul Gross and Martha Burns, she started making a name for herself after appearing in 2016 movie Unless and has been continuously doing so. 
Original dialogue delivery and realistic portrayal, she has wowed the audience by breathing life in every character she portrays. 
Secretly Dating? Already Married? 
Her professional career is nothing less than an open book, but her personal life speaks differently.
The beautiful blonde is rarely active on social media, which has added more secrecy in finding her possible boyfriend. The self-proclaimed rookie in Hollywood received a piece of relationship advice on June 2017 while speaking to the Interview magazine.
Relationship Revealed:- Brendan Hines Relationship, Married, Gay
The actress revealed that the best piece of advice she ever received was that women should never seriously be involved in dating in their mid-20s.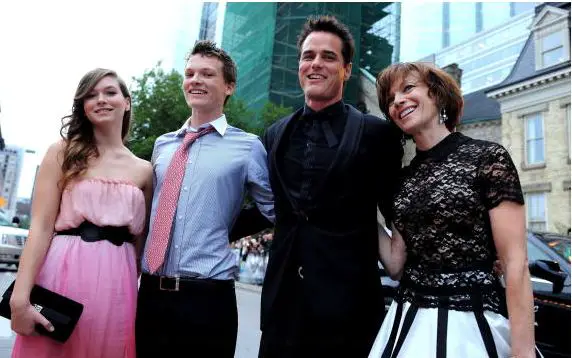 Hannah Gross with family; father Paul Gross, mother Martha Burns and younger brother Jack Gross (Photo: gettyimages.com)
While her dating chart seems empty, the 27-year-old appears to have taken the advice by heart. But she has also spilled her dream man for dating to interviewmagazine.com, quoting Paul Newman as her dream date. 
The lady with the height of 5ft 5 ¼ (165.7 cm) has not opened up whether she has found her "Paul Newman," whom she can turn into her husband. So, it remains unknown whether the actress is dating or even got married for that matter. She might also be single, who has placed her entire focus on her career. 
Despite her secret dating life, Hannah loves to joke around and screw with her siblings. Earlier in 2013, the actress had mentioned about her sister having a boyfriend. Hannah further stated that she loved being the third wheel whenever her sister and her boyfriend went on a date. 
Fortunately, Hannah will not have to face the same circumstance as she is reportedly single. 
Movie In 2018
Back in 2018, Hannah played the role of Susan in the Rick Alverson directed movie, The Mountain. The film featured some famous actors like Jeff Goldblum, Denis Lavant, Tye Sheridan, Amy Stiller, Udo Kier, Annamarie Lawless, and more. 
Directorial Movies:- 'Aquaman' Director James Wan Facts: From Movies, Net Worth To Family Info
The film, which was first premiered at the Venice Film Festival in 2018, is based on the story of a 20-year-old boy, who goes to the mountain to work with a doctor. The movie touches the sensitive topic of lobotomy, although the term is never used throughout the one hour and 46 minutes.