Entertainment
Happily Married Liam McHugh Articulative Nature Regarding Wife and Child
Don't you love seeing your partner expressing immense love to you? The feeling is incredible when you see him loving you to the moon and back, isn't it?
And the point when you feel blessed is when your lover turns into your life partner. Well, you will have a blissful married life when of you trust each other, understand each other, love each other and learn to compromise.
There is nothing in the universe that doesn't dissolve, but you can give some effort to protect it. Likewise, you can protect your marriage too. A healthy marriage has two influential people at the same time who can work together to make their relationship last longer.
Let's meet Liam McHugh, one of the talented American sportscasters who also make people aware of their rights and freedom. Here is one of his video where he speaks about voting rights.
NBC's Very Own's Liam McHugh Married Life With Wife & Children
Despite being busy in his profession, he articulates love towards his Wife and Children.
Read Also:- Dante Fowler Stats & New Contract | Shipped To The Rams For Draft Picks
On 27th June of 2015, he let his feelings know via Twitter when a fan invited him over to watch a hockey match. The tweet read:
"not this year. time to spend some time with the wife and kids."
No doubt Liam McHugh has a busy schedule, but he loves spending his time with his family. After having a romantic affair with his wife Margaret "Maggie" McHugh for a long time, he got bound in a marital relationship with her.
Isn't he blessed to get married to his lover? A child is the boon of love.
The NBC sports reporter marveled over his newfound fatherhood when he sent out a tweet admiring his multi-tasking skills. The tweet read, which was sent out on 10th September 2016 read:
"With a new baby to talk about, pictures from my vacation & a fantasy football team, I'm now a triple-threat of boredom in social settings."
Earlier that year, the baby fever hit the peak when a fan suggested that Liam may have welcomed a baby daughter by the name of Grace. The Long Island denounced the fans suggestion by replying "not my kid."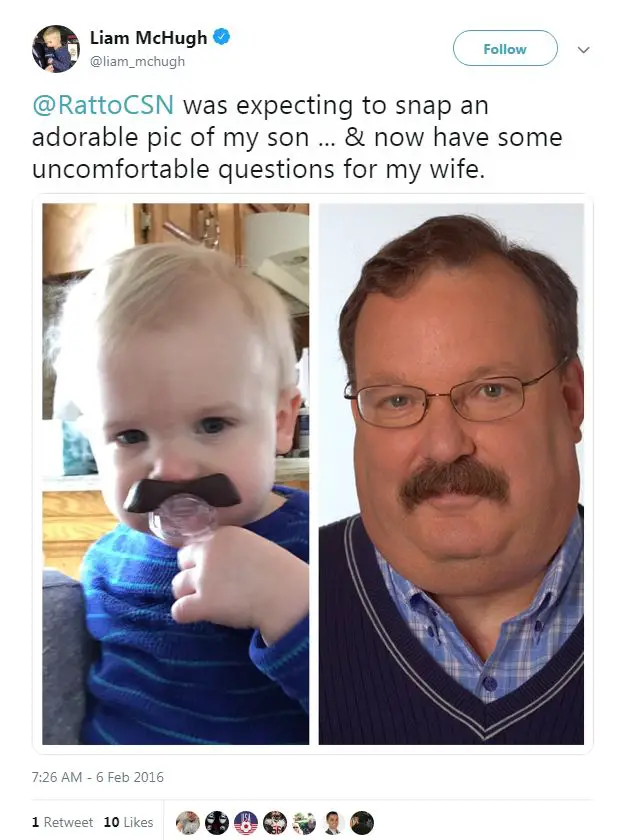 Liam mentions his wife & son in a tweet (Photo:- Liam McHugh's Twitter)
Liam McHugh is gifted with a son when he was in the mid-thirties. The happiness after conceiving a baby is something very amazing for Liam.
Liam's love to his wife is clearly visible after seeing his social updates. To be a dad might be an excellent experience for him. Moreover, he is a loving husband. It seems that the couple is sharing an excellent relationship.
Discover:- Lauren Jauregui Dating Status Now; Does She Have A Boyfriend Or Girlfriend?
Much like his son, Liam also references his wife Maggie in many tweets. Alluding to a Youtube video, the NBC sports reporter tweeted about divorcing his wife in a tongue and cheek manner.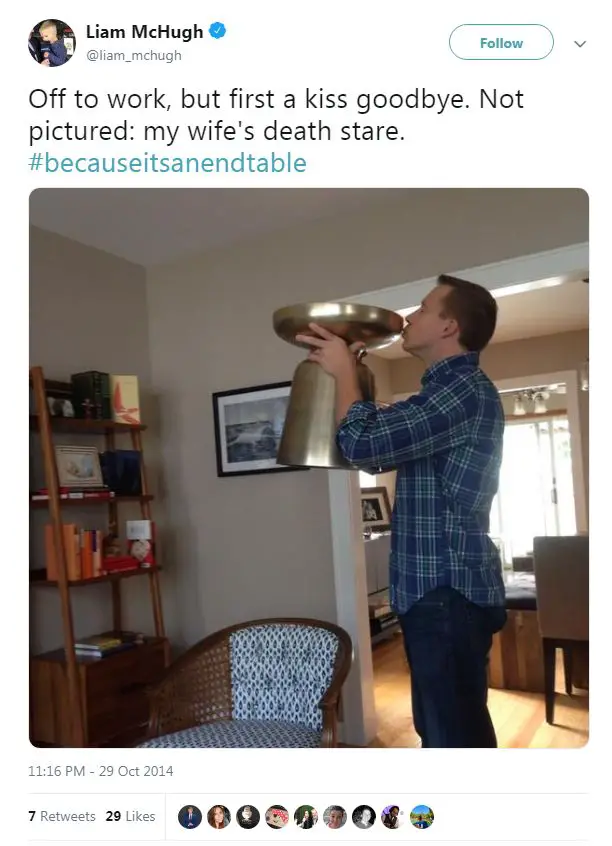 Liam pokes fun at his wife (Photo:- Liam Mchugh's Twitter)
In 2012, he referenced his wife more time, again in tongue and cheek manner, by claiming that her wife had threatened to divorce her if he didn't stop singing "It's the wonderful time of the year."
In another time, Liam wished his wife a good luck as the later look set to participate in the 2010 NYC Marathon.
All in all, Liam and his wife Maggie were expecting their third children as reported by News Day earlier this year. The piece also suggests that the pair are already proud parents to two children, both under the age of 5.
NBC's Liam Mchugh's Wiki-Like-Bio
Raised in Williston Park on Long Island, Liam Mchugh is a sporty person. While attending Herricks high school, he was an active basketball and soccer player.
Fellow NBC Reporter:- Megyn Kelly Age 47 Leaving NBC News, Is It Official? Exit Details
He is a graduate of University at Buffalo. Liam gained his master's degree from Syracuse University. Hardworking and talented Liam Mchugh began his career in the year 1999 by working at Newsday.
He then worked for ESPN The Magazine from the year 2001-2007. The Daily Line debuted with McHugh as host April 5, 2010. At the 2014 Olympic Winter Games in Sochi, he made his Winter Olympic debut as a hockey host. In an interview, Liam says
"I'm pretty much living the dream now. I'm doing what I love. I'm in New York where I always wanted to be. It doesn't seem that long ago that I was covering high school basketball for a small-market Indiana TV station. By no means did I expect any of this to happen."
NBC Sports coverage, Liam McHugh covers the Notre Dame Fighting Irish football and the National Hockey League. The face of the newly created NBC Sports Network, Liam is in his late thirties.
By a very young age, he can make his place as a talented sportscaster. He is said to receive an incredible salary from his profession. However, his net worth is estimated to be $500 thousand.
In August 2018, Liam replaced Mike Tirico as the co-host of Football Night In America and will be joined by his fellow NBC presenters namely, Al Michaels, Cros Collinsworth, and Michele Tafoya.