Entertainment
Having Baby With Partner, Will Carrie Bickmore Ever Make Chris Walker Her Husband?
First love is usually wonderful. Despite various unpredictable circumstances, a person's first love will always be i their mind no matter what. But is Carrie Bickmore, the host of So You Think You Can Dance Australia, still attached to her first husband?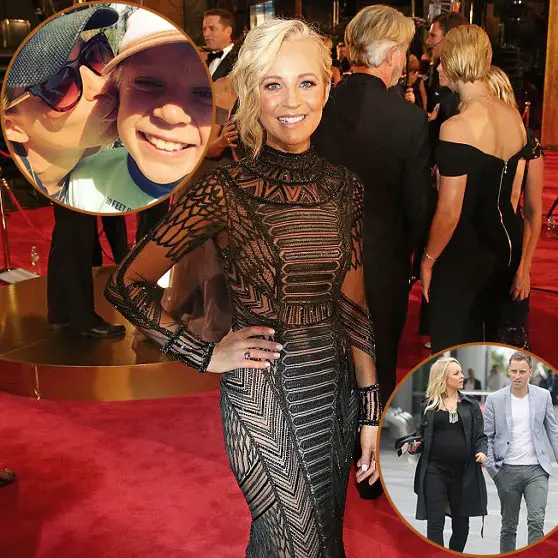 First love is usually wonderful. Despite various unpredictable circumstances, a person's first love will always be in their mind no matter what. But is Carrie Bickmore, the host of So You Think You Can Dance Australia, still attached to her first husband? 
After a saddening end to her first marriage, Carrie has already found love again. But will she marry for the second time?
Supportive Partner and Baby Helps To Overcome Husband Memory; Life After Being Pregnant
One of the Australian television's most famous females, Carrie married Greg Lange in December 2005. The couple blossomed their love throughout their marriage before a thunderstorm hit their path after Lange was diagnosed with malignant brain tumor.
Don't Miss: WWE Star Roman Reigns Reveals Cancer Battle; How Serious Is It?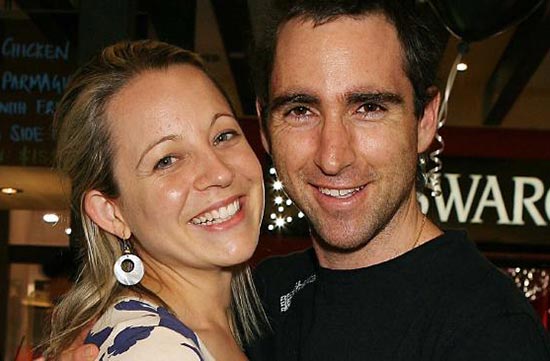 Carrie with her former husband, Greg Lange. (Photo: cdn.newsapi.com.au)
In an interview in 2015, she expressed how she felt when Lange was diagnosed with malignant brain tumor. She said-
"We always knew it was a very, very serious form of cancer, but we didn't have major discussions, nor would we focus on what it would mean in terms of time frames."
In the year 2007, she first got pregnant and gave birth to their son Oliver. Her husband Greg passed away in the year 2010 due to brain cancer.
The loss of her husband has inspired the host to help people all over the world suffering from the horrible disease. Post the tragedy, she has been working tirelessly to raise around $1 million for brain cancer research. She says-
"I'd love to see the day where no family has to watch their loved one die from Brain Cancer the way my family did."
After losing her husband in 2010, she has found love again. She is with Chris Walker, a series producer familiar as the host of ABC's the Weekly. Brickmore got connected to Chris when he lost his brother in a car accident.  Carrie feels that both of them have gone through a similar tragedy. The duo thus started to date each other since 2012.
In January 2014, Carrie spoke to Courier Mail. She said:
"I'm dating Chris and I'm always very aware that I chose to live a public life and the people around me didn't and I'm very respectful of that. Everybody likes to be able to share a life with somebody and it's been lovely to have some company."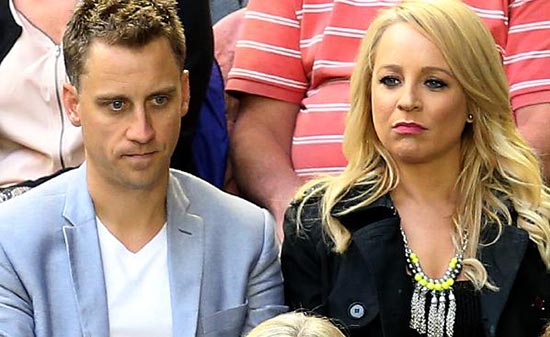 Carrie Bickmore with her partner Chris Walker. (Photo: newsapi.com)
The duo has escalated their relationship one step at a time over the years. They welcomed their first baby together in March 2015 in the form of daughter Evie. Carrie has since been preparing to welcome her third child, her second with Chris after an announcement that she was pregnant for the third time in June 2018.
You May Also Like: Rachel Hunter Now After Children & Divorce With Older Husband; Dating Again?
Carrie filmed herself while announcing the news to her ever-so-excited children and posted on her social media account. Her three-year-old daughter's reaction to the news was significantly popular.
"Now?, Is it a boy or a girl?... Have you got twins?"
Talking to WHO.com post her Sexiest Cover shoot, Carrie revealed her pregnancy details and how she feels being pregnant for the third time.
"My body certainly feels sorer and more tired this time around. Must be age! I had Ollie in my 20s and it's a different experience having a bub in my late 30s. When I had Evie, Ollie was 7 so I wasn't having to carry him around, but this time round Evie is still little so it's much harder looking after a toddler while I have limited movement!"
She also went on to mention the intention of her partner and how many babies he would have had if it was his decision to make.
"He'd have six kids if he had his way! He loves kids and loves watching them playing together."
Although not six, Carrie and Chris look ever-so-excited for the arrival of their third baby.
Will She Ever Get Married?
No doubt, Carrie and Chris are happy together with the kids. However, the question that strikes everyone's mind is, "Whether they will get married or not?"
Carrie has always had the intention of never getting married again. A friend of her told Women's Day that-
'I reckon Chris would marry Carrie in a heartbeat, but she's always said she won't marry again.' 
She further added –
"Don't get me wrong - she adores Chris and she plans to grow old with him, but that doesn't necessarily mean marriage for her."
It seems refreshingly nice in this day and age, for a person to remain loyal to a wedding to such an extent that she won't get married twice even after the death of her husband.
Thus, Carrie alongside his ever-so-supportive partner Chris, are happy with the way they are and plan to grow old together happily without the bond of marriage.
Career Highlights
Born on December 3, 1980, Carrie Bickmore is a Gold Logie award-winning radio and television presenter. Bickmore began her career as a newsreader on 92.9FM and began her television career in 2006 by appearing on the variety show Rove Live. Carrie can be seen on The Project on Network Ten. The show airs weeknights at 6.30pm.
Read Also: Fox News Reporter Tracee Carrasco Set To Get Married; Meet Husband To-Be
Possessing strong feminist views, Carrie has never taken a step back whilst talking about gender equality and women rights. On 25 October 2018, her views against women violence in an episode of The Project grabbed a lot of eyeballs.
"Just this month, at least 10 women have been killed at the hands of violent perpetrators, six of them in just five days. Why isn't this a national crisis?"
All set to become a mother for the third time, a pregnancy break might be next in the card for the glamorous reporter. However, there is no doubt that her career will continue to escalate post her time-off.