Henry Winkler is an...he is an American by nationality but...his parents migrated from the...began his career back in...known famously for playing the role of...married for almost...has a son and a daughter...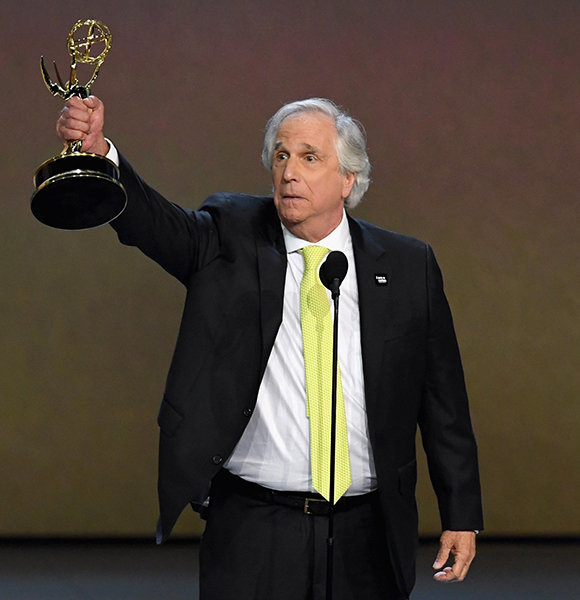 With over five decades in the entertainment industry, there are very few who would not recognize Henry Winkler. He is an American actor, director, and producer. 
Henry became a household name at just age 27 when he got cast in Happy Days. He played the part of Arthur "Fonzie" Fonzarellifor in the TV show for the entirety of its runtime. 
Henry Winkler's Bio
Henry Winkler was born in Manhattan, New York City on the 30th of October 1945. Son of Anna Marie Winkler and Harry Irving Winkler, Henry is an American by nationality.
His parents, meanwhile, had emigrated from Germany in 1939 on the eve of World War II. Henry was named after his uncle, who did not make it out from Germany. 
Another New Yorker:- Gay Supporter Malcolm Gladwell Has Wife Amid Girl Problem? Parents Details
As for his education, Henry attended Emerson College. He earned a bachelor's degree in 1967. And, then in 1970, went on to the Yale School of Drama to receive a Master of Fine Arts (MFA).
Even at the age of 73, Henry has managed to keep himself healthy. Nonetheless, he doesn't stray away from the dinner table, which is apparent from his weight. His height of 5 feet 6 inches (1.68 m) has further complimented his body stature.
Married: Wife & Kids
Like his successful career, Henry also leads a prosperous family life. He has been together with his wife for more than four decades now. 
In 1976, Henry met Stacey Weitzman at the set of Happy Days. Just after a few weeks of their first encounter, Stacey moved in with the actor.
The couple dated for about two years and finally got married in 1978. The wedding was the first one for Henry while it was the second time for his wife. Previously, Stacey was married to Howard Weitzman, an entertainment lawyer.
The former couple got married in 1970 but separated in 1976. Out of their time together, Stacey and Howard had parented a son, Jed Weitzman.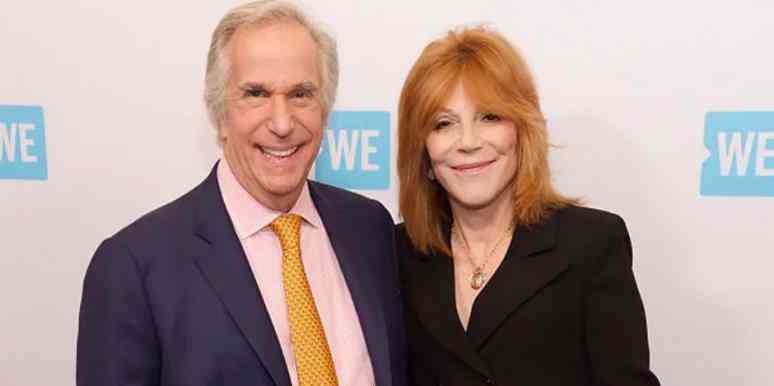 Henry Winkler with Stacey Weitzman on the18th of September 2018 (Photo: yourtango.com)
Nevertheless, out of the marriage between Henry and Stacey, the duo has two children: a son called Max Daniel and a daughter named Zoe Emily. Both of their kids are married and have children of their own, which makes the pair grandparents.
Following suit like his father, Max is also a director and writer. He is famously adored for his work in Ceremony (2010) and Flower (2017). 
Henry and wife Stacey have been living blissfully since their marriage over four decades ago. There have been no controversies regarding their relationship.
Although there were rumors back in the days that Henry is secretly gay, his married life has disproven the gossips. Despite being straight as an arrow, he is an avid supporter of LGBTQ.
Net Worth Details
Henry returned to New York after graduating and immediately started working in the showbiz. Starting humble, he performed at the Manhattan Theatre Club for free but quickly moved up the ranks. In 1972 he made his first TV debut with Another World, NBC soap opera. 
Just a year later, he made his debut in the film through, Crazy Joe. The same year he moved to Los Angeles to further his career. Just two weeks in the city, he landed a role with CBS's The Mary Tyler Moore Show. He reached the height of his acting career in 1974 with Happy Days. 
Similar Long Career:- Ian McShane Wife, Family, Net Worth
While Henry is not getting any younger, he has managed to accumulate an impressive amount of net worth to keep him comfortable in his old age. He is estimated to be worth $30 million. And, the actor is still kicking it in the industry as he manages to land roles even now.