Entertainment
Hot Actress Nicole Beharie Moved on after Breakup with Boyfriend! Is She Dating Anyone Now? or Married Plan and Husband?
Heartbreaks, although it might sound vague to the one who is reading it but apparently is a real tsunami for the one's who have faced and gone through it. Just imagine, to be a complete stranger to someone whom you have known for so long, to forget the one whom you thought is your inner soul, to detach someone from your life which was once a part of it. Yes, it gives a goosebump leaving one completely devasted and broken.
Similar might have been the case of actress Nicole Beharie who once stood in the spotlight due to her broken relationship. Is she completed broken or has she moved on is the first question that strikes any random people when learning about the separation?
So, today we shall learn about her current dating scenario and the reasons for break up with her love.
Break up: What is the actual cause?
While working for the movie "Shame" in the year 2011, the lady met her co-star Michael Fassbender. Although the duo was enjoying their dating and connection in the film, though in real life, they had not been into each other.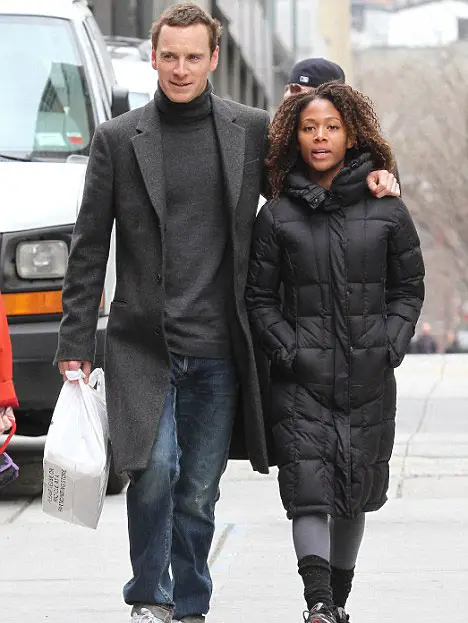 Caption: Michael Fassbender with  Nicole Beharie together in New York City.(2012)
Source: goffphotos.com
However, the love sparked between Nicole and her co-actor Michael after the completion of the movie and when they were promoting the film. As posted by dailymail.co.uk on 15th May 2012, the man confronted his relationship with the lady after they were spotted together walking hand in hand in the city of New York a month earlier. He said:
'I'm seeing Nicole. We're trying to see each other as often as possible, That's kind of difficult when she lives in New York and I live in England.'
 
He added:
'Nothing happened while we were filming. We started talking more on the promotion thing. So, yeah, it just sorts of unfolded like that.'
However, the relationship between the couple ended in January 2013. As posted by Inquisitr.com on 14th January 2013, the Lady announced her break through her Twitter account on 11th January 2013:
Yes its true Fassbender and I are no longer dating.

— Nikki Beharie (@NikkiBeharie) January 11, 2013
Although she has not revealed the real reason for the break up she seems to be totally broken from the unexpected dumping, while her fans have shown kindness and grief to the lady on her Twitter account:
@NikkiBeharie I'm so sorry to hear that but looking fwd to seeing much more of your work in the future. I know it's a bright one. Be well.

— BrownGirlsLoveFassy (@FassbenderLove) January 12, 2013
@NikkiBeharie Sorry 2hear! U spent all this time together the last month. It's not my business but I think U all should give it another try

— Globetrekker203 (@Globetrekker203) January 11, 2013
On an interview posted by Celebitchy.com on 15th October 2013, the man revealed his perspective on meeting women and about his longest dating period on his acting career.
When speaking about his most extended dating period, he talked about dating women for around two years, although he did not reveal the name of the lady. Similarly when revealing about the ideology on meeting women he said:
"I make a lot more friends, you know what I mean? You become a lot more successful in terms of, like, talking to a girl. She's all of a sudden more interested in me. I know that, like, three years ago, she would've walked away after two sentences left my mouth. I remember I was sitting at this table at this thing, and I was talking to this girl. I was like, God, I am so boring right now. But she was like, That's so interesting!. I was like, You know what? Five years ago, this would not have been interesting." 
It's already three years after her broken relationship, but she has not once explained the actual reason for the breakup. While we can still guess the break up was due to the flirtatious nature of the man or infidelity of the man based on the interview given by him. 
Well, we can't just pin point on it till both the party clarify the actual reason for separating from the relationship while the man is reported to be dating
Moved on or struggling to overcome it?
The relationship might have been special for the lady. Therefore it was a devastating and a heartbreaking situation for her. To overcome from her break off with Michael Fassbender it took her quite some time.
Whereas, Michael Fassbender is reported to be dating Alicia Vikander, a Swedish actress since November 2014.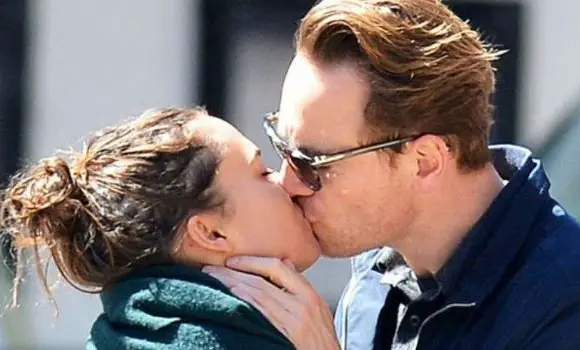 Caption: Alicia Vikander and Michael Fassbender in 2016.
Source: whosdatedwho.com
Her co-star from the "Sleepy Hollow" had shown and given full moral support to the lady to overcome the issue. Similarly, her handsome co-star Tom Mison had tried his level best to convince her to forget the man and move on.
Some of the inside sources revealed how the co-star had helped the lady to overcome from the extreme scenario. As posted by Bossip.com on 22nd October 2013, they said:
"She's slowly but surely coming around. She's thankful to have the series to keep her busy and good friends like Tom to keep her positive and grounded. Nicole is beautiful and will find the right guy soon enough."
Thus, the lady is still reported to be single and does not have any boyfriend after the break. Neither she is married nor does she has a husband instead she is combating with her past issue of love. 
Despite having a broken relationship, the lady has not stopped in her career. Nicole is reported to have an estimated net worth of $ 3 million and is working on series like Sleepy Hollow(2013_2016), Bones (2015) and has also undertaken a project Jacob's Ladder for the year 2017.