Entertainment
House Of Cards' Joel Kinnaman Secretly Turned His Girlfriend Into Wife! is That The Reason Why He Won't Go Shirtless?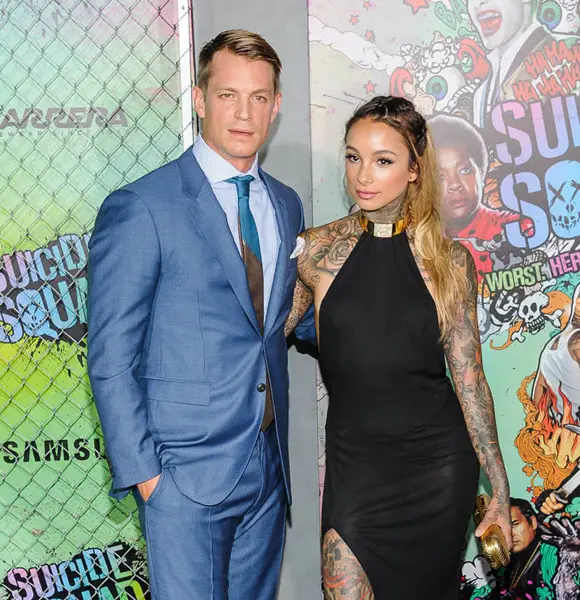 It may get on your nerves if we tell you that there exists a love relation between a machine and a young lady. 
The machine with the feelings inside him is Joel Kinnaman, a supercop named Robocop. Some may even recognize him for his role in the TV series, House of Cards.
This Swedish actor, Joel Kinnaman was on the highlights for secretly marrying his two years long girlfriend early in the year 2016. He is now a real-life husband of a tattoo artist, Cleo Wattenstrom, but have they vowed something else other than the marriage vows?
Let's dig in to find out!
Joel Kinnaman's Personal Life: Two Girlfriends And A Wife 
Joel Kinnaman, who is Charles Joel Nordstrom by birth, was only experiencing on-screen romances before 2009. The year, 2009 proved to be special for him after he found his girlfriend for the first time.
He got into a secret relationship with Jane Timglas, who is a Swedish writer, but they split in 2011 without specifying any particular reasons.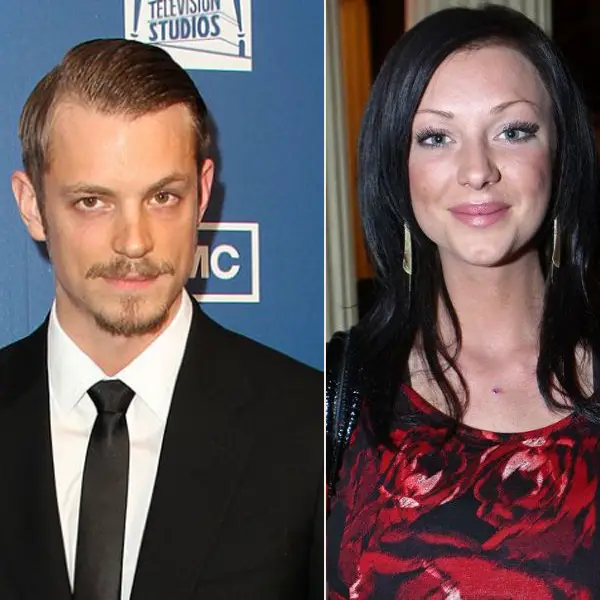 Joel, who once dated the Swedish writer, Jane Timglas are now separated (Photo: liverampup.com)
But it wasn't the end of the girlfriend for the actor; as he found another beautiful lady in February 2012.
The lady was indeed related to the same acting field like him, and she is Olivia Munn, who portrayed the character Psylocke in the movie of the X-Men: Apocalypse (2016).
Unfortunately, this was also a two-year long relationship which ended in March 2014, without revealing any cause of the separation. Instead, they seemed to be carrying on their work as if nothing was between them before.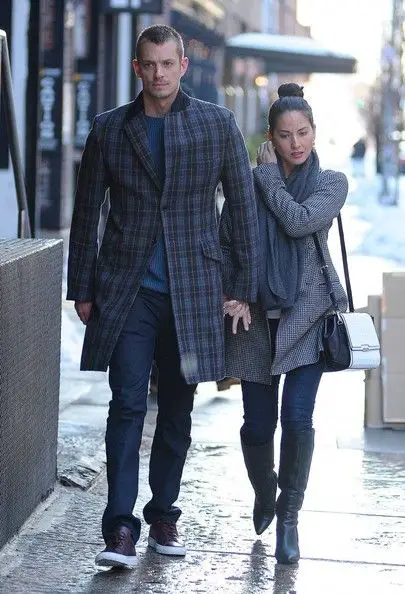 Joel Kinnaman and Olivia Munn spotted together on the streets of NYC (Photo: dailymail.co.uk)
The breakup with Olivia created an opportunity for the actor to meet another lady, Cleo Wattenstrom, an Ethiopian tattoo artist. The two started dating from August 2014. It was the year the duo was first photographed together in August. UsWeekly even reported that the duo moved in together in 2014 and quoted a source saying the duo's relationship as "refreshing relationship" for Joel.  
Cleo remained as Joel's girlfriend for two years until 25 April 2016.
But what after that, did Joel go through the breakup like before? Well, not this time!
Joel turned his girlfriend into wife as he got married to Cleo on 25 April 2016 on a private wedding. 
The married couple loves traveling a lot, and they share good moments having vacations regularly. They even travel on bikes and were once spotted in Santa Monica in 2016.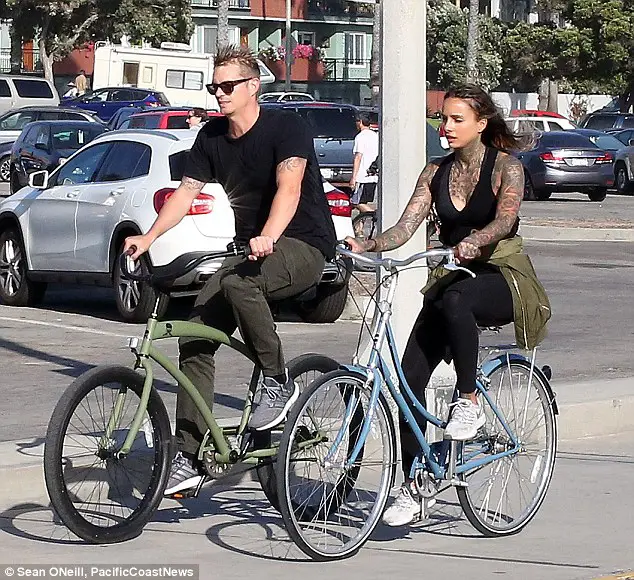 Joel and his wife enjoying riding bikes in Santa Monica (Photo: dailymail.co.uk)
Sometimes, they also take to their social accounts and flaunt their memories.
Joel Kinnaman doesn't reveal much about their secret marriage, but adores his wife and once shared his experience with People:
"My wife, she's got this, I call it 'Mr. Baby.' It's like a baby with a mustache on it. [Tattoo artists are] all friends, they get drunk and do tattoos on each other. They're actually the ones that are the least precious about it."
His wife has never stopped him from doing anything when it comes to movies, so she is surely not the reason for Joel not going shirtless.
Joel Talked About Wife And His Marriage In The Late Late Show with James Corden
In August 2016, Joel went to the night show, The Late Late Show with James Corden where he has a good moment to share about his married life. While conversing with the show's host, James Corden, he recalled his marriage moments. 
Caption: Joel reveals and talks a bit about his marriage. (Published on Aug 23, 2016).
Joel, in a funny way, presented the scenario of their marriage on the show and mentioned the venue to be Same Day Marriage which is on San Vicente Boulevard. He also showed his love towards his wife after he posted an Instagram image on 15 February 2018. 
Apart from his married life, Joel Kinnaman is best known for the on-screen character named Will Conway in the TV series, House of Cards. Joel plays the role of a Republican Governor of New York in House of Cards, who was also the nominee for President of the United States. Unfortunately, in the series, Joel's character will not be able to be the President of the United States as his opponent along with his partners rig the system. 
Best known for House of Cards, Joel also talked about his co-actor, Kevin Spacey's sexual allegations in 2018.
In an interview on a Scandinavian talk show, Skavlan, Joel addressed about Kevin Spacey's sexual misconduct allegations in January 2018. Talking to the Norwegian host, Fredrik Skavlan in the show, he stated that Kevin Spacey's sexual allegations were not shocking for Joel saying, 
"It wasn't a big shock. I have five or six friends I know who have told stories about Kevin about when they were young and had just arrived in Hollywood. He tried to... he gave me a very warm welcome in Baltimore. But later, when you learnt that he had supposedly behaved this way with 14-year-olds then it's like thank you and goodbye."
He also gathered a huge fanbase through his new American TV series, Altered Carbon, which debuted in February 2018. He played the role of Takeshi Kovacs in Richard K. Morgan's novel-based series which was much loved by the audience. In an interview with TVGuide in February 2018, Joel stated,
"I don't think so, no. We have no idea what the second season would be, but my guess is that they would follow the two other books, and they are all on completely different planets, completely different worlds, and my guess is — and I don't know — my guess is that it's sort of going to be an anthology show where maybe a couple of the characters continue into the next season. But no one knows what's going on in the second season."
According to reports, Netflix will start production on the second season of the series, Altered Carbon in October 2018.