Entertainment
Cancer Survivor Dallas Raines: Tumultuous Relation Of Wife & Daughter To Family Moments
KABC-TV's chief meteorologist, Dallas Raines is a household name to LA, who has been providing weather updates since 90's.
Accurate weather is Dallas's game but his signature moves like Dallas dip, swirl and golf swing has endeared him to the audience, making him one of the most famous weather person.
And for his personal life, Dallas has all kinds of weather including a storm brought after cancer diagnosis and had conflicts in his family.
Want to know how the former CNN weather reporter came out of the storm? Keep reading till the end!
Cancer Survivor; Win Through The Greatest Killer
The award-winning weatherman, Dallas Raines, who uses his real name in professional life, used to inform about incoming dangers to the wide audience could not predict the storm that headed his way.
Dallas was diagnosed with prostate cancer in 2005, which left him in shock.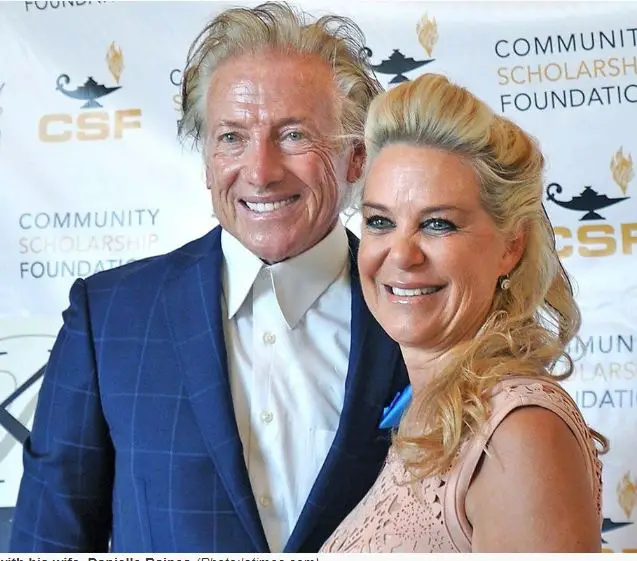 Dallas Raines with his wife, Danielle Raines at an event (Photo:latimes.com)
See Also:- Julia Baird Reflects On Health Crisis | Cancer Threatens Married Life
He revealed his surprise in an interview with ABCLocal in 2016. He remarked that he has been leading a healthy lifestyle by eating well, exercising always and maintaining an active life. Despite all, he was suffering from the most significant non-communicable killer disease in the prime time of his life. He quoted,
"It was shocking, to be honest. Well, you eat well, you exercise, but, you know, that can only go so far."
Generally, the early prostate cancer leaves a patient with standard treatments of surgery, radiation or do nothing at all. The weatherman chose to undergo radiation therapy and surgery. Raines was anxious about his therapy which he revealed by saying,
"Everybody has anxiety, no matter what you do, because that's life because we're all obeying the second law of thermodynamics, that means we're all dying. We just don't want to die too fast."
Raines beat the odds and finally came winning through dangerous cancer.
What's more, Dallas has been enjoying his family life even more after his brief flirtation with cancer, in spite of a minor glitch in 2016.
You May Also Like:- ESPN's Chris Mortensen Health Struggle, Cancer Battle Update & Family Talks
Wife and Daughter's Bitter Fight, Net Worth
Dallas' life was relatively quiet after battling cancer until 2016; the year he suffered another family tragedy.
His wife, Dannielle Raines was accused of assaulting her daughter, Georgia and trying to strangle her under the influence of alcohol in September of 2016. Georgia was ferrying Danielle to her home after a party.
Don't Miss:- Cancer Survivor Sarah-Jane Crawford Romancing Boyfriend; Dating On Different Level
Later, Danielle pleaded guilty to the charges after the matter was taken to LA County District Attorney. She was sentenced to three years of probation and drug rehabilitation along with a stay-away order from her daughter on 7 November 2016.
Though the mother-daughter relationship went sour, Dallas seems to share a good rapport with his daughter as per his social media. He posted a picture of himself and his daughter, Georgia celebrating Easter together in 2018 via Instagram.
Similarly, he shares a good relationship with his mother too. He celebrated his mother's 90th birthday by sharing an Instagram image of him and his mother on 3 October 2017.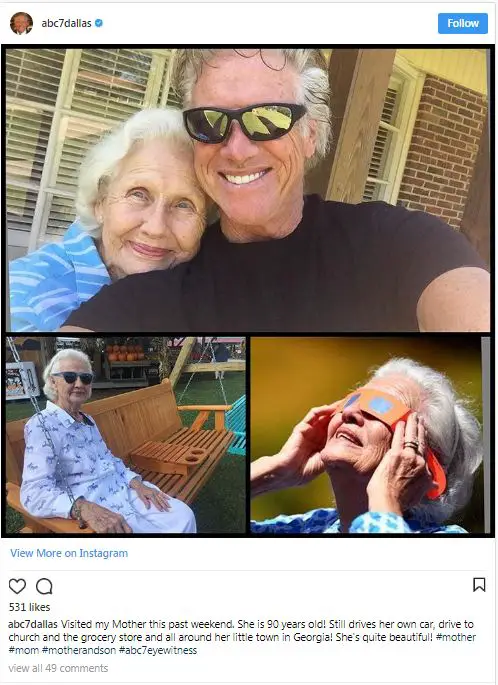 Dallas Raines celebrates his mother's her 90th birthday (Photo: Dallas Raines' Instagram)
Winning battle against cancer, Dallas is making his life more fruitful by involving in social welfare activities. In June 2018, he has been advocating and encouraging the people for the food donation by promoting the "Feed SoCal" campaign via his twitter in order to end the hunger.
He took to Twitter on June 2018 sharing the glimpse of the campaign where the team was making their effort to collect the donations and also encouraged people quoting "if you can't make it today, donate at your Vons, Pavilions or Albertsons by 1 July."
In addition to collecting food donations, he was actively telecasting the live weather from the Anaheim.
Read Also:- Beth Smith, Dramatic Weight Loss & Cancer Battle; Inspiring Story For Today
Apart from cancer and family tragedy, the climatologist is still active in his job as the chief meteorologist. He is paid a hefty salary of $500K per annum, which has helped him amass a net worth of $3 million.
With his handsome salary which enhanced his net worth, he fulfilled his childhood dream by adding the Steve McQueen "Bullitt" Mustang to his worth whose poster he used to hang on his wall.
He shared the picture on Instagram on July 2018 standing beside his new car flawlessly matching the charisma of the car as he looked dashing in his suit.
Moreover, America's favorite weatherman is still reminding every day, whether you have to carry an umbrella or sunglasses and is showing no signs of stopping even at the age of 64.