To top off - what had been a controversial - 2018 for Jamele Hill, she got engaged to her then-fiance Ian, age 38. On 28th December 2018, she took to Instagram to break the news by sharing a series of romantic images from the big day.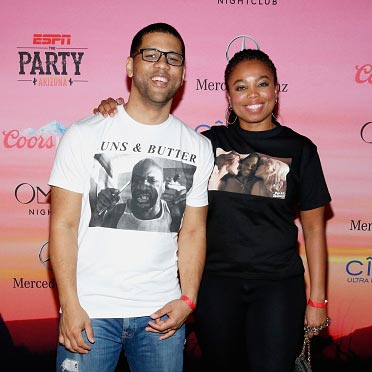 Quick Information
Salary

$1 Million

Lesbian

No

Rumors

Michael Smith

Official Site

https://www.jemelehill.com/

LinkedIn

https://www.linkedin.com/in/jemelehill/

Instagram

https://www.instagram.com/jemelehill/?hl=en

Twitter

https://twitter.com/jemelehill?ref_src=twsrc%5Egoogle%7Ctwcamp%5Eserp%7Ctwgr%5Eauthor

Facebook

https://www.facebook.com/jemelehillworks/

Tattoo/s

No

Hair

Long

Height/ How Tall? 5' 5" (1.65 m)
College

Michigan State University

High School

Mumford High School

Career

1997–present

Awards

Inaugural McKenzie Cup(2007), Journalist of the year(2018)

Net Worth

$4 Million

Date of Birth Dec 21, 1975
Gay

No

Fiance

Ian Wallace

Engaged Date

2018-12-27

Relationship Status

Engaged

Children/Kids

Not Yet

Mother

Denise Dennard

Father

Jerel Brickerson

Ethnicity/Race

African-American

Religion

Christianity

Zodiac Sign

Sagittarius

Birth Name

Jemele Juanita Hill

Profession

Sports journalist

Birth Place

Detroit, Michigan, United States

Nationality

American
Remember the time when Jemele Hill got suspended for her controversial writing post in which she referenced Adolf Hitler in an article written about Boston Celtics during the 2008 NBA Playoff? Later in 2009, she was addressed for her comments that compared University of Kentucky Wildcats men's basketball coach John Calipari to Charles Manson. 
We will continue about this around the end of this article because we are here to talk about something else. Yes, you should know better than you are here to find out more about Jemele Hill. Of course, her professional career is also a matter of concern, but as we said earlier, we will discuss it after we talk about her personal life. So, stay with us.
History With Michael Smith - Boyfriend Or Colleague?
On October 2016, it got announced that Michael Smith and Jemele Hill would replace Lindsay Czarniak, who has taken maternity leave, as the anchors of 6 P.M. Sportscenter.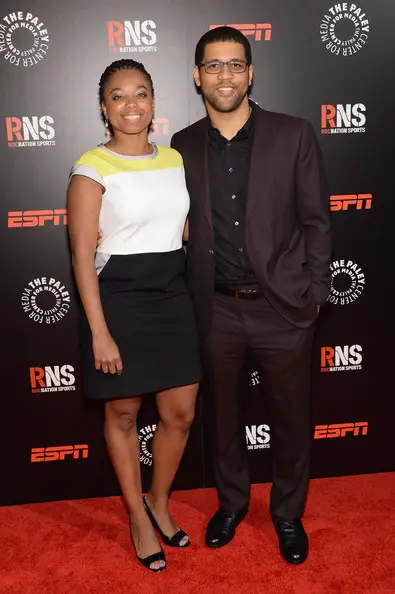 Michael Smith and Jemele Hill at ESPN 35th Anniversary on 28 May 2014 in New York City (Source: Zimbio.com)
Linked With Co-Worker:- Graham Phillips Spotted With Ariana Grande, Dating Again?
According to Rob King, ESPN's senior vice president, Mike and Jemele will be emphasizing putting sports headlines in context. He was quoted saying,
"By 6 p.m. and 3 p.m. on the West Coast, we understand that audiences have pretty much come across the headlines that have happened in the course of a day, either through social content, or through mobile or digital content. What they actually really need is a sense of why it matters, and a sense of context, as opposed to just news."
The format of the show was more conversational, and filled with content regarding a specific topic and discussions about it between Jemele and Mike with each submitting their own opinions.
Michael Smith's Short Bio
Born on December 21, 1975, has been honored with many titles and positions like in 1998, Jemele Hill managed to secure the first place in sports feature writing for the North Carolina Press Association.
In 2007, Jemele won the inaugural McKenzie Cup at the annual Poynter Media Summit and in the same year, she received an honorable mention in the 2007 edition of the best American Sports Writing.
Was Irdis Elba Her Boyfriend?
Well, there have been many rumors about this beautiful lady. You know her co-host Michael Smith right? From their show 'His & Hers.' Of course, you have as he is the man who was rumored to be Jemele's boyfriend.
Well, later after the rumor made a significant hype in media, Jemele came clear about her relationship with Michael was just as a co-worker and a friend. She even said that she was dating Idris Elba, who is a famous English actor.
Brit Actor In Our Vault:- Howard Charles Wife, Parents, Height, Girlfriend
However, in an interview with the Curves, she stated that she had been dating Idris Elba for two years in her mind, and he's going to propose her.
Sheds Light On Dating Life
And out of nowhere, Jamele dropped a bomb on the world when she posted a snap of her with a mysterious guy from The Whitehouse in 2017. Accompanying them were President Barack Obama and First Lady Michelle Obama.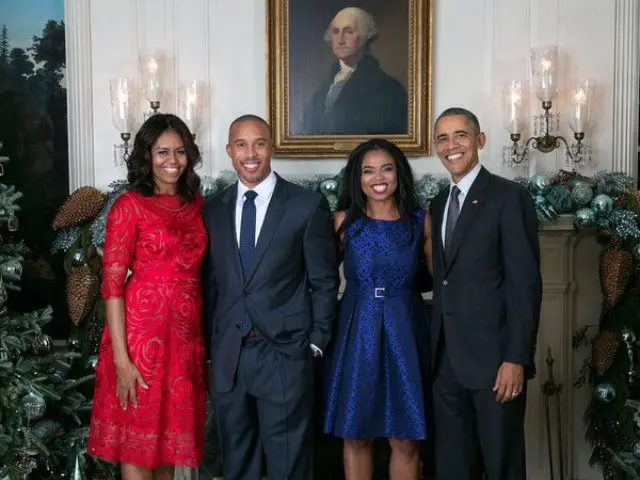 Jemele Hill with then-boyfriend Ian Wallace taking a picture of the President and the First Lady in 2017 (Source: breitbart.com)
The mystery man later turned out to be Ian Wallace -- a salesperson based on Detroit. By then, they were dating for almost three years. Per reports, the lovebirds began dating seriously from 2015, after getting acquainted a year prior.
At the time, she did refer to Ian as "Ol Boy" which is coincidentally her nickname for Michael.
The opinion that she was in a relationship with Ian got reinforced when she visited the White House in 2016 and posted an image on her Instagram.
Career Marred By Controversy
Her professional controversies struck many. So, as discussed, she wrote so wrong that got her a week-long suspension from her work. Her words:-
"Rooting for the Celtics is like saying Hitler was a victim. It's like hoping Gorbachev would get to the blinking red button before Reagan. Deserving or not, I still hate the Celtics."
These are some strong words of personal hate, but as it got into the reader's views, a massive flow of negative comments started to burst upon her.
In an exclusive interview with Curvy, she got asked the question about how she dealt with her suspension after Adolf Hitler/Boston Celtics comparison during the 2008 NBA Playoffs and University of Kentucky basketball coach, John Calipari to Charles Manson, to which she replied,
I was irresponsible in both cases, but I wasn't suspended for my comment regarding John Calipari. That's another part of my learning process, understanding the immense responsibility that comes with being on a platform like ESPN's. I learned a difficult, but valuable lesson, and thankfully during those cases, I was able to rely on my ESPN family as well as many of the wonderful mentors who have helped me throughout my career.
She took her punishment for her actions as a positive response and learned some lessons from it.
There will be ups and downs in everyone's career just like the controversies and the one-week suspension from work, but despite all, Jemele Hill never stopped doing what she likes to do.
Engaged At Last - Married Life Awaits For Her & Boyfriend
An outspoken critic of the Trump Presidency, Jamele left ESPN after 12 years at the renowned sports network in September of 2018. Many believed that her exit from ESPN was a direct result of her political views.
Within a month of leaving her job at ESPN, The Atlantic hired her services as a sports writer. At Atlantic, she got tasked with covering the intersection of sports, race, and politics.
To top off - what had been a controversial - 2018 for Jamele, she got engaged to her then-fiance Ian, age 38. On 28th December 2018, she took to Instagram to break the news by sharing a series of romantic images from the big day. In an accompanying caption, she wrote:-
"I've called this my year of transition. I left a job, started a new job, moved to a new city and now ... I'm engaged to the love of my life. I'm overjoyed and immensely blessed."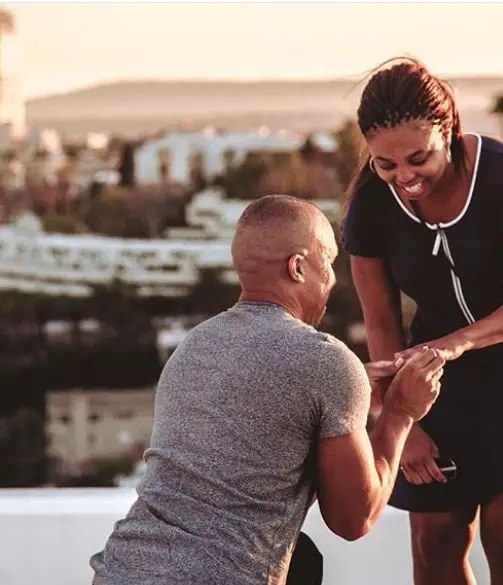 Jamele Hill in disbelief after boyfriend-cum-future husband, Ian Wallace proposes on 28th Dec 2018 (Photo:- Jamele Hill's Instagram)
After the proposal, the former ESPN personality professed that she didn't expect her boyfriend-turned-husband hopeful to propose so early because of all the moving and traveling.
Now, that Jamele looks all set to enjoy married life with her Ian, the rumor surrounding her and Michael Smith will die down.