Entertainment
Forged In Fire's J. Neilson Bio: Age, Wife, Children, & Net Worth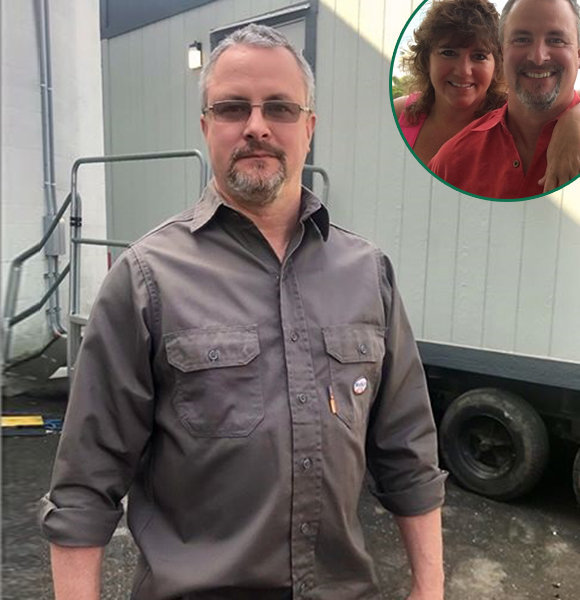 The American native James Neilson achieved the first recognition after he was honored with the title of Master Smith in the American Bladesmith Society. His career reached the height of celebrity after appearing as one of the judges on the show Forged in Fire.
He started creating knives at a young age and is still operating a shop Outlet in the hardwoods in Pennsylvania and works from a custom knife shop, Neilson's Mountain Hollow.
Everyone loves his knives, but few people know about his personal life.
Keep scrolling to find out more about him. 
J. Neilson's Family
James Neilson, age 52, mostly spends his time creating and examining new cutters, and probably he rarely gets time to focus on his family.
But he is a family man and usually flaunts his family life on his Instagram account, where he gushed his wife as the strong connection and his children as the working partner.
See Also:- Doug Marcaida Wiki: Bio, Age, Parents Possible Married Life and Wife Of The Weapon Design Specialist
He shares two children with his wife; a daughter and a son. He shared a snap of the gift from his wife on Instagram on 8 August 2017, which he claims to be his favorite thing in the shop. On the well-framed gift, there was written: 
"An apple a day will keep anyone away if you throw it hard enough."
Also, he gifted a split RR spike soul to his wife and daughter on 12th May 2015. With his highly accomplished career, his children are also walking in his footstep from an early age.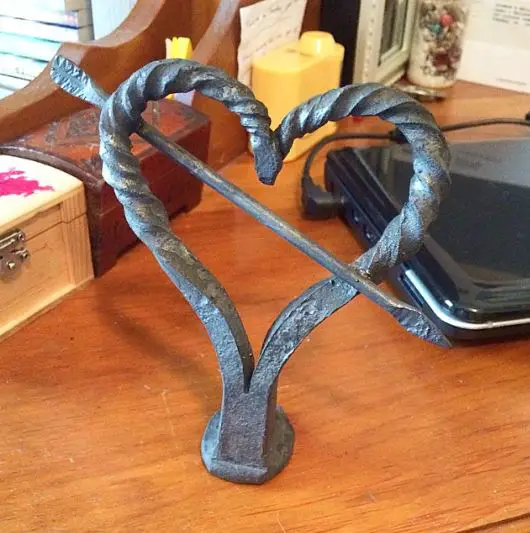 J. Neilson's gift for his wife and daughter. (Photo: Instagram)
Since there are very few bladesmiths in the world, it seems Neilson will breed his children into his work. His daughter designed her first knife, a wild little utility cleaver, at 9 for her summer project.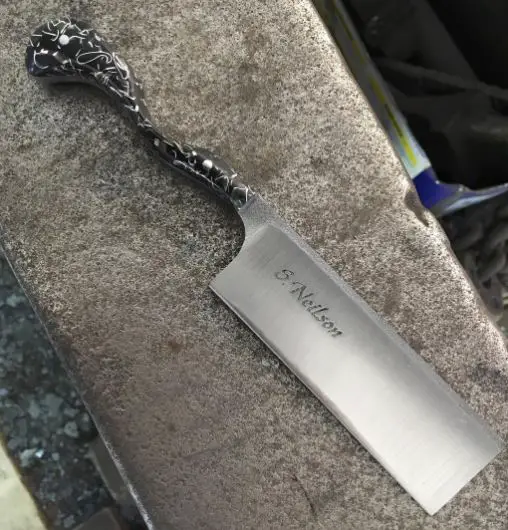 Neilson's daughter made this knife at the age of 9. (Photo: Instagram)
His son, Danny, has already been an expert in making knives at a young age. Back in 2015, Danny made his first forged blade named Tantoish blade with the Zombie apocalypse serrations. The happy dad announced the proud moment to his Instagram followers in September 2015.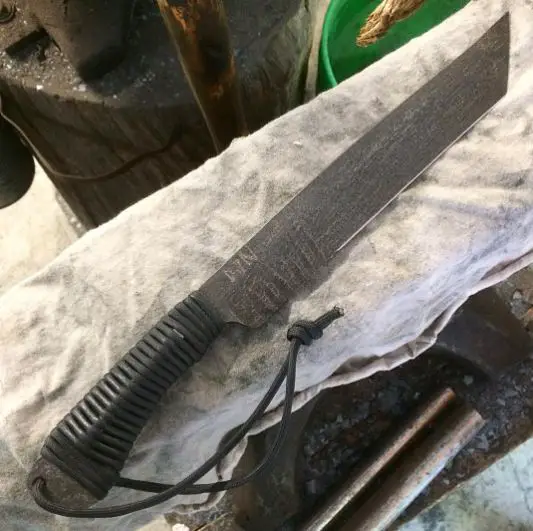 Neilson's son made this knife at the age of 15. (Photo: Instagram)
Similarly, he took to Instagram in November 2017, sharing a glimpse of the first knife he and his son Danny made, known as the Bastrop Fire Knife Raffle.
The world's best bladesmith not only features his children on Instagram, but he also wished his wife on their fifth anniversary and claimed in the comment section that they would be celebrating their 50th anniversary too.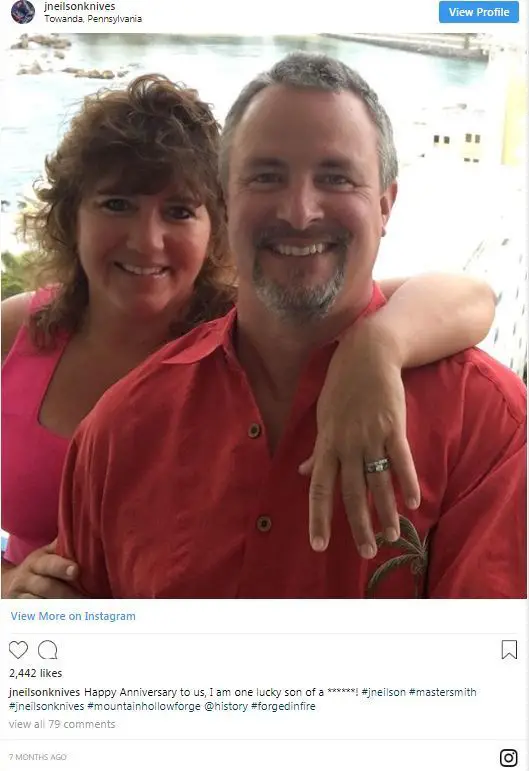 J Neilson and his wife on their 5th wedding anniversary (Photo: Instagram)
J Neilson seems to have a happy life with his wife and children and shows gratitude towards his family for their support, love, and care in his career.
J. Neilson's Career
J. Neilson, who stands at the height of 6ft 1inches, has been forging the knives for over two decades and is one of the best in the trade. He was passionate about crafting the blades from a young age, and his passion encouraged him to pursue his career as a bladesmith.
In 1995, he started working in his workshop in the woods of Towanda, Pennsylvania. However, his professional career began only in 2004, which initially earned him recognition for his traditional techniques of knife making with both forging and stock removal methods with on-site heat treating.
Don't Miss:- Wil Willis Takes Big Step With Girlfriend! Is Determined To Get Married and Make Her His Wife
Neilson's career leaped into the spotlight after being honored with the rank of Mastersmith in the American Bladesmith Society in 2008. He is among the 115 people worldwide who accomplished the position.
Moreover, he got the break into his career after appearing as the judge on the History's competition show, Forged in Fire, in 2015 along with David Baker and Doug Marcaida, hosted by Wil Willis.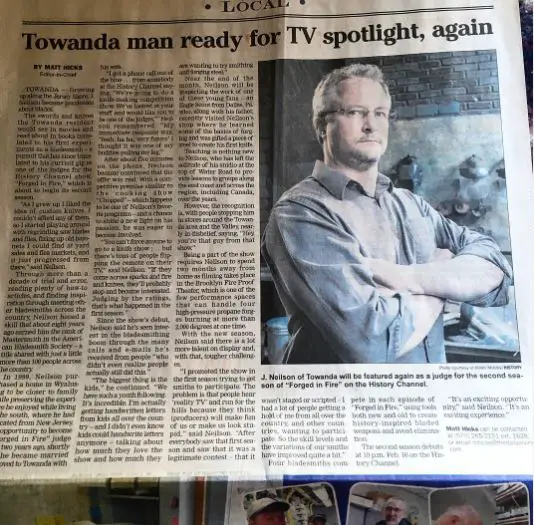 Neilson made headlines for being a judge on the History's Forged in Fire. (Photo: Instagram)
He was the regular judge in the show until, in season three, he took a leave from the show due to an injury on his hand. He was widely known as the strict judge in the show, compared to the Simon Cowells. 
Neilson was the regular judge in the show until, in season three, he took a leave from the show due to an injury on his hand. He returned to the show for the premiere of the fourth season. But he took a break towards the end of that season and hadn't been seen on the show since.
You May Also Like:- Actress Melissa Rivers's Son Uses Joan's Demise As a Weapon! Her Husband, Divorce and Boyfriend History
Despite his recognition as a blacksmith, he has not disclosed his net worth yet. Though the History channel has not revealed the salary of the judges, the average salary of the TV judges seems to be about $2 million per season. 
In addition to his TV career,  he earns a good amount of cash from his custom knife shop, Neilson's Mountain Hollow. However, he has not disclosed the exact amount of his net worth.
Even at this age, Neilson works as a bladesmith and creates masterpieces. 
He is happily living his life with his family and career. 
Stau tuned to get more updates on J.Neilson.