Entertainment
Jacinta Stapleton: Not Married to Jarrod Sheehan? Boyfriend? Career overshadowed by Brother?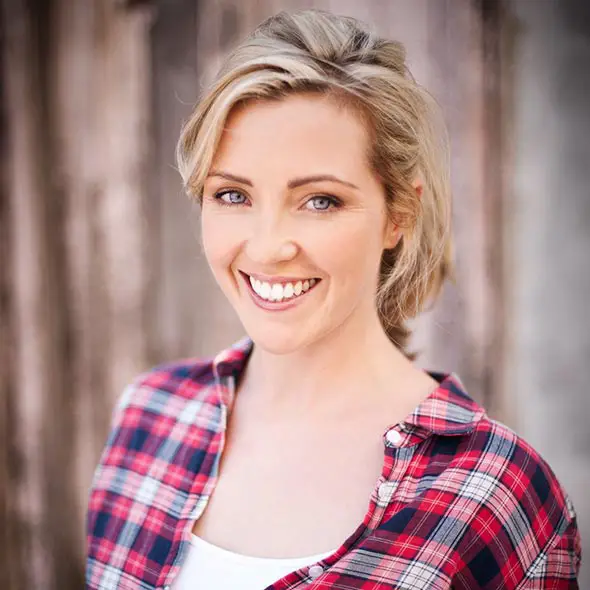 Jacinta Stapleton: Not Married to Jarrod Sheehan? Boyfriend? Career overshadowed by Brother?
Entertainment
Amy Greenwood from famous Australian television soap opera Neighbors is none other than Jacinta Stapleton, an immaculate beauty. Her beauty and beautiful portrayals have helped her to captivate many hearts. But the person who has conquered her heart has always been in the shadows.
Hasn't she been into any relationship or is she hiding it from the media? Does she have no time to find the love of a husband or even a boyfriend as she is building stairs to the success?
Well, here are the answers all the questions that are striking on your mind! 
Married to her Long-Time Boyfriend?
To maintain privacy in a personal life is completely Jacinta's choice but her silence has created a massive confusion. There are many rumors about her love life which are not yet verified as her romances seem to be in the dark.
Thirty-nine-year-old Jacinta is said to be married by various websites while she hasn't announced the good news. There are neither any hints about her wedding in social media. She is said to be married to her longtime boyfriend, Jarrod Sheehan.
You May Also Like:- Pearl Thusi On Engagement Rift To Married Rumors & New Relationship Struggle
As per the site, she got married on February 2012 at St Joseph's Church situated in Warrnambool. Standard.net has covered Jacinta Stapleton and Jarrod Sheehan's wedding.
Is the bride Neighbour's actress Jacinta Stapleton? Is Jarrod Sheehan brother in law of Blindspot star Sullivan Stapleton?
Jacinta's marriage may be true or a hoax, but she surely got married onscreen before she left the show with her TV husband in 2000. Jacinta joined Neighbours in 1997 playing Amy and soon started dating Lance Wilkinson (played by Andrew Bibby).
However, Amy breaks up with her boyfriend after he develops a gambling problem. The couple soon reunites but Amy starts cheating on Lance with Damien Smith (John Ridley). Amy becomes pregnant and is forced to confess her adultery to her boyfriend.
Amy ultimately gets married to Damien and leaves the show with her TV husband in 2000. 
Unlike her TV romances, Jacinta's real-life relationships are uncertain and her silence on the married life adds further mystery.
Jacinta, A Stylish Person, Loves Hanging Out With Friends:
Jacinta is often considered a fun loving person and like hanging out with her friends. On 8 June 2016, she threw a massive party to her friends for the occasion of her birthday and even shared a portrait from the celebrations.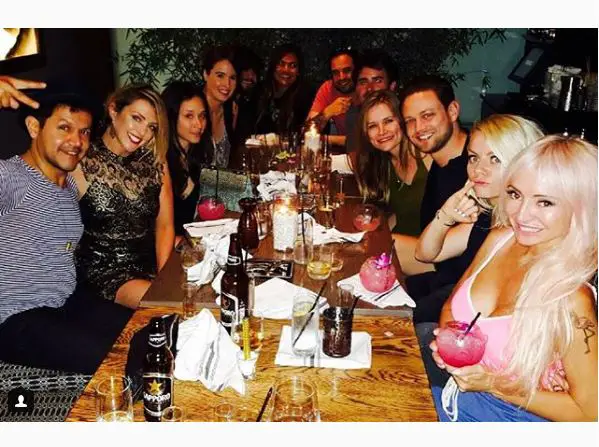 Jacinta on her birthday with friends on 8 June 2016 (Photo: Jacinta Stapleton's Instagram)
Further, Jacinta is also a stylish woman and frequently attends several fashion shows and social events. On 10 August 2014, she shared a Twitter post boasting her styling dress designed by Miishu Boutique along with her jewels and Tony Bianco shoes. 
See Also:- Twice Married Pete Hegseth Of Fox News Still Content Post Divorce; How?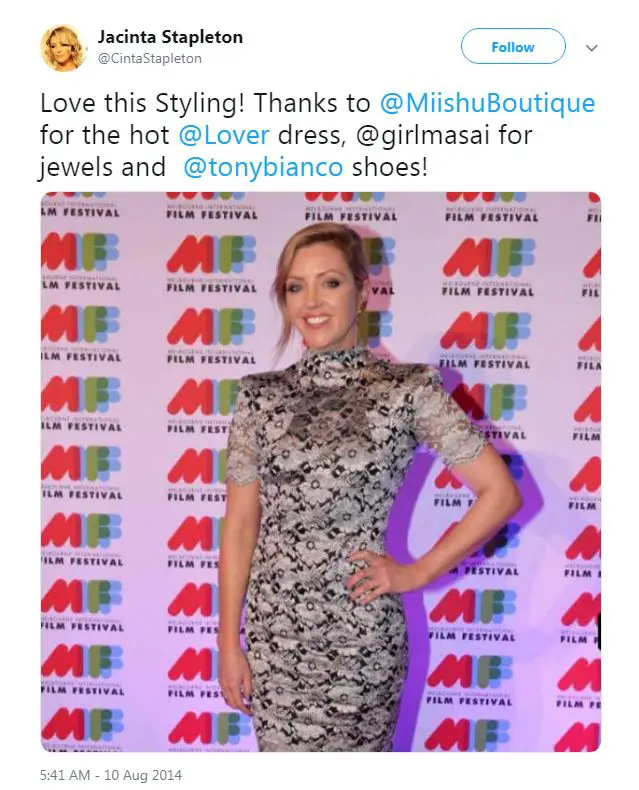 Jacinta looks gorgeous attending a Film Festival in August 2014 (Photo: Jacinta Stapleton's Twitter)
Jacinta Stapleton was born on June 6, 1979, in Malvern, Australia. She is the younger sister of talented Australian actor Sullivan Stapleton. At the age of six, she joined an actors' agency along with her brother. At the age of eight, she made her screen debut by appearing in "Boulevard of Broken Dreams".
She then appeared in many television shows but still has not done as many appearances as Sullivan. Does her brother's fame overshadow her?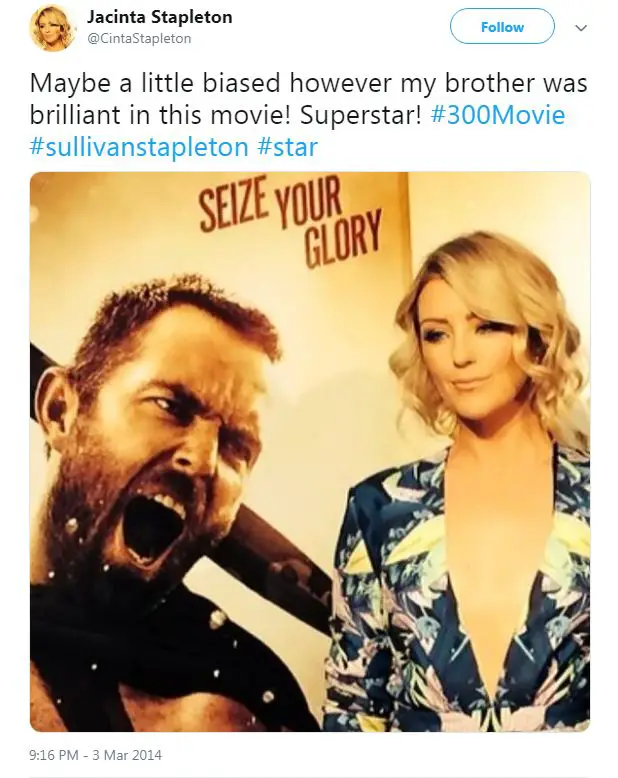 Jacinta praises her brother Sullivan's acting skills on 3 March 2014 (Photo: Jacinta Stapleton's Instagram)
However, Jacinta and Sullivan have been sharing a beautiful relationship. They have together appeared in Neighbours.  She has been motivating her brother and his movies though she has not made numerous appearances as him.
Jacinta's Acting Career:
Born with enduring beauty Jacinta had a keen interest in acting. She started taking acting classes with her brother Sullivan and landed a role in different children television shows. The children television shows include "Genie From Down Under" and "The Flying Doctors".
Don't Miss:- Brian Posehn Tour Reflect Career Height | Wife & Baby To Thank For
She polished her acting skills and abilities by completing the last two years of high school at Sandringham Secondary College. She then traveled overseas to study acting and voice. Her appearance in "Neighbours" as Amy Greenwood helped her to make her place in the industry.
She also appeared in the TV drama Stingers from the year 2002 to 2004.  She also had a recurring role in TV medical drama MDA. Her acting credit includes Blue Heelers, All Saints, Dirt Game and much more.