Entertainment
Jacqueline Laurita Daughter Intimately Married At Age 27, Who Is Her husband?
Two years after being a grandmother for the first time, former Real Housewives of New Jersey star Jacqueline Laurita now has a son-in-law courtesy of her daughter. Despite their documented tumultuous history, the mother-daughter duo's bond seems to be reaching new heights.
The same goes for Jacqueline, age 48, and her husband, who have seen their net worth dwindle in the past due to financial strain caused by their son's autism diagnosis.
Is the Laurita-Holmes family coming together as a single happy unit?
Daughter Married At Age 27; Congratulates On Daughter Wedding Day
If anything, Jacqueline and her daughter Ashlee Holmes' relationship dynamics resonates that of siblings.
Discover:- 'AGT' Violinist Brian King Joseph Age 26 Wiki: Best Songs To Net Worth | Details
Many might not know, but the reality star's daughter Ashlee is the outcome of her first marriage (1990-1992) to her ex-husband Matt Holmes. At the time of Ashlee's birth, she had just touched 20.
In a way, they grew up together treating each other like sisters -- a rough measure to understand why they acted like siblings, often fighting, during their stint at the Real Housewives of New Jersey. One of those quarrels even led Ashlee to leave for her father's (Matt) home.
The time away from the spotlight has done tricks to their relationship. Ashlee, in particular, seems to have found her footing in life as she has managed to become a mom and a wife within less than a decade.
She married Pete Malleo in August 2018, exactly two years after giving birth to their son Cameron Hendrix.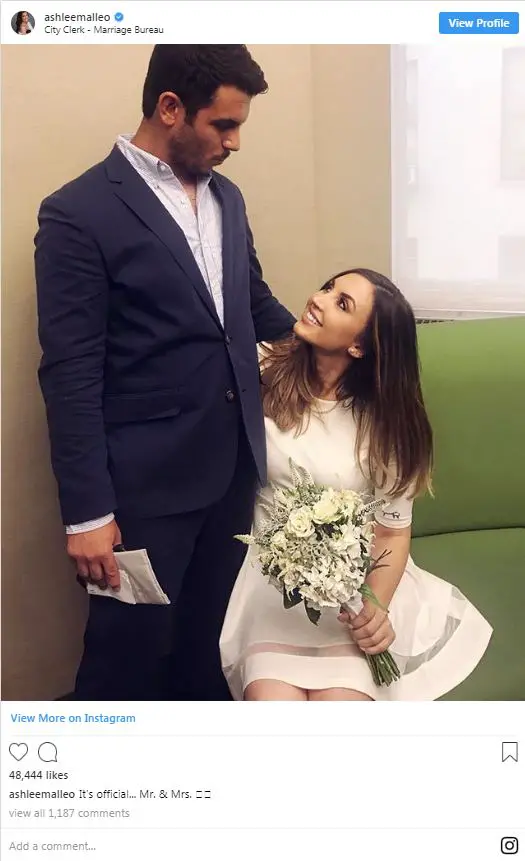 Ashlee announces her marriage to Pete (Photo:- Ashlee Malleo's Instagram)
On the day of her daughter's wedding, the Bad Parents actress penned a heartwarming tweet, congratulating the newlyweds. She wrote:-
"I couldn't be more thrilled for them. May they have a beautiful life together! A.M./P.M. Love you both! Congratulations!"
Now that her daughter's married and starting a family, is it wrong to assume that Jacqueline is early waiting on her two sons to tied the knot as well?
Read Also:- Openly Gay Stephen Fry Half Age Husband; Massive Gap Helps Or Strains?
Jacqueline & Her Executive Husband Married Life Marred By Controversies & Tragedies
Of his two sons, Jacqueline, and her husband Chris Laurita will inevitably find their youngest's successes in life all the more enduring.
After all, the former RHONJ star gave birth to Nicholas, the married duo's youngest, following five miscarriages. She opened up about her experience in a social media post by revealing:-
"When I got pregnant with Nicholas, I had already had 5 miscarriages so I was so afraid I would have another one."
Nicholas got diagnosed with Autism when he was five years old. It is still unclear whether Jacqueline's five miscarriage had anything to do with Nicholas' condition.
The 48-year-old Nevada native and her husband Chris have chronicled their experience as parents raising a child with Autism in 2014 memoir titled Defy Expectations.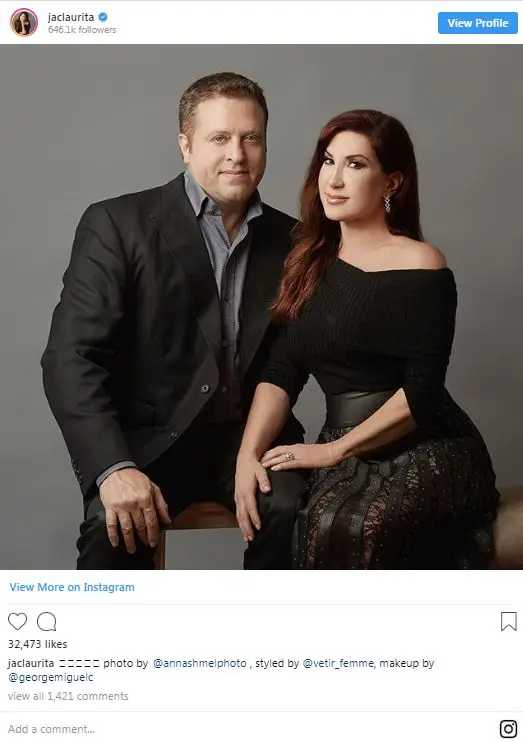 Jacqueline along with her husband, Chris at a photo shoot (Photo:- Jacqueline Laurita's Instagram)
The birth of Nicholas also coincided with Jacqueline's Postpartum depression along with the financial ruin that came afterward.
Although Jacqueline - who has a reported net worth of $5.5 million - and her husband have cited their son's medical bills for it, their business partners have argued that the pair's lavish lifestyle is behind $300 thousand debt.
Don't Miss:- Manuela Escobar Bio: Daughter Of Pablo Escobar & Her Net Worth Today
Chris, who heads the blk Beverages, is all too familiar with financial troubles. Both his current and previous company, Signature Apparel Group, have been sued in more than one occasion.
The married duo - who had married in 2002 after meeting for the first time at a trade show in Chicago - despite all the fraud allegations continues to lead an affluent lifestyle.