Entertainment
Openly Gay Stephen Fry Half Age Husband; Massive Gap Helps Or Strains?
Stephen Fry is married his longtime boyfriend in......The openly gay comedian and his husband have been together for......His partner is ... years younger than the English writer......The Kingdom actor battled with cancer in the past...... Recovery after surgery.....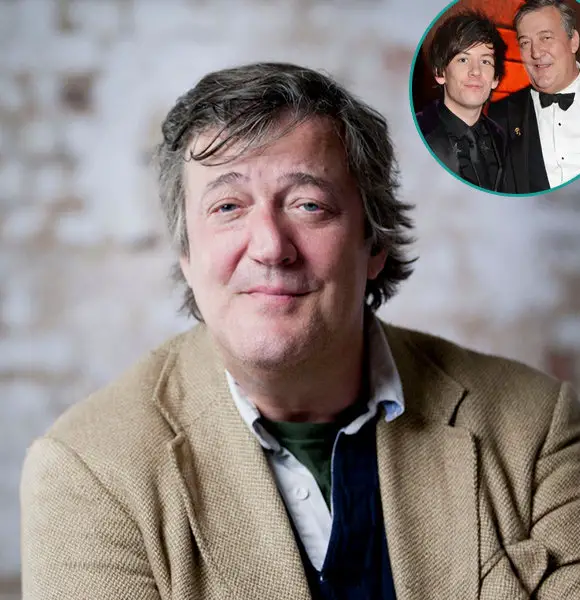 "Age is just a number," if the creator of this punchline was paid a dollar every time it was spoken, the man would have been a billionaire by now.
While this statement doesn't hold true to everything and everyone, when it comes to love, age is undoubtedly nothing more than just a number. The living proof of this is the relationship between Stephen Fry and his partner. 
The openly gay English comedian has his own share of a story as has been in a loving relationship with a partner who is almost half of his age. To be exact, 30 years junior to him.
While their huge age gap has raised many speculations, the couple long ago decided on listening to none. Stephen and the lucky guy, who is now his husband, have completely ignored the doubts about their married life.
This has helped the lovers maintain and nourish their relationship smoothly till today. 
Open Relationship With Boyfriend-Turned-Husband
Stephen Fry, who is also a writer and an activist, shares gay romance with his partner of years. He has been happily married to Elliott Spencer, who is also a writer and comedian by profession.
The couple has remained vocal about the romance that they share just as they cherish their moments together since they met back in 2012. After exchanging the wedding vows, Elliott opened about his relationship with Stephen for the first time where he revealed that they crossed path during a house party.
Have a look at: Tila Tequila New Baby - Married Husband Following Lesbian Partner's Death
The QI star and Elliott were introduced by their mutual friend during the party which eventually sparked romance between the two. They shared a real connection and to Elliot rest of it, all is history.
Back then, A Bit of Fry and Laurie star was dealing with a break up from a former partner which even led to him attempting suicide. However, after Elliott entered Stephen's life, he learned to smile again.
Even though the couple met in 2012, some sources report that they began dating nearly two years later. In 2015, the couple got engaged and just 11 days later, they exchange their wedding vows.
 The low-key ceremony, which took place at a register office in Dereham, Norfolk, was witnessed by an Oscar Wilde doll. The couple took it to social media sharing their wedding photos where Stephen and Elliot wore a matching "Groom" batch for their big day.
You May Also Like: Phil Donahue, At Age 82 With Wife Of Nearly 4 Decades, Where Is He Now?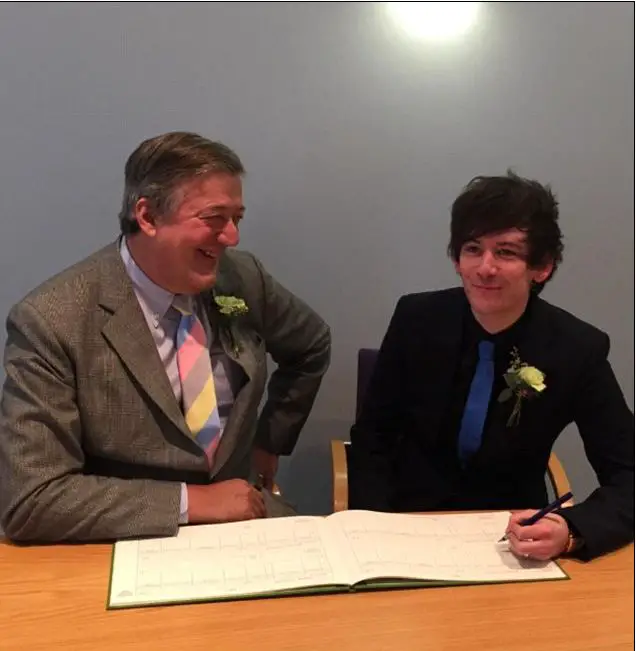 Stephen Fry with husband Elliott on their wedding day. (Photo: dailymail.co.uk)
A year later, Stephen and his husband Elliott celebrated their "one year of togetherness." Stephen's fans were "sweet" to send out the wishes to the married couple on their first anniversary which in return was appreciated by the couple. 
Well, despite the age gap, the pair is acing in their relationship and going strong with cherishing moments to share. Together, the partners are regularly spotted attending different public events. They even attended princess Eugenie's wedding ceremony held some weeks ago. 
Battles "Aggressive" Cancer, Good Recovery 
While Stephen shares blissful love life with his husband, he also recently won his battle against cancer. Stephen earlier suffered from a prostate cancer which was removed surgically back in January 2018.
During the surgery, the doctors removed his 11 lymph nodes after the comedian faced an "aggressive" cancer. A Gleason score which gives a tentative rate of aggressiveness of prostate cancer showed that Stephen had scored 9 out of 10 in the scale.
Don't Miss: Setting Straight Atz Lee Kilcher Divorce Rumors! Wife Explains Why Couple Avoid Putting Kids on TV
However, even though the cancer was aggressive it "did not seem" to have spread. Right after the operations, Stephen revealed on his website disclosing that his prostate was removed. He wrote,
"They took the prostate out. So far as we know it's all been got."
Adding to it, he even urged his followers especially men of certain age to have themselves tested for the possible prostate cancer as the rate of the disease has increased in recent years.