Entertainment
When Is Jae Suh Park Birthday & What Is Her Net Worth? All Details
Despite mediocre ratings, Netflix didn't cancel the comedy series Friends From College after its debut season. The cast & crew, in return, has repaid the trust by putting forth a stellar second season. Released on 11 January 2019, the sitcom's sophomore offering has been able to garner excellent reviews so far.
At the center of all the praise is the show's lead actress Jae Suh Park, who portrays a free-spirited character named Marianne. However, unlike her on-screen persona, she adheres to the principles of monogamy and marriage.
Happily married and raising a daughter, Jae's husband is equally famous, if not more popular than her. Besides belonging to the same ethnic background, she and her life partner have a shared interest in expanding their net worth.
Read along to learn more including her birthday and height!
Friends From College Star's Essential Details: Birthday, Family & Ethnicity
Like many immigrant families, Jae's parents, who migrated to the United States from Korea when she was just six years of age, were hopeful of their daughter looking up a stable career option.
Discover New:- Best Happy Birthday Wishes That Works On Anyone; Guarantee Heart melts
Breaking her family's heart, the ER actress of Korean-American ethnicity pursued her artistic aspirations instead. A Design major in college, she packed her bag and left for San Francisco and then to Los Angeles.
Since moving to Hollywood, Jae, besides Friends From College, has found relative success by featuring in numerous films & TV shows: ER, How I Met Your Mother, Adam Ruins Everything, and The Big Short.
Although her net worth is in the rise, the Korean-American actress, who stands a little above five feet and five inches in height, still finds it difficult to explain her career choice to her parents as they don't understand the concept of Netflix.
Lucky for The Big Short actress - who will likely celebrate her birthday in Hawaii one day - she has an actor husband willing to her parents.
Husband Boasts Impressive Net Worth; Married Life Set To Peak With More Children?
Jae's husband, Randall Park is easily one of the most recognizable faces with Asian-American background in all of Hollywood, having starred in countless blockbusters such as The Interview, Neighbors, The Disaster Artist, and more recently, Aquaman.
See Also:- Amber Rose Revah Married Actor Boyfriend? Parents, Ethnicity, Net Worth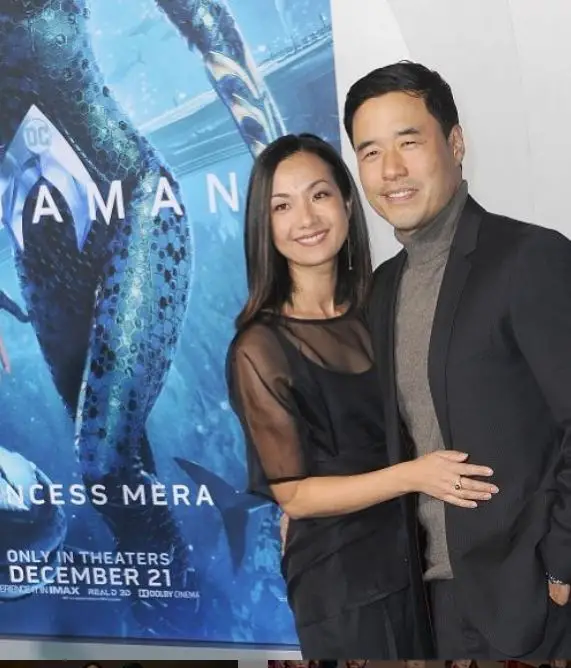 Jae Suh Park attends the exclusive premiere of Aquaman alongside her husband, Randall Park in Los Angeles on 14th December 2018 (Photo:- Jae Suh Park's Instagram)
Married since 2008, Jae and the Fresh off the Boat star, who boasts a reported net worth of $1 million, are proud parents to their six-year-old daughter named Ruby Park. The married pair welcomed their only child in 2012, four years after their wedding & eventual honeymoon in Hawaii.
Instead of letting the expansion of family hinder her career growth, the former How I Met Your Mother actress has embraced her newfound motherhood as it makes her a better artist. She claims to have learned empathy and consideration from her daughter.
Korean-American Celeb:- Jenn Im is Engaged-to-Get-Married with Boyfriend! Future Hubby Did it in Style
Hearing Jae praise about her experience raising a daughter, one can't help but wonder if she is indeed planning to have more children with her husband.