Entertainment
Jaeden Lieberher's Career Bombarded With Movies? Parents of The Actor Who Stars The 2017 Remake of 'It'
Many young talents are emerging day-by-day in the entertainment industry. A small list of such personalities, which include Lizzy Greene, Yara Shahidi, and Iain Armitage. The one to be added to the list is Jaeden Leiberher, who has made a position very secure in the industry as a young actor.
The young artist has been able to land on several movie projects at such a young age. He is rising with flying colors in his career, and with that, it comes as no surprise that many are interested to know more about him.
So today, let's have a closer look at his building career with the information about his upcoming and past movies.
Know More About Jaeden Lieberher:
Born on 4 January 2003, Jaeden Lieberher started his career at the very young age of 11, working in the short film "Grief." Prior to that, he also worked in several commercials.
Jaeden was born to father Wes Lieberher, who is an executive chef and mother, Angela Martell. He often shares snaps with his mother on his Instagram account. Apart from that, he also has a stepmom Bree Lieberher and two siblings; a brother and a sister from his stepmom.
Know About:- Nicole Maines Transgender, Dating, Parents, Height
In addition to that, he is also in a relationship with emerging actress cum dancer Lilia Buckingham. The couple often shares lovely pictures on Instagram and look a perfect match for each other.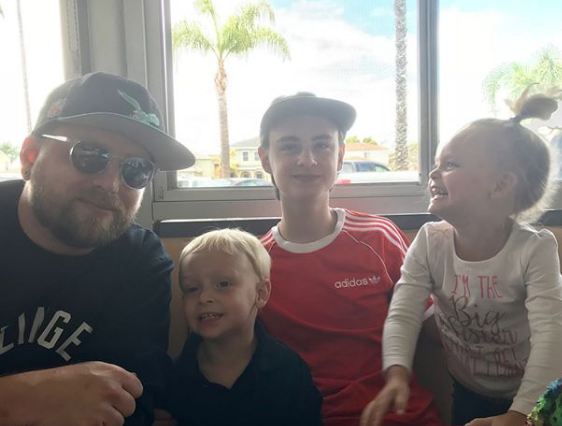 Jaeden Lieberher (middle) with his dad Wes Lieberher and two siblings in June 2018 (Photo: Wes Lieberher's Instagram)
The young artist, who has a height of 5ft 5inches (1.75m), has many work credits, which include St. Vincent, Midnight Special, The Confirmation, and The Book of Henry. His upcoming project for 2017 would be the horror movie "IT," which is all set to bow on September 8 in the theaters.
Along with many film projects, Jaeden has also worked in the series Masters of Sex as Johnny Masters. And all of his works have helped him to accumulate a handsome net worth of $4 million in his bank.
The Uprising Career Of The Young Talent!
The South-Philadelphia-bred Jaeden Lieberher had no intention to make an acting career when he moved to L.A in 2011 with his parents.
Starting his career with commercials, Jaeden slowly and steadily became the part of the big screen and shared the screen with Bill Murray in the comedy-drama "St. Vincent," where Jaeden was able to catch and grab the attention of many. And it now seems that he has no plans to keep anything at a halt.
Jaeden's performance in the St. Vincent helped him to earn many awards nominations. Further, he was also able to win Las Vegas Film Critics Society Awards in "Youth in Film" and Phoenix Film Critics Society Awards for "Best Performance by a Youth in a Lead or Supporting Role" in 2014.
The award-winning actor Jaeden further landed roles in movies and got cast alongside stars Bradley Cooper and Emma Stones in the film "Aloha" in 2015. He is also well-known for his performance in movies like Midnight Special, The Confirmation, and Plating it Cool.
Dreamer:- Nathan Parsons Wife, Girlfriend, Family, Net Worth
With no doubt, the cute and talented star has been able to be in the hearts of many with the notable portrayal of characters. Lately, Jaeden was in the headlines with the movies "The Diary of Henry" and the adaptation of the classic horror novel IT.
IT, which was due out on September 8, told the story of the group of young kids "the losers group," which included Sophia Lillis as Beverly, the only female member. The kids face the evil clown Pennywise, impersonated by Bill Skarsgard.
The horror movie grabbed a lot of praise, and the kids who featured in the films ensured the future of the entertainment industry was in safe hands. Two years down the line in February 2019, the IT franchise announced relaunching its second chapter. The news was that all the child actors from the first movie were included in the second chapter as well, in addition to some new characters.
Well, the first chapter was jaw-dropping, and now the second one is going to be even more significant than ever.