Entertainment
Jan Leeming Who Has A List Of Husbands Recalls Dark Times With Her Son
Every coin has two sides, and at times, when life gives you the dark side, one is bound to embrace the pain that comes with it. Jan Leeming's life also didn't prove to be a bed of roses all the time as she had to face her share of misfortune that her life had to offer.
Unsuccessful Married Life of Jan:
Jan has a list of husbands when it comes to her married life because she was married five times. But none of her marriage could last and unfortunately, they all ended in divorce.
Firstly, she was married to BBC sound engineer, John Staple in 1961 when she was 19, and John was 33. Jan left John when she discovered John was seeing his old girlfriend. Then Jan tied the knot with estate agent Jeremy Gilchrist in 1972 which sustained for eight months.
Searching For Love:- Patsy Kensit Only Married Her Boyfriends; Still Searching For Love Even After Divorce With Four Husbands?
In 1980, she again married Patrick Lunt. She has a son named Jonathan with partner Patrick. Furthermore, she was in a marriage relationship with Red Arrow pilot- Eric Steenson in 1988 and she found a new husband- a Kent school headmaster, Chris Russell in 1997.
According to her, the reason behind the failed marriages was every time she couldn't help falling for womanizers who were unfaithful to her. She expresses this as,
'People are always going on about my five marriages as if in some way the fact they failed is all my fault,' 'People always blame the woman! But how was I to know that four of them were womanisers. You should ask them why they married me?
'She doesn't loathe those men who were in her life but bears a positive attitude towards them. This can be understood from her following statement.
'All I can say is that, for me, love is blind. I'm a forgiving person and I'm not bitter. If I were, it would show in my face. I'm totally foolish and naive when it comes to men. Still, they were all interesting – although none of them ever had a bean.'
Still, breaking off the relationship for five times and undergoing through the divorce is a painful matter. So, she bears a few regrets which she mentions,
'I would have liked to have met the right man and have had a settled family life with a couple of children.
Is Marriage An Option For Her Now?
At the age of 77, she is single and tells what she misses about being married,
"More than anything, though, I miss being cuddled in bed, the companionship. I miss having someone to share not only my joys but my problems, too. And I miss the closeness of being with someone who cares for me.'
However, she doesn't consider marriage is an option for her now. Her views on getting married at this point in her life are,
" I can't imagine marrying again. I've got to an age when I doubt I'll ever form another significant relationship.
'It would be different if I were male. A man of 70, of any age come to that, can always find a partner if he wants. The same isn't true for women. That's just a fact of life.
But yes, an engagement ring would be nice. Not a wedding band, though. I believe in fidelity but I don't ever want to be Mrs Somebody again. Nor do I want the awful business of another divorce. Even if you don't feel it's your fault, it means the marriage has failed and I've had enough of failure.'

Jan with her baby boy Jonathan and ex-husband Patrick Lunt (1982) (Photo Credit:dailymail.co.uk)
Although married isn't an option for Jan anymore, she still loves to go on casual dates. Jan, who currently appears on the BBC One series "The Real Marigold On Tour," has been traveling to several countries along with her cast mates Wayne Sleep, Sheila Ferguson, and Paul Nicholas.
Single After Break Up:- Charlie Brake Split From Girlfriend Ellie Brown; Hunk Is Single Now
While moving for the show, Jan ended up in Argentina where she went to a casual date upon the insistence of her friends.
However, she was soon disgusted by the culture and traditions followed by men in the South American nation. The TV presenter revealed that although she got involved in the dance of tango with few of her potential partners, she was petrified seeing those men eat raw steak while calling it a delicacy.
Jan reveals that she regretted her decision of accepting to go to the date and bailed when she got the first chance.
Jan's Son Suffered From Cancer:
It was one of the darkest and challenging time for Jan when her only son, Jonathan Lunt developed testicular cancer.
It was while watching a TV soap in which a character discovers that he has a testicular lump that turns to be cancerous, Jonathan also discovered the lump on his right testicle. Later after conducting the ultrasound, it was confirmed that he had cancer.
His mother-Jan recalls this incident in their life as,
'I simply couldn't believe this had happened to him. Most of the time I try to blot it out of my mind.
'She further adds:
'As a parent you question whether there was something you did or didn't do that could have caused your child to contract the disease. I was very conscientious that he had a healthy upbringing. I cooked all his meals - even as a baby he rarely had anything pre-prepared - and I allowed him very few sweets and cakes. Added to that I don't smoke. All factors which you think should minimise the risk of illness. I'd heard of testicular cancer but had no idea it could affect someone as young as Jonathan, so it was a devastating shock for all of us."
While Jonathan was on his way to recovery, the mother and son duo also worked through Orchid to raise awareness on testicular cancer.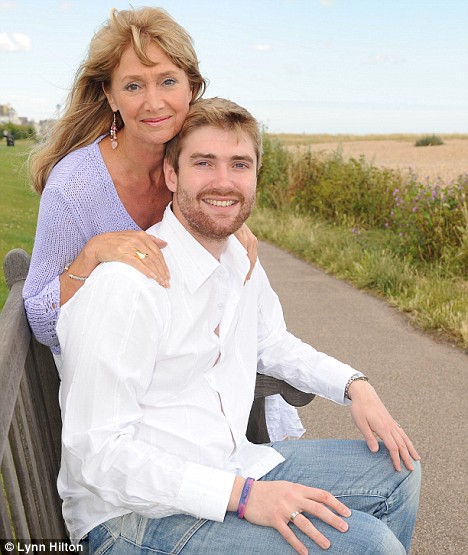 Mother Jan Leeming shares a very special relationship with her son Jonathan (2008) (Photo Credit:dailymail.co.uk)
Cancer Threat:- Nathan Adrian Threat! Cancer Months After Wedding & New Wife
Due to cancer, it was necessary to remove his testicle which made Jonathan feel terrified. He expresses this feeling as,
'That hit me really hard,' says Jonathan. 'I was going to lose half my masculinity and worried that in some way it would make me half a man. I remember the night before the operation I broke down in tears, I was so frightened.'
However, even though he has one prosthetic testicle, and is happy to know that it wouldn't affect his fertility. He says,
I'm now in a serious relationship with my girlfriend Ren, 28, and I am thinking about settling down and the possibility of children. There's no reason why I can't have children naturally when the time is right.'
Jan Leeming is a famous TV presenter and an actress who has acted in movies like I'm a Celebrity, Eurovision Song Contest, Get Me Out Of Here and Christmas Eve with Val Dominican. So, she must have a good income source, but her net worth has not been revealed.