Entertainment
Tamara Tunie Bio Talks; Husband Rift Caused By Three Missing Things
American film actress Tamara Tunie has her year filled by her ongoing appearance in the television series with the much-hyped upcoming movie, Black Earth Rising on the list.
Being involved in forever changing entertainment world has been through her life with constant changes. From being married to being called a divorced woman to give love another chance and yet ending up alone, Tamara has been through it all.
But despite the frequent changes in her life, The As the World Turns star's roots remain the same.
Married Life Comes To An End
Tamara Tunie, who is also a director, previously shared married life with her then-husband. Indeed, she has been married twice before but despite sharing love, her marital relationship came to an end.
Tamara was previously married to Greg Bouquett. She tied the nuptial knot with Greg back in 1988, a year after the release of her movie Wall Street. She shared a loving relationship with her husband but they were not looking forward to starting a family and having children together.
See Also: Erin Darke Getting Married? Rumored Wedding, Husband-To-Be Is 'Chosen One'
The couple put in efforts to make their relationship work but only after three years of their marriage the pair decided to part ways. Tamara and Greg finalized their split in 1991.
However, Tamara did not give up on love and gave marriage another chance. Three years after the separation Taram exchanged the wedding vows with Gregory Generet in 1995.
After the wedding, the couple lived together in the Harlem area in New York City. The couple shared a strong bond with each other. Later in 2012, they even opened up about their marriage in an interview in Essence Magazine in which the couple shared their secrets to almost two decades of marriage.
Do not miss: Pico Alexander Has Girlfriend? Or Dating Affair Only Exists On Screens?
In the interview, both Tamara and Gregory expressed their version of their perfect married life. Tamara divulged saying that the key to the happy married life is not expecting things that has nothing to do with the person you married. She also stated that respect in a necessary for the relationship to last. She said,
"The key is allowing your partner to be who they are and not having expectations that really have nothing to do with the person you married. We have great respect for each other's talents and abilities, wherever they may lie. We celebrate who each other is and we're supportive of each other in our careers."
Adding to it, Gregory also put in his words regarding his marriage with his wife. He revealed that despite being far from each other they always felt each other's presence. He clarified saying,
"We're not joined at the hip. We can be in the same room and be in different places in the room and not have to be near each other at every moment. Yet we can just feel each other's presence all the time."
Well, they did seem they would be together forever. But despite the efforts, sometimes things don't always work out as we expect it to. With the missing of three major support of relationship, communication, togetherness and support, their relationship crumbled.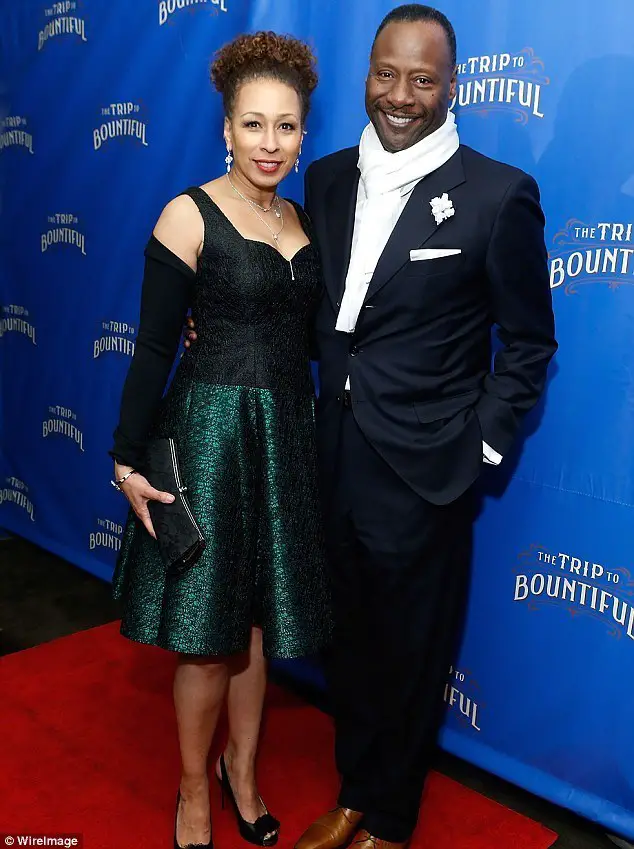 Tamara Tunie with ex-husband Gregory Generet back in 2013 in New York City. (Photo: dailymail.co.uk)
The couple called their quits in 2015 after two decades of marriage.
Going Strong With Life Despite The Rift - Bio Reveals
Well, Tarama did have major rifts in her life but despite it all, she is still going strong with her life. Tamara, who holds the African-American ethnicity, has her resume filled with television series and lists of movies.
Tamara, who stepped into the world of entertainment as an actress, first made her appearance back in 1986. She portrayed as Nina in the television series Spenser: For Hire.
You may also like: Joy Nash Wiki: "Dietland" Actress Age 37, Married & Family Details Amid Struggling Career
Since then she has been going on her life and appeared in movies like City Hall (1996), Snake Eyes (1998), The Caveman's Valentine (2001), Another Life (2007), and many more. During the course of time, she portrayed as various characters which earned her much net worth.
Tamara currently has a net worth of $8 million. As of recent, Tamara has her hands full with her role in the series Law & Order: Special Victims Unit, Blue Bloods, and Dietland. She also stars as Jane in Irreplaceable You.
Adding to it, her newest movie Black Earth Rising is in its post-production.