Canadian actor Jay Baruchel often gets cast as a meek character in pursuit of women that are way out of his league or a sidekick to the likes of Seth Rogen and James Franco.
His lean exterior, more or less, helped him execute those roles so effortlessly. But, underneath the unassuming appearance is a supremely confident guy.
Bio Unveils Age, Parents & Net Worth
Jay, age 37, credits his mother, Robyne Baruchel for instilling such confidence in him.
Born on 9th April 1982 in Ottawa, Canada to a freelance writer mom and an antique dealer Jewish father Serge Baruchel, the How To Train Your Dragon star grew up dreaming about making it as an actor. To his parents' credit, they were very supportive of his acting aspirations.
Equally Supportive Parents:- Hannah Alligood Bio, Age, Parents, Ethnicity
Speaking at his mother's parenting book release in Jan 2012, he highlighted their role in his career by saying:-
"She's a soldier, she's a warrior, she doesn't suffer fools lightly and her priority was making sure that I was rested, fed and taken care of, which is what a parent's concern should be. I literally couldn't have made it without her."
Active since the tender age of 12, Jay's acting repertoire spans over three decades and boasts countless blockbusters such as Tropic Thunder, She's Out of My League, This is the End and Knocked Up.
Beyond acting, his directional and screenwriting credits on TV shows & movies have made him a rich man, with the reported net worth of more than $6 million.
Physical Attributes: Height, Weight & Tattoos
For most of his time in Hollywood, Jay fell victim to the film industry's tendency to typecast certain actors.
The fact that he came with a stereotypical set of physical attributes didn't help. His lean figure of five feet and 11 inches (181 cm) height and 71 kilograms weight made him a perfect typecast for a frugal character.
Built Similarly:- DJ Qualls Still Not Ready To Get Married? Talks About Cancer Struggle And Weight Frequently
Other distinct features in his body are the tattoos -- a red Maple Leaf, an emblem meant to symbolize allegiance to his favorite hockey team, the Montreal Canadiens and a Celtic cross, a homage to his Irish heritage.
Married to Wife
It was surprising news in September 2019, when actor Jay Baruchel and his wife revealed that they were planning to get married to each other. The story first hit the shelves on 19 September 2019.
On that day his fiancee-now-turned wife, Rebecca-Jo Karen Dunham had posted a picture of herself in Lisbon, Portugal. She wrote many things in her post, but ultimately concluded the job with great news.
"Despite the hiccups, we are so so so so so so thrilled to get married this weekend (send us all your positive vibes to stop the forecasted rain) marrying my ride or die!"
Jay was not behind to reveal the news of his marriage. Just a day after Rebecca's Instagram post, Jay tweeted about his freshly directed acting chop, Random Acts of Violence. On his tweet, he teased fans that he isn't present at his works' world premiere due to his marriage festivities.
And, on 21 September 2019, the two exchanged vows in Portugal. Jay even posted the photos of his wedding on his Instagram handle.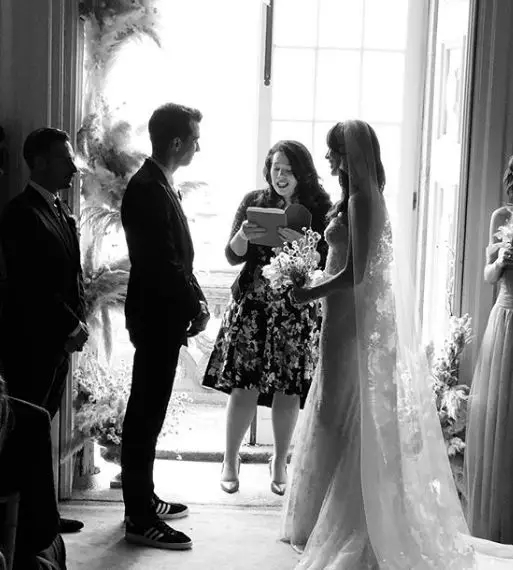 Jay Baruchel and wife Rebecca-Jo Karen Dunham exchanging wedding vows on 21 September 2019 (Photo: Jay Baruchel Instagram)
From what could be seen the pair had a closed-door wedding, with friend and family — the groom and bride looked splendid on their auspicious day.
Before getting Married With Wife?
His partner-turned wife Rebecca-Jo Karen Dunham undoubtedly approves the tattoos; or else how would anyone explain her accepting his proposal?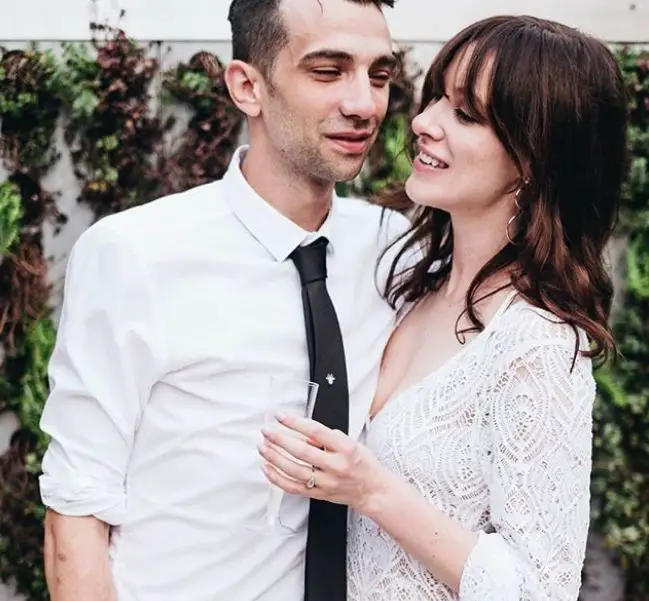 Jay Baruchel's wife Rebecca-Jo Karen Dunham flaunts the engagement ring in a photo dated back to Sep 2018 (Photo:- Jay Baruchel's Instagram)
Jay and his girlfriend-turned-fiancee-turned wife had got engaged in May 2018 at the Shangri-La Hotel in their native Canada, following years of dating. While getting married remained in the card for the Million Dollar Baby actor and his wife, they seemed to be relishing their engagement with utmost delight at the moment.
Engaged In 2018:- Porsha Williams Engaged! Boyfriend/Husband To Be Sheds Fortune On Ring
Many might not remember, but Rebecca-Jo isn't the 36-year-old actor's first attempt to turn his girlfriend into a wife. Almost a decade earlier, he was in a committed dating relationship with his then-girlfriend Alison Pill.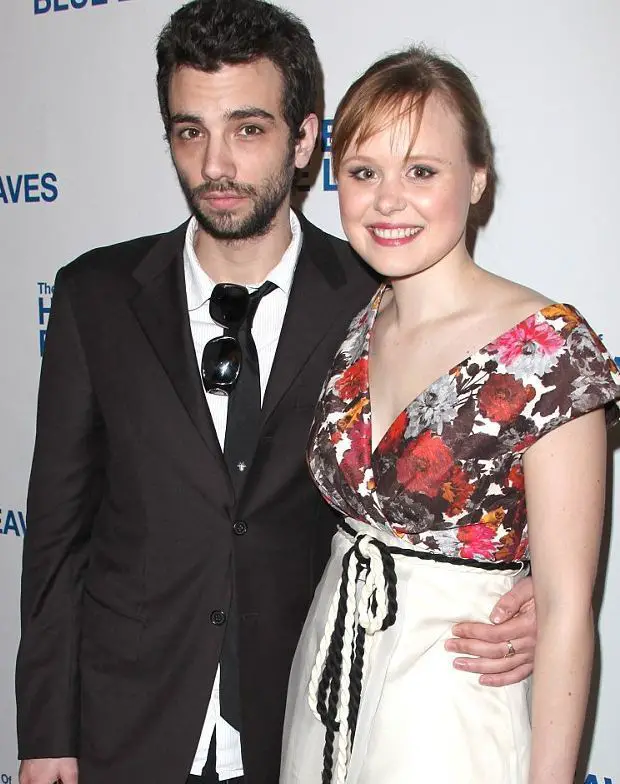 Jay Baruchel attends an industry event with his girlfriend-turned-fiancee, Alsion Pill circa 2011 (Photo:- dailymail.co.uk)
They remained engaged for two years before calling off their plans to get hitched in March of 2013. Jay even alluded the split via a sorrowful tweet. At the time, sources close to the dynamic duo cited long distance behind their breakup.