Entertainment
On-screen Transgender Actor Jay Duplass's Personal Life and Net Worth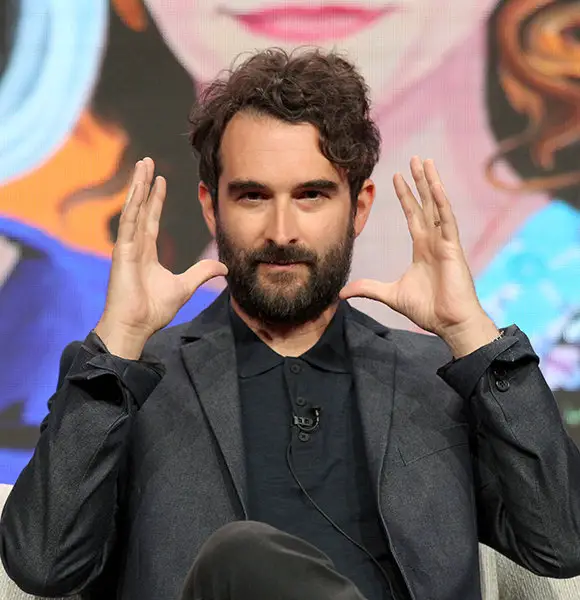 On-screen transgender actor Jay Duplass is not quite a part of the LGBTQIA+ community. Many individuals in the film industry do not usually portray their real selves on-screen, which shows their acting talents and a way to express their work, also raising their net worth.
Similar is the case of famous writer and actor Jay. You might have seen him portraying the character of a transgender person in the series Transparent, but in real life, he is cisgender and straight by sexuality. 
So let's have a look at the actor's personal, family life and net worth.
Jay Duplass and His family
American film director and actor Jay Duplass earned the name and fame with the first featured movie, The Puffy Chair, which became the Sundance 2005 breakout hit and went on to win the Audience Award. The Puffy Chair was made in collaboration with his younger brother, Mark Duplass.
Received Standing Ovation At Sundance Film Festival :- How Confused Jennifer Fox Got Married; Husband Shares Same Background
Jay is usually seen working along with his brother, but he is also close to the rest of his family. Though he has not revealed much information about his personal life, the star's Social media has helped us to know some precious details about his family.
Jay's married life started back in 2001 with Jennifer Tracy-Duplass, a social worker. However, he has maintained privacy surrounding his romantic life. Despite having a low-key personal life, he has revealed about his children, a son and daughter whose names are still a mystery. 
If you follow Jay on Twitter, you might see him frequently tweeting about his son and daughter without revealing their name.
Jen has also talked about her kids on social networking sites. For example, on the occasion of Mother's Day, in May of 2016, Jen tweeted, saying that she would demand a  breakfast from her daughter.
Jay and his wife have completed their glorious 21 years of togetherness. However, Jay doesn't hesitate to say that he is married to his wife as well as his brother, with whom he frequently collaborates. Guys, don't get confused!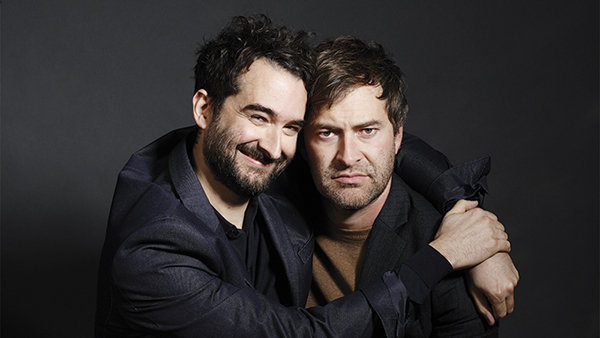 Jay Duplass with His Younger Brother Mark Duplass  (source: variety.com)
In an interview with GQ magazine, back in December 2015, Jay explained,
"I've, like, been with my wife for 14 years and I have two children and I co-parent fifty-fifty. If anything, I have two marriages. I'm married to my wife and I'm married to my brother, who I collaborate with." 
In the interview, Jay Duplass didn't bias Mark Duplass from the line of a family, instead tagged him as his second wife.
The efforts of the duo-brother have successfully opened their gateway to write, direct, produce or star in Indie gems like; Cyrus, Jeff, Who Lives at Home, Safety Not Guaranteed, and The Skeleton Twins.
Duplass, who stands tall at the height of 5'9' (1.75m), enjoys every work that he does. Active in the industry since 1996, his work credit includes Outside In (2017) and Duck Butter (2018).
These days, weight loss is the measure issue for the actors/models, but in the case of Jay, he had to gain weight to justify the part of Josh in Transparent. 
Duplass made a name by writing and directing several award-winning short films with his brother. The two also frequently collaborate under the name Duplass Brothers and were in talks to produce Disney's short-form series titled Shook.
Net Worth
Aside from the popularity and success, Jay might be enjoying a massive net worth of multi-millions. However, his earnings are very confidential, whereas his brother possesses a net worth of $ 12 million, according to celebritynetworth.
Nevertheless, his spending and assets aren't that confidential at all; he seems to be upgrading his lifestyle at a high peak. In February 2019, the writer listed his 1920s-era bungalow for sale with an asking price of $1.1 million.
 Share a 1919 Bungalow Together :- NCIS' Linda Hunt a Wife to Someone? The Life of Actress With Her Young Companion
He was set to move to his newly purchased house that is just a few distances away from his old home. Covering about 3,604 square feet, his new house was designed by reputed architect Hayden Whiteley. So this explains his new property's price tag of $1.76 million, increasing his net worth.
With a rising net worth and more than 50 acting credits to his name, we cannot wait to update you guys more on him!