Entertainment
Where Is Jaye Davidson Now & What Is His Net Worth Now? Model Update
Jaye Davidson, age......., was the most sought actor during that time. The actor was an openly gay actor who would have made........Jaye thrilled the entire entertainment, who enjoys the net worth of.......but he is yet to reveal anything about his married........
One of the most sought-after actors of the 90's, Jaye Davidson acclaimed fame at a young age of 25 with his Oscar nomination-worthy performance as a trans-woman in the 1992 movie, The Crying Game. 
The androgynous actor had a glittering fame and his career was awaiting more roles but his career was cut short when he decided to retire as he apparently didn't enjoy the fame. He suddenly disappeared from the spotlight for several years only to re-emerge recently. 
So, what is the actor up to now? Has he thought of giving a second try to his acting career or did he come out his exile only for a reunion?
Oscar Nominated Gay Actor; Where Is He Now?
The one-time Oscar-nominated actor, Jaye aged 25 while he was competing for the prestigious award back in 1992 for the Best Supporting Actor for the role of Dil in The Crying Game.
Unlike most actors, he didn't want to win the Oscar as he never regarded himself as an actor and had he won the award, he claimed that it would be unfair to other actors.
Other Gay Actor:- Michael Sam, Retired Gay NFL Star Boyfriend Rift - Health Issue Fueled?
Shortly after shooting to fame with his Oscar-nominated performance, he was sought to play the role of the sun god R in the movie, Stargate. Despite his refusal, the Stargate star got gambled over with a high amount of payment by the filmmaker. 
Supporting his quotes, The Crying Game managing editor Anthony D'Alessandro claimed that he never intended to land an acting career. And following his last call with 2009's The Borghilde Project as a Nazi Photographer, he silently retired from the entertainment industry.
After filming the project, he was reported to be in Paris and he was really happy. 
Another cast mate of The Crying Game, Stephen Rea commented on Jaye's disappearance claiming that he was too young to be retired from the industry. Recalling his brilliant performance, he stated: 
"Maybe Jaye had second thoughts — "Oh, why did I do that?" You know yourself that the film world can be tacky and repulsive in lots of ways. Maybe anything he was on after that just seemed stupid. I certainly thought he could've had liftoff in a very big way because he was an extraordinary figure, and the world had become ready for ambiguous sexuality or transgender experiences. But maybe he just didn't want it."
However, he came out of the retirement in 2017 for the 25th Anniversary of the movie, The Crying Game.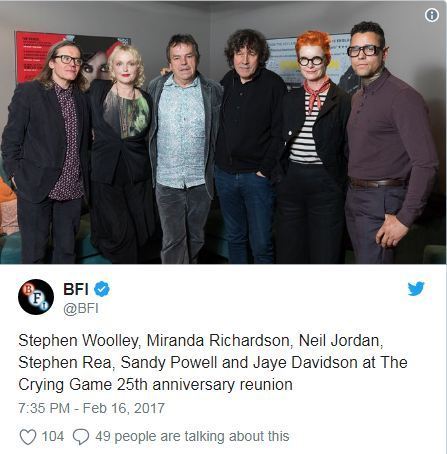 Jaye Davidson with "The Crying Game" castmate (Photo: BFI's Twitter)
Discover:- Proud Gay Kevin Abstract Dating Bliss - Boyfriend With Sharpest Jawline
During that reunion, he broke silence over his disappearance and his decision behind throwing away the reluctant career. Jaye claimed that black people were not given good roles to prove themselves.
And in addition to his black race, he was an openly gay actor who would have made his existence in the film industry harder to exist. He stated:
"So I thought I would be scrambling for the crumbs. And it's hard to live off crumbs."
Jaye, who confines his net worth, thrilled the entire entertainment industry with his great acting skill but now his appearance has remained as a history to the cinema.
Further, the actor has not mentioned anything about his comeback to Hollywood, so his fans may have to make do with his previous movies for now.
Ghanaian-Immigrant Family; Married Or Still Single?
The American-born British model/retired actor was born in California, USA to a Ghanaian father and English mother in 1968. When he was two and a half years old, Jaye's family moved to England where he was raised along with his two sisters 
After disappearing for almost a decade, Jaye, aged 50, might have resurfaced in the media for a short while; but he is yet to reveal anything about his married status. Since his androgynous physiques disabled him to enter the gay community, he has turned himself into a masculine person.
Attention:- Openly Gay Vern Yip Candid On Husband & Children; Rocky Or Rock Solid?
In an interview with Community Seattletimes in 1993, he disclosed that he is not usually approached by men as he has a terrible reputation. But while appearing in front of the Virgin media, he looked something different than he was before.
His long hair had turned to the shaved head and adapted to more masculine look with tattoos and attractive physiques.
Well, with his great transformation, it is difficult to believe that the dashing model has no partner.