Entertainment
Jaymes Vaughan Wiki: Everything From Age To His Newly Revealed Dating Affair!
Jaymes Vaughan has already marked his place as an American reality star by making a number of television appearances. However, he recently grabbed a huge media attention after opening up about his romantic relationship with actor Jonathan Bennett.
You might have seen Jaymes numerous times on your television screen, but how much do you know about Jaymes' wiki, professional life, and life behind the cameras?
Well, let us help you to know everything there is know about Jaymes Vaughan through his bio!
Bio-"Amazing Race"; Upcoming Project "Blue Call"
Jaymes Vaughan is a model –turned reality star, who was born on April 15, 1983, in Virginia. Jaymes, who recently rose to fame as Jonathan Bennett's boyfriend, is a very talented and good looking television host. He is also known as a producer for Celebrity Page TV.
In the year 2012, he appeared on the 21st season of Amazing Race as one of its contestants. The former male revue star was first noticed when he competed against former White Lion and Megadeath bassist James Lomenzo on The Amazing Race with his best friend, James Davis.
More From "Amazing Race":- Phil Keoghan Of 'The Amazing Race' Is A Family Man! Has A Wife and It Cleans All Gay Rumors
Prior to that, Jaymes worked at Chippendales with James Davis in Las Vegas where Jaymes was a singer whereas James was a guitarist. Similarly, he was also a cast of the film Chocolate City: Vegas as Adonis (2016).
Likewise, he has also made an appearance on The Wendy Williams Show and The Talk, where he has discussed the latest hot topics. Do you know Jaymes is starred as Bartender in the upcoming 2019's movie Blue Call? Well, now you do!
Supportive Parents; Father Suffered From Cancer
The thirty-four-years old Jaymes came out as a gay to his friends and family long time back. He even hosted the Las Vegas Pride back in 2011. People knew more about Jaymes' sexuality when he participated in The Amazing Race.
Jaymes even opened up about how he felt on coming out,
"I hope to be able to take advantage of a platform so that my fourteen-year-old self that was sitting in Chesterfield County, Virginia, might find some hope. The fourteen year old that had no one to look up to; whose mama told him he better not be gay; whose church told him he was going to hell; whose best friend killed himself because he didn't "fit in." Because he didn't have any hope. I thought for so long you had to cover up who you were to be successful. I've realized you can be more successful by being yourself."
Meanwhile, Jaymes, who was competing for the amazing prize of $1 million, revealed that he has a good bonding with his father. Furthermore, he explained that he needs the cash prize for his father's treatment, who was diagnosed with one of the rarest cancers.
Jaymes even thanked his parents saying-
"We don't need a million dollars right now, but we have parents who do. I had braces twice because my parents knew I wanted to be in the entertainment industry. They didn't have money for that. Accutane without insurance! I was a mess. Thank you, Mom and Dad."
Well, after being blessed with the supportive parents, he has found the loving and caring partner whom he enjoys to spend his time with.
Related to "Amazing Race":- Jon Montgomery Is Blessed To Be Married And Have A Wife From Same Field Of Work! Any Chance Of Divorce In Their Lives?
Dating Actor Boyfriend; Gay Couple's Wedding Date
Jaymes, who stands tall and handsome with the height of six feet and four inches, has already met his soulmate. He is now openly dating Mean Girls actor Jonathan Bennett (age 36).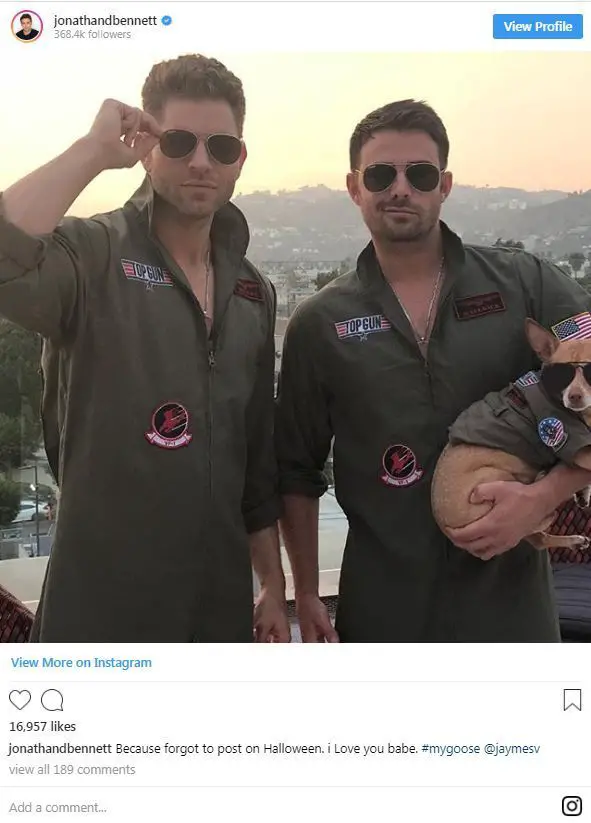 Jaymes Vaughan, boyfriend Jonathan Bennett on 2017's Halloween (Photo: Jonathan Bennett's Instagram)
Though the couple has recently confirmed their affair, they have been dating each other for a while now and were very active in sharing their pictures on their respective social media accounts.
Another Openly Gay Man:- Openly Gay Vern Yip Candid On Husband & Children; Rocky Or Rock Solid?
The couple celebrated their first Pride month together sharing the adorable kissing picture on social media. On June 2018, Jaymes wished 'Happy Pride Month" to his social media followers with the long message:
"Be Visible. Love Loud. Love Proud. Love, so that others can see it clearly and know they can and will love too."
With their dating life going well, the pair is actively making their public appearance. Jaymes' boyfriend Jonathan also accompanied him on the wedding party on 16 July 2018 which they happily flaunt as their "wedding date."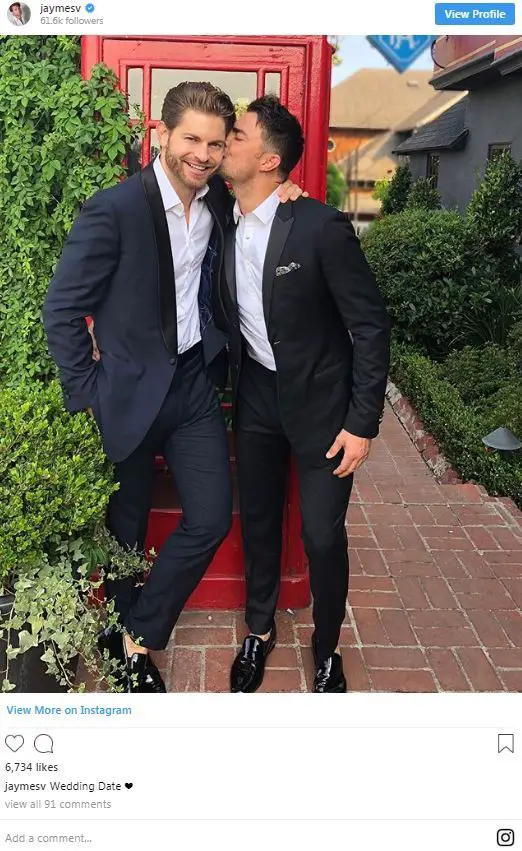 Jaymes Vaughan, boyfriend Jonathan Bennett on wedding date (Photo: Jaymes Vaughan's Instagram)
Happiness and satisfaction are what matters the most in a relationship. And so the gay couple look adorable and happy together. Their social media account is loaded with the lovable pictures of the couple, which anyone would be envy by looking at it.
Another Gay Couple Updates:- Robbie Rogers Cutest Wedding To Writer Husband, Major Gay Couple Goals!
Jaymes and his boyfriend have already crossed their one year of togetherness and besides many criticisms thrown at them, they are still standing strong.
On 18 October 2018, the pair attended the live music at Nashville to support the "Runaway June" who performed alongside with Carrie Underwood. Jaymes Instagrammed the picture alongside with his boyfriend captioning the description of the show.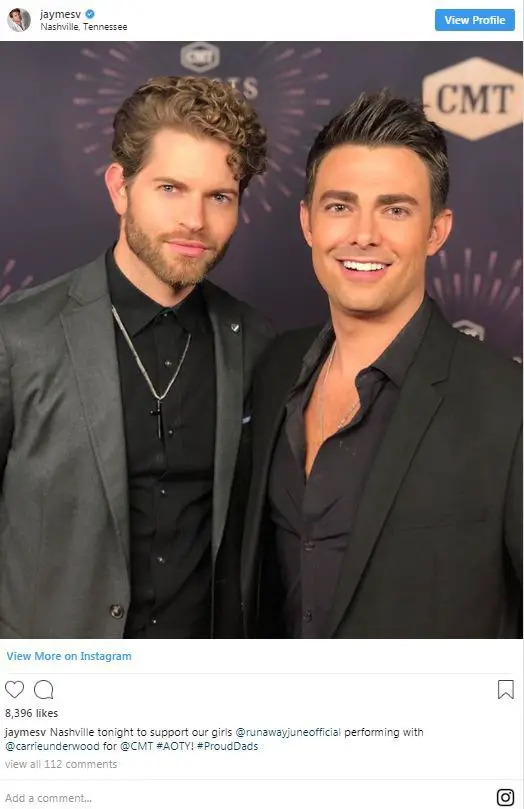 Jaymes, Jonathan attends Nashville tonight (Photo: Jaymes Vaughan's Instagram)
Well, the pair has been getting much love and respect from their followers.
Keep visiting for further updates on the couple!