Entertainment
Jazmine Sullivan Away From Former Dating Trauma! New Boyfriend - Perfection
It's difficult to part ways with the one you love. But at one point or another, you have to move past the person when you are in an abusive relationship. Time heals, and it has the ability to change the course of one's life and shower them with love.
American singer and songwriter, Jazmine Sullivan can resonate well with the statements, as she too found love in her new man after going through the pain of being in a disdainful relationship.
Without further ado, let's dig in to know about her romantic association!
Dating Again: Jazmine Sullivan New Boyfriend
Jazmine moved on from the bitter relationship with her former beau and found love with her new boyfriend Dave Watson, who is a musician.
The Bust Your Window songstress' boyfriend, Dave is a native of New Zealand. He has been making his living by working as a musician in New York City since 1987. 
She prefers to keep her dating life low-key. Thus least information about the couple has surfaced the media.
Similar Article:- 'Insecure' Actress Natasha Rothwell Bio: Age, Weight Loss, Husband Talks & Facts
However, the native of Philly, Jazmine hinted a budding romance by sharing a video via Instagram where her man can be spotted planting a kiss on her neck.
"If the love doesn't feel like 90s r&b, I don't want it!?❤️ get them angles rt tho dawg???‍♀️"
Jazmine even expressed her love for her boyfriend in a heartfelt message while wishing him on his birthday back in September 2017.
"Haven't been able to separate since our first date. We didn't know what "this" was, but we knew we didn't wanna let it go! Then U took this beat up heart and made it feel brand new again.. So thank u! Thank u for being u! For loving and respecting me daily. U ain't always rt, but ur just rt for ME! So Hbd.. can't wait to spend all of them looking at u the same way! Love u with all my heart baby! ?❤️❤️❤️❤️"
Not only Jazmine, but her boyfriend also made her birthday memorable with an adorable post where he wrote,
"Daily, we sit back and ask the questions many of you are asking, like; Why..? How..? Who would've thought? Who would've known..? Then I realized, it had nothing to do with us. This wasn't something we planned upon. It wasn't something we were searching for. Which makes it that much more confusing and scary. One thing I do know is, I've never felt like this in my life and I have you and GOD to thank for that. Today is the day you came into this world & I'm so thankful you did! ???HAPPY BIRTHDAY???????I Love You"
Who would have thought Jazmine's courage to move on from the pain of her past relationship would give her a chance to fall in love all over again, right?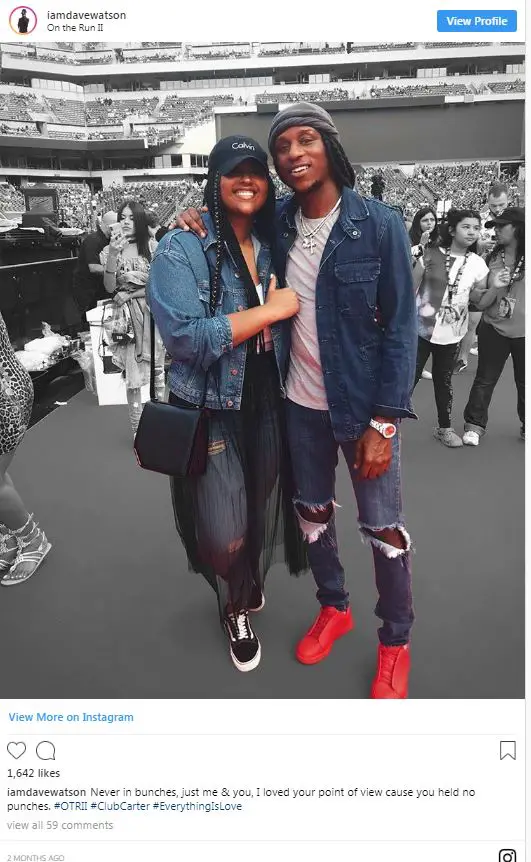 Jazmine Sullivan and her boyfriend, Dave attend the North American leg of On The Run II tour (Photo:- Dave Watson's Instagram)
Despite being abused while being in a relationship with a mystery man, Jazmine doesn't have any hard feelings towards "a young man." She believed that her ex-boyfriend was "going through some things," thus, she wished him best for his future. 
The severity of abuse came to light after she disclosed her fear of losing her hearing ability after getting slapped hard. 
"I've never told this before but something happened with my ear where he slapped me so hard I couldn't hear," 
The incident happened to be a wake-up call for her to quit the relationship. 
"I was like, 'Oh shoot! I might not be able to sing' and that kind of woke me up... I'm like... 'something that I love to do, I might not be able to do because of this relationship."
Jazmine is very private about her personal life, but she opened up about the abuse during an interview back in 2015, which indeed must have influenced many to move out of such relationship.
Discover More:- ILoveMakonnen Says No Boyfriend, Gay Revelation Post Weight Loss & OVO Exit
Jazmine Sullivan's Weight Loss Transformation
Not just that, Jazmine also came forth inspiring many to opt for a healthy lifestyle via weight loss, as she surprised everyone with her new look back in January 2013. 
Lossing weight is comparatively easy than maintaining the desired weight and more than anything; it's a conscious decision of choosing a way of life. But when you love food, it's tough to restrict yourself from eating the food which gives happiness, right?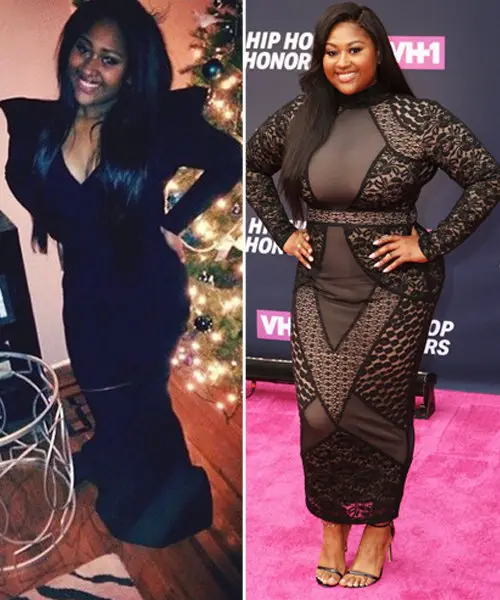 Jazmine Sullivan's after and before weight loss still pictures (Photo:- Vibe Magazine)
Eventually, Jazmine couldn't maintain her weight and was criticized for her big size, but this time she chose to shut them with an Instagram post where she slammed the critics back in November 2014.
"Real quick y'all... IM BIG!!!! #nowcarryon #sheesh. My weight fluctuates depending on what I decide to put down my throat that week. If anything I'd hope that whatever u see in me serves as a reflection and inspires u to love or change certain things abt YOUR life."
Jazmine's opinion has not only shut her critics but also have encouraged many women to love themselves the way they are rather than falling the victim of the body shamers!
Other Songstress In Our Vault:- Janelle Monáe & Tessa Thompson Dating Revealed As 'Ragnarok' Actress Outs As Bisexual
She would once again break the internet in October of 2018 after putting up an Instagram post that showcased the recent development in her battle with weight loss.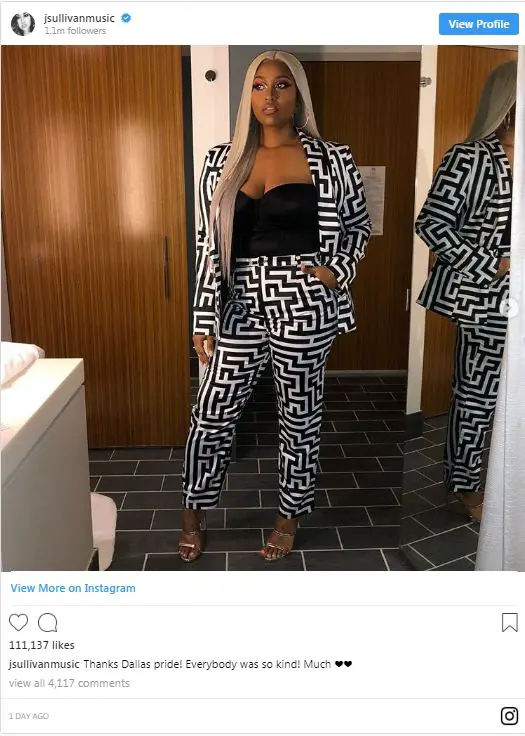 Jazmine Sullivan takes the internet by storm with her weight loss transformation (Photo:- Jazmine Sullivan's Instagram)
Other than her amazing weight loss transformation, Jazmine has maintained relevancy for musical reasons as well.
Her tribute to the late Queen of Soul, Aretha Franklin in the 2018 Black Girls Rocks! Award was lauded by both the fans and critics alike. Jazmine had sung her rendition of  "I Never Loved a Man the Way I Love You" as a tribute.
Likewise, one of her songs was played in the September episode of the hit HBO series Insecure. If anyone knows how to stay relevant for years, it's Jazmine Sullivan.