Entertainment
Jeff Leatham [Colton Haynes's Ex-Husband] Wiki, Married, Net Worth
Jeff Leatham is a celebrity floral stylist who specializes in floral designs and installations...He was married to actor Colton Haynes...The pair first met through...They got engaged in...and they tied the knot on...Jeff and Colton got divorced in...Jeff was born on...His ex-husband has a net worth of around...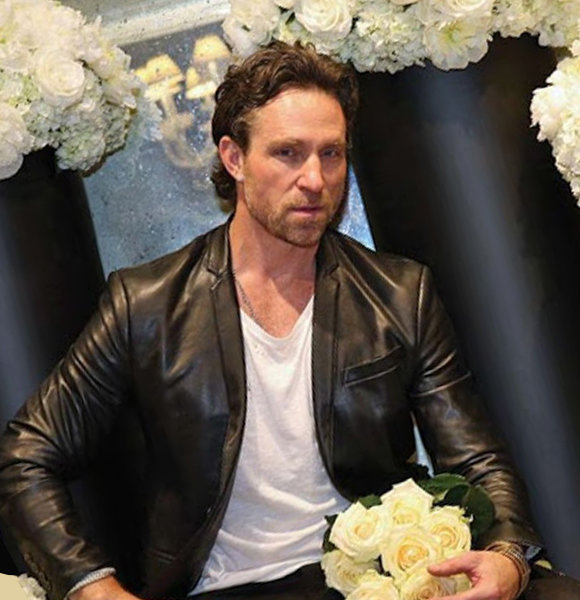 Celebrity floral stylist Jeff Leatham is the artistic director of the Paris-located four seasons hotel, George V; he specializes in floral designs and installations. 
Also an author, Jeff has written books like Flowers by Design (2003) and Jeff Leatham: Visionary Floral Art and Design (2014). 
Moreover, Jeff has starred in docu-series, including Flowers Uncut with Jeff Leatham (2009) and The Pursuit with Kelsey Humphreys Web-series (2015) too. 
Relationship with Colton Haynes
The floral stylist was previously married to actor Colton Haynes.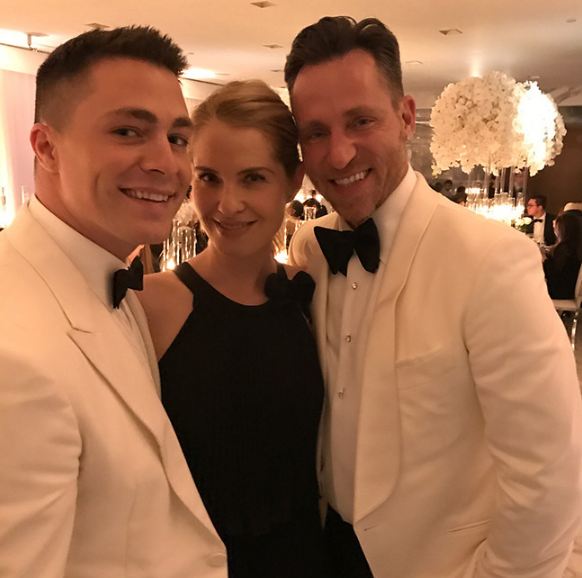 Jeff Leatham poses with ex-husband Colton Haynes and Leslie Grossman (Photo: eonline.com)
The pair first met through their mutual friend, Serena Williams, and they started to date. Further, Jeff and Colton got engaged in March 2017. 
They eventually tied the knot on 27th October 2017 in Palm Springs, California. Kris Jenner officiated their wedding. And both men wore dapper white tuxedos with black bow ties. Some of the famous guests to attend the wedding included Sofia Vergara, Joe Manganiello, Jesse Tyler Ferguson, Justin Mikita, and Billie Lourd. 
Insights On Personal Life Of Sofia Vergara:- Strengthening Relationship! Sofia's Husband Joe Manganiello Presented Her with Ultimate Anniversary Gift, A Book about their Love Story
However, in May 2018, Colton filed for divorce from Jeff. But the pair was quick to reconcile in July 2018. 
Divorce Finalized
For a while, it seemed that everything was fine between the couple, but in October 2019, the divorce between Jeff and Colton was officially finalized; both of them agreed to waive spousal support. 
Also, they signed both non-disclosure and confidentiality agreements, which included strict language that forbade both Colton and Jeff from talking about any private details about their relationship. 
Further, the settlement revealed that Colton would keep the 2018 BMW X5 leased vehicle along with his Platinum Diamond Eternity Band (engagement and wedding rings). Jeff will get the 2016 Mercedes Benz Sprinter Van and a leased 2016 Mercedes Benz 963. 
Details On Ex-Husband
Jeff's ex-husband, Colton, is an American actor and model who is famous for his roles in TV shows like Teen Wolf (2011-2017) and Arrow (2013-2020). His net worth is estimated to be $4 million, according to Celebrity Net Worth. 
More About Colton Haynes:- His Wedding, Dating, Gay, Family Insights
He was born as Colton Lee Haynes on 13th July 1988 in Wichita, Kansas, USA. His height extends to 5 feet 9 inches (1.75 meters). 
The actor came out as gay in May 2016. 
Facts About Jeff Leatham Including Wiki
Jeff was born on 7th September 1971 in Ogden, UT. 
He has his own website, which showcases his wide range of floral products. 
In 2014, he was awarded Chevalier de L'Order des Arts et Letters, which is the French government's most prestigious honor given to a person who significantly contributed to French culture. 
His Zodiac sign is Virgo. 
He owns a studio in Beverly Hills.