A glamour model turned reality star, Jemma Lucy became a household name after starring on the season 3 of hit series Ex on the Beach.
In 2017, the gorgeous Brit further cemented her position in the reality TV realm by participating in the notorious show Celebrity Big Brother. That very year, she also made an appearance on Celebrity Sex Pod.
Returning to Ex on the Beach for its fifth installment in December 2018, Jemma upped the ante. At the center of it all was the feud with boyfriend-turned-baby father.
Dating Woes - Split From Boyfriends
Weeks after season five of Ex on the Beach got aired, a gleeful Jemma opened up about being five months pregnant from her mystery boyfriend. Admittedly, they were dating for two years when they got blessed with the baby news.
The joy of impending parenthood barely lasted a month.
In February 2019 Insta post, the model-turned-reality star accused then-boyfriend of trying to kidnap her and abort the baby. Doubling down, she further alleged him of being a serial cheater.
Interestingly, Stephen Bear was also at the recieving end of Jemma's signature rant. Back in 2016, the British bombshell claimed that her once-boyfriend Stephen cheated on her. The duo had begun dating while as Ex on the Beach contestants.
Other notable celebs, who shared romantic ties with the reality star include footballer Ashely Cole, Towie star Pete Wicks and reality star Charlie Doherty. Chantelle Connelly, Laura-Alicia Summers, and Charlotte Dawson are openly bi-sexual Jemma's easily recognizable female lovers.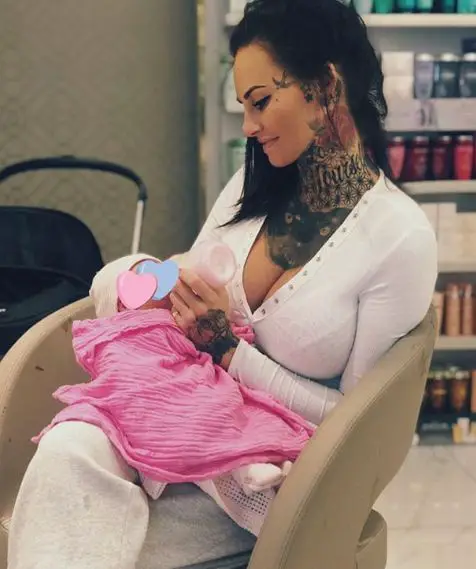 Jemma Lucy feeding her baby daughter with bottled milk circa June 2019 (Jemma Lucy's Instagram)
Putting the debacle behind her, Jemma gave birth to a baby girl on the 25th of May 2019. In the Instagram posts that followed, she couldn't help show off her little angel to her 600+ thousand followers.
Wiki & Bio - Age, & Ethnicity
Born in the year 1988, Jemma hails from Oxford, England. Her last family name is Henley. The oldest of two children, the 31-year-old has a biological sister named Lulu Henley, an Australia-based fitness/Mui Thai coach.
Jemma of Caucasian ethnicity came from a well-to-do family. Her dad Robert Henley was a director at a shipping company while her mom Jayne Norris was a designer/publisher by profession.
Until the age of 11, she lived and studied in Singapore. Once she returned to England, her antics only worsen, leading her school to expel her.
Interesting Wiki:- Malik Henry Wiki, Bio, Parents, Career, Net Worth
As Jemma grew in stature (she stands five feet and seven inches (1.70m) in height now), so did the number of tattoos on her body, more notably on her face.
TV Shows Plus Net Worth Now
Jemma's star-like quality became evident to all, including brands, who noticed her marketability. Building on the success as a glamor model, she later pivoted to DJing and entrepreneurship. Website Dating Ink is her most notable business venture.
However, none of the endeavors proved more beneficial to her multi-million net worth than her stint as a star on reality TV shows. Pre-fame, Jemma allegedly worked as a stripper. Reportedly, she used to earn $3.8 thousand a week because of dancing skillsets.