Entertainment
Jenn Lyon Age & Measurements | 'Claws' Actress' Personal Life Revealed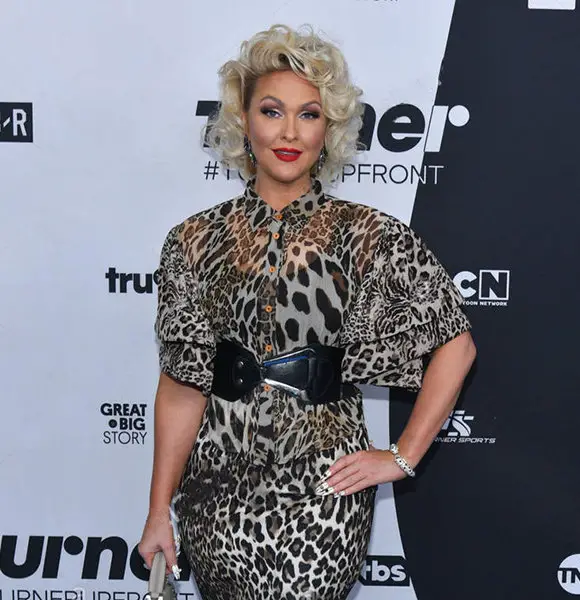 Claws actress Jenn Lyon seemed to have "outgrown" her pants; her love-hate relationship with her body & its measurements has a subject of fascination to many. In her most recent essay on the very topic, the North Carolina native opens up about the power struggle between her body and wardrobe.
Married to an Emmy winning The New York Times video editor husband, Jenn's life story resembles that of an open book; in that, she has ruminated heavily on the somewhat touching relationship with her parents.
Delve into the Claws star's personal life to learn about her age, birthday, and ethnicity!
Claws Actress' Battle With Eating Disorder; Body Measurements & Age Now
For a change, Jenn exonerates herself of not being able to fit herself in her pants; and instead blames the inadaptability of her pants.
Interesting:- Sophie Mudd Age 20 Wiki: Parents, Boyfriend To Measurements & Net Worth
Her prolonged battle with an eating disorder - one that saw her join rehab to overcome it - has culminated into an epiphany-like moment. In her reflective (but humorous) essay on Today.com, she shares:-
"Why don't we blame the pants more often? What I'm trying to say is, why is that every time I try to squeeze myself into skinny jeans or slim-fit pants, do I not tell the ill-fitting bottoms to take a long walk off a short pier? Why is it that I tell my body that it should just walk into the ocean forever?
A little further in her piece, the Justified actress ruminates on her eating disorder that arose from her effort to fit the "image." Jenn writes:-
"I am a size 14/16 right now but have been both much bigger and much smaller. I have been a size 0, which is fine if you naturally are, but to attain that with my build meant starving myself, throwing up, using laxatives, compulsively exercising and even eating the pages of a food magazine because I was so hungry and the pictures of cake didn't have the calories of actual cake."
By her admission, she's a proud owner of an hourglass body. With the body measurements of 33-27-36 inches, the North Carolina School of the Arts Alum's "thick" at just the right places.
Delving further into the physical attributes of the gorgeous blonde: standing at five feet and seven inches tall (1.67 m), The Coast of Utopia star weighs a healthy 132 pounds at the age of 34.
Fellow Claws Star:- Judy Reyes Gushes Over Husband! Says He Makes the Perfect Parent
Nobody could be more in love with all of Jenn's curves than her boyfriend, Taige Jensen. And the feelings seem to be mutual.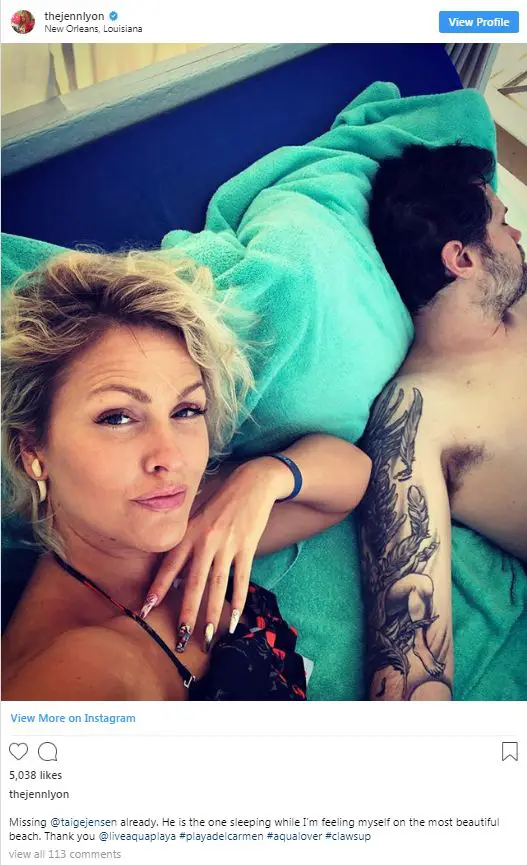 Jenn shares somewhat of a compromising snap of Taige (Photo:- Jenn Lyon's Instagram)
The manner in which Jenn portrays herself in public, one would have a hard time believing that she had come from a very strict Southern household.
Married In 2019
The actress went on to get married to her beau in October 2019. They exchanged their wedding vows in front of more tha 120 guests during their ceremony at the Astoria World Manor in Queens, New York.
Jenn and Taige met almost 13 years ago. The couple met during a sketch comedy in Brooklyn. Hitting it off since then, the couple had even been engaged to each other once before. It was Jenn who broke it off, thinking marriage was not for her.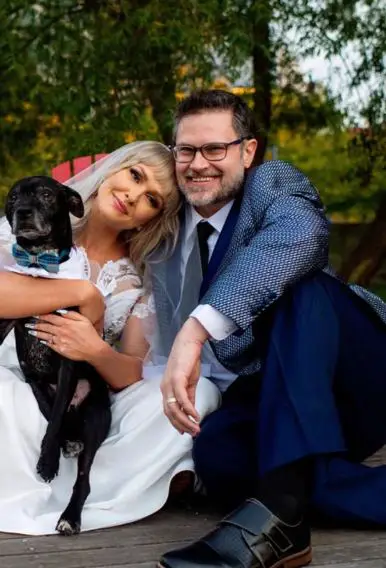 Jenn Lyon with husband Taiga Jensen on 19 October 2019 (Photo: people.com)
However, only a year and a half later, Jenn took it upon herself to get married. She popped the question to her husband (then-boyfriend) during a trip to New Orleans. Taige was considerate about the proposal waiting for her to be ready to get married.
Her father and a preacher officiated their marriage. The Claw star's wedding reception was attended by about 200 people, including her costars.
More On Jenn Lyon's Personal Life Including Parents, Ethnicity & Birthday
The Fish In The Dark star - who is of white ethnicity - was raised by conservative parents, who adhered to the white Southern heritage.
Jenn's father, Rev. Ken Lyon, formerly of First United Methodist Church, is now a pastor of a church in Matthew. Meanwhile, her mother is a nurse.
Discover:- Aaron Judge Age 26 Essential Facts: Parents, Ethnicity, Nationality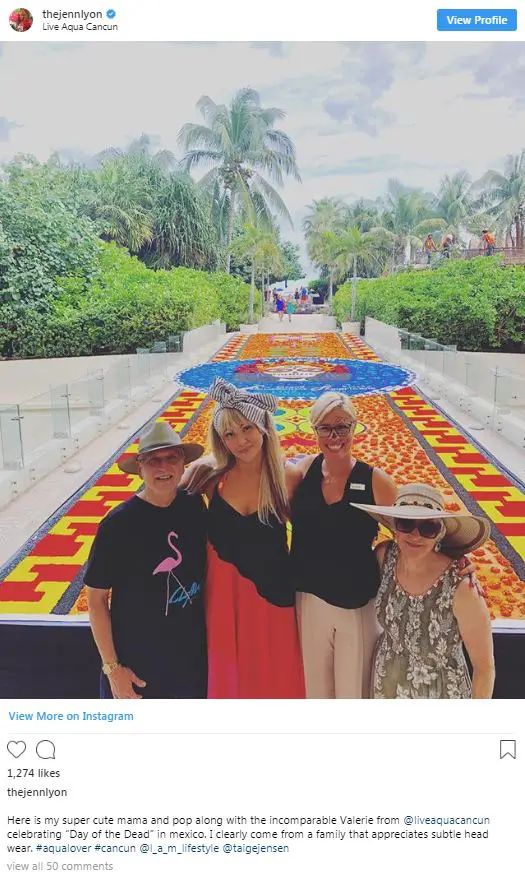 Jenn & her parents vacationing at Live Aqua Cancun (Photo:- Jenn Lyon's Instagram)
Despite her strict upbringing, Jenn - whose birthday remains a mystery to the public - came of age once she left for college to pursue a career in acting.
See Also:- Jim Rash Partner & Family | Believed Gay Man Personal Life & Net Worth
Once she hit it big, Jenn and promiscuous outfits became a recurring theme on TV -- a fact that didn't sit too well with her parents. In 2014 HPE.com interview, she shared:-
"I think my dad would have preferred I wore more clothing. but you can't have it all." 
On the contrary, the Claws star seems to possess it all -- an understanding of unrealistic beauty standards, a loving boyfriend-cum-husband, and equally obnoxious parents.