Entertainment
Is Jennifer Tilly A Lesbian Or Has Someone To Call Husband? Busy With Career Right Now?
Famous Canadian actress and poker player, Jennifer Tilly, has earned name and fame in her career in an ample amount. Also, people do put the spotlight on her personal life as she is loved by many despite not being able to have a huge fanbase.
People often speculate her being a lesbian and wonder what goes around in her personal life. But for those who are unaware of the reality of her life, here is all covered for you.
Is she a lesbian? Is she married? Let us find out!
Tilly, A Lesbian Or Married To Her Husband?
Those who are big fans of Tilly might know the fact that she was once married to Simpsons co-creator late Sam Simon. Sam and Tilly were married in 1984 and after several rows which are not made public, the pair got divorced in 1991 but were still close friends.
Simon passed away tragically during March 8, 2015, due to Colorectal cancer and his ex Tilly, as well as his then-girlfriend Kate Porter, made claims to his $100million fortune as Tilly received money from his projects as part of their divorce but in the end, he donated to charities and animal rights organizations.
Sam Simon with actress and ex-wife Jennifer Tilly at the press room at 2014 Writers Guild Awards, Jennifer Tilly, and Sam Simon were married from 1984 to 1991. (Photo: gettyimages.com)
However, the passing of Sam was something that was not easy to get over for Tilly as her social posts suggest.
But following her divorce with Simon, she was later linked with famous poker player Phil Laak, a master in the poker world. They two first met at the 2004 World Poker Tour Invitational at Los Angeles' Commerce Casino, which Phil won the tournament.
Also, Tilly is said to be the one to initiate the move and ask for Laak's number. Having not had the best of starts to their connection, they slowly developed things between them and they were then spotted at several places together flaunting their romantic moments.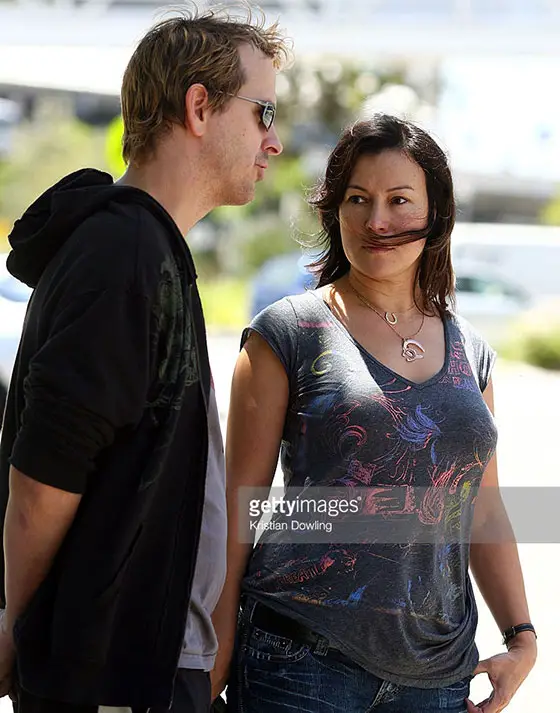 Jennifer Tilly and Phil Laak arrive at Tullamarine Airport on January 8, 2008, Melbourne, Australia. (Photo: gettyimages.com)
Moreover, the two were even together while Tilly was celebrating her 56th birthday in 2014.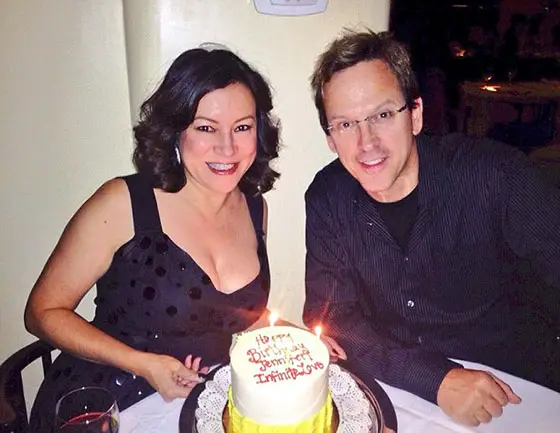 "Happy Birthday Jennifer, Infinite Love": the love Phil has for Tilly. (Photo: dailymail.co.uk)
Also, the love they have for poker is not far from the eyes of people.
The love Tilly and Laak share for poker is famous enough for them to be called a Poker Power Couple on Sep 13, 2014.
The two are still going strong and those who also follow her on her social sites must be able to see the two still together.
Besides being famous for her love for poker, she has also portrayed some lesbian characters in her career and that is something she did with great skills and that often prompts people to call her a real-life lesbian.
But her relationships with men kick the rumors out of the window and keeps her to an on-screen lesbian.
Jennifer Tilly has made a name for herself with her on-screen lesbian roles on Mar 17, 2010.
The couple was recently seen together on Phil Laak's Instagram on 29 November 2018, where the duo was sharing smiles together.
Jennifer and her love for her career:
Jennifer Tilly was born on 16 September 1958, Harbor City, California, USA and she has been there and done that when it comes to her professional life.
She is a famous voice artist and has been a part of several hit series and movies. "Home on the Range (2004)," "The Haunted Mansion (2003)," "Monsters, Inc. (2001)" are some of her well-known projects and she has done really well with her contribution in the success of those projects.
That has paid her good dividend and having been focused in her career even at this age, she is been able to accumulate a hefty sum of money in her life which can be seen through her net worth of $25 million.