Entertainment
Jenny Ryan Now: Married With Husband & Family Or Still Joking Around?
Dubbed "The Bolton Brainiac", Jenny Ryan is a quizzer who became famous...Existence of a husband or at least even a boyfriend?...Decided to get married after being inspired by...Jenny once revealed that her neighbor once mistook her boyfriend...Upcoming projects...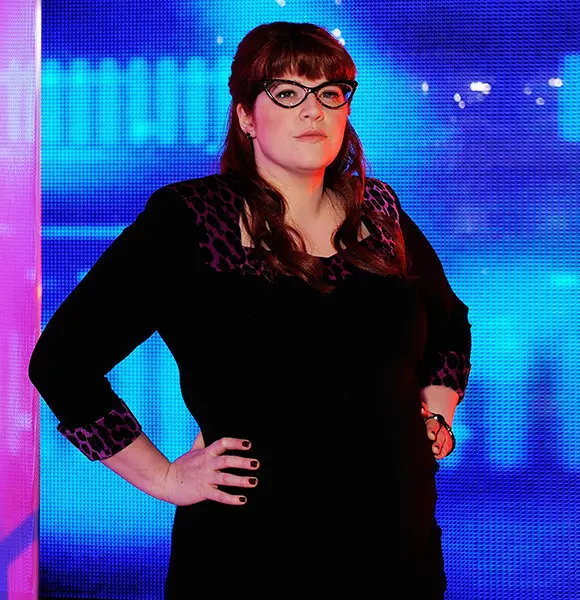 Dubbed "The Bolton Brainiac," Jenny Ryan is "the Vixen" quizzer considering her red hair and smartness which was featured on the famous quiz show, The Chase in 2015.
And quizzes are not the only platform Jenny answers; for the fans who have always wondered about her personal life, she has colored her social media full of it. Combined with Jenny's passive social presence and misinformation regarding her personal affairs, Jenny has weaved an interesting story for her fans. 
But, eventually, Jenny took a longtime acknowledging her romantic side beyond the brainy nerd. 
Mother Looking For A Husband; Eventually Married?
Jenny has a quirky habit of joking about her dating life, and she has added a different side to it. She enjoys dropping subtle hints about her dating status. 
You May Find Interesting:- Dave Hill, 43, On Getting Married! Just Another Joke?
One such instance came on 28 May 2009 after she posted a tweet revealing that her ex-boyfriend had accepted her friend request on Facebook. She further expressed that she had no idea what to do next. 
"My first boyfriend just accepted me as a friend on Facebook. Not certain how I feel about this."
The issue about her former boyfriend soon became overshadowed when Jenny mentioned that her mother had decided to get Jenny married after being inspired by The Family. She wrote via Twitter on 4 November 2009, 
"My mum, inspired by The Family, has decided to arrange me a marriage."
Despite her mother's insistence, Jenny is yet to settle down with a husband and continued on her supposedly single life. Whether she was indeed single or not is not clear, but Jenny revealed on one occasion that her neighbor once mistook her boyfriend's name as Lee because of all the golf she played one weekend.
"My neighbour probably thinks my boyfriend is called Lee, what with all the golf-squealing I did over the weekend. Cheers, @WestwoodLee"
It was only in June 2016 when Jenny came forward with the confession that she was in a relationship. Through a tweet posted on 27 June 2016, Jenny explained that she was committed with a boyfriend, who had a phobia of sharks but was obsessed with dogs.
Mother-Daughter Related:- Amanda Davies, Married & Has Husband! Rejoiced Mother-Daughter Duo
Further, she joked that she would make her partner look at the pictures of BarkWeek, a trend on social media where people uploaded the photos of their dogs dressed as sharks.
" My boyfriend is shark phobic but dog obsessed so I am showing him all #BarkWeek pics to help him over his fear. Cheers x"
Finally, the mystery of Jenny's marital status was solved in 2016 when the Manchester resident herself confirmed that she was unmarried.
Apart from that, she has not dispatched any details about her boyfriend in the recent years, which has led many to believe that she could be living a single life for now and probably in search of a suitable partner.
Quizzing Career: Before And Now
Jenny, who ages 36, commenced her career in quizzing making questions for the ITV show, The Chase in 2009.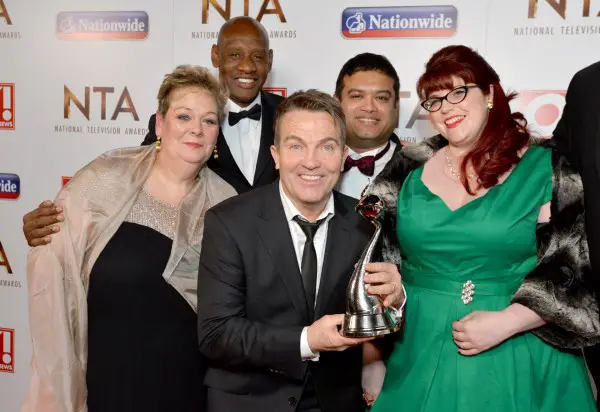 Jenny Ryan with the cast of The Chase at 2015 National Television Awards (Photo: IrishExaminer.com)
Previously, a law student, she had been inspired by her family to take up her career path as most of the members of Jenny's family had a habit of watching quiz shows as their hobby.
More From The Chase:- Mark Labbett Has Children With 'First Cousin' Wife? The Chase Star's Married Life Insight
Jenny also participated in the 2014 World Quizzing Championship but unfortunately could not win the competition. In 2015, she joined The Chase as a chaser and became one of the five chasers along with Mark Labbett, Anne Hegerty, Paul Sinha and Shaun Wallace.
While working at Chase, Jenny cashed an average salary of £34,000. However, Jenny has left the show now and has not updated fans about her upcoming projects. Apart from The Chase, she has also appeared in shows like The Weakest Link and Fifteen to One.