Jerami Grant is one of those lucky fellas whose family roots come from the sport of basketball. His father and twin uncle Horace Grant were there to provoke the love for basketball in the young player.
As a child growing around with four sibling brothers, Jerami spent most of his time with his father around basketball courts, NBA locker room, and cheering in matches for his uncle.
Seeing the life a sportsperson in close quarters, Jerami and his brothers all dreamt of becoming a great player in the future. And now, they are all living upto what they always wanted to become.
Age, Dating Girlfriend?
Jerami Grant - age 25 - is very vocal about his girlfriend, but for all the wrong reasons. Instead of dating a girlfriend, the Nuggets new signing jokes about it in his Twitter.
In 2012, he briefly announced being single, but since then, he has not talked about his relationship status openly. Though he occasionally pops up with Valentine's Day wishes, the youngster is very private regarding his personal life.
Healthy Relationship:- Denzel Valentine Girlfriend, Dating, Parents, Family
Saying that, he does not shy away from sharing pictures of his family. His sister Torin Marie, three brothers and parents, often appear in his Instagram posts.
Family, Parents, Brother
Born in Portland, Oregon, on 12 March 1994, Jerami Grant is the second youngest son in the Grant family. Growing up in a large family to parents: Harvey and Beverly Grant, the youngster was hugely influenced to play basketball from his father and uncle Horace Grant.
Also, he developed a sense of competition from his brothers, who have all accepted basketball as a career. Amongst the four, the eldest Jerai plays most of his basketball overseas, Jerian is a regular for Orlando Magic, and the youngest Jaelin is making his way upto the top.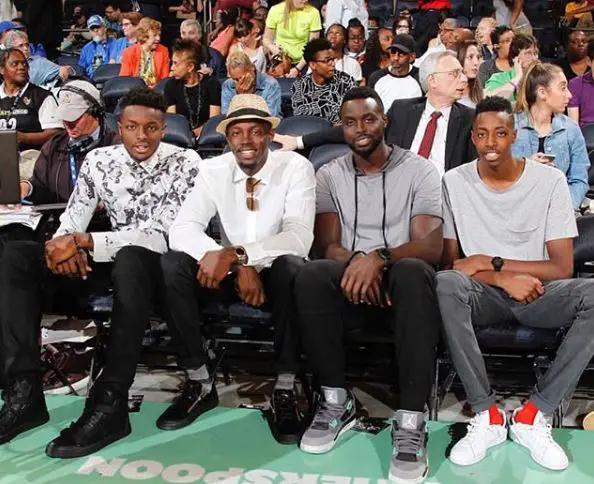 Jerami Grant and his three brothers in June 2016 (Photo: Jerami Grant's Instagram)
Keeping in mind the same, Jerami Grant also steps in the gas and pushes himself most often than not. He often turns to his uncle and father for advice and is scratching the surface from his performances.
Now, he is in new colors and new team the Denver Nuggets and is looking to make the new season his own by putting consistent performances in the court.
Height, College, Contract Info
Coming from a family full of basketball players, Jerami Grant had his reputation on the line if he did not succeed in basketball.
Criticized Player:- Enes Kanter Dating, Married, Family
At the start of his playing career, the 6 foot 8 inches (2.07m) tall athlete played a lot of school and college-level basketball. Playing for DeMatha High School, the forward was listed as 11th best forward to look out for.
Further, from his growing reputation as a versatile player, he shifted to Syracuse University to play in college competition. There, he averaged more than 17 points per game and stormed his way to the NBA.
In July 2019, Jerami was traded to Denver Nuggets to play in the 2019-20 season with a salary of $9,346,153.