Entertainment
Jeremy Bieber & Wife Welcomes First Baby | Meet The Newest Bieber, 'BAY'
Jeremy Bieber is the father of Justine Bieber. He welcomed the daughter named... on 19 February 2018 with his wife.....He got married to his longtime girlfriend on......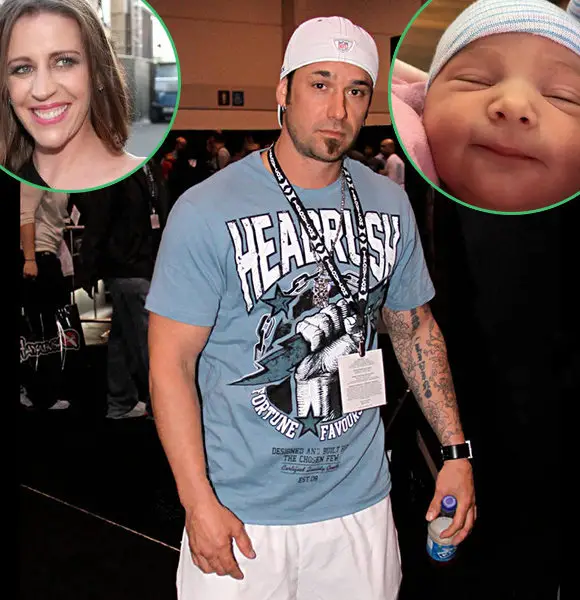 Good News to the Beliebers!
The number of Bieber family has once again increased with the arrival of "Bay Bieber", Justin Bieber's baby sister.
Jeremy Bieber, known as the father of Justin Bieber, is overwhelmed to welcome the little angel into the world. The year 2018 appeared to have blessed the Bieber family as Jeremy made his longtime girlfriend, a wife following the birth of Bay and his son's engagement to the model Hayley.
Love Journey: From Friends To Making Wife
The journey of Jeremy Bieber's married life started starting a friendship with Chelsea Rebelo, which was always more than that. Eventually, the duo's friendship went deeper as he went on his knee to ask her to be his girlfriend.
With the long-time dating relationship, Jeremy went on his knee, this time with the ring, in front of Chelsea during their vacation in St. Barts in 2016. With the beautifully planned moment, the proposing scenario was captured in the video taken by Jeremy's friends.
With their two long years of engagement, they finally got married on 19 February 2018 in the intimate wedding ceremony where approximately 30 attendees were presented including Justin, his then-girlfriend Selena Gomez and his younger siblings, Jazmyn and Jaxon in Montego Bay.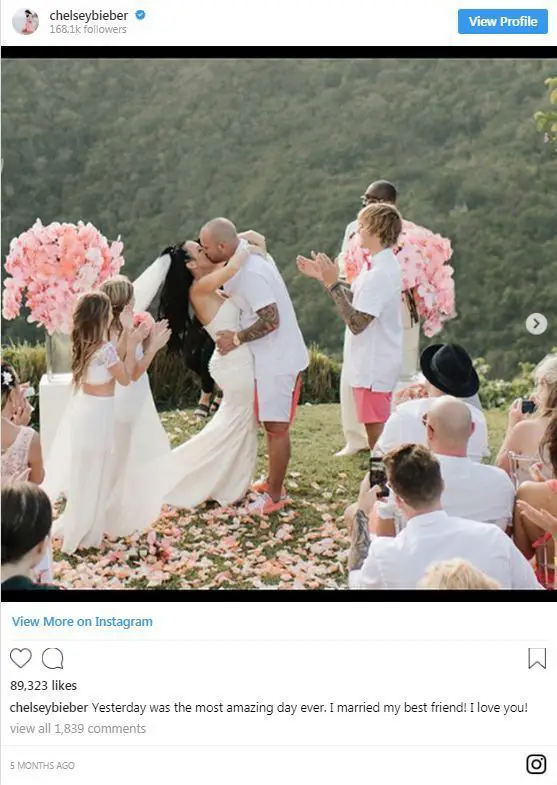 Jeremy Bieber got married to Chelsea Bieber on 19 February 2018 (Photo: Chelsea Bieber's Instagram)
Previously, Jeremy, who was also involved in the musician job, shared an intimate relationship with Justin's mother Pattie Mallette for nearly five years, but they split ten months after she gave birth to Justin in 1994.
Similarly, Jeremy has two other children, Jaxon and Jazmyn, with his ex-girlfriend, Erin Wagner.
Welcomes Daughter "Bay Bieber"
Justin Bieber's 43 aged father, Jeremy Bieber welcomed the youngest member into the Bieber's family. Jeremy and his wife, Chelsea Rebelo were blessed with their first child, a daughter named Bay Bieber on 16 August 2018.
Related To "Justin Bieber":- Mix Ethnicity Model Ashley Moore: Reason for Selena Gomez to Diss Boyfriend Justin Bieber?
The happiest father took to Instagram on 16 August 2018 with the picture of himself, his wife Chelsea and their newly born baby shortly after her birth. He wrote:
"We welcomed a healthy baby 'Bay Bieber' born at 8:30 a.m.,"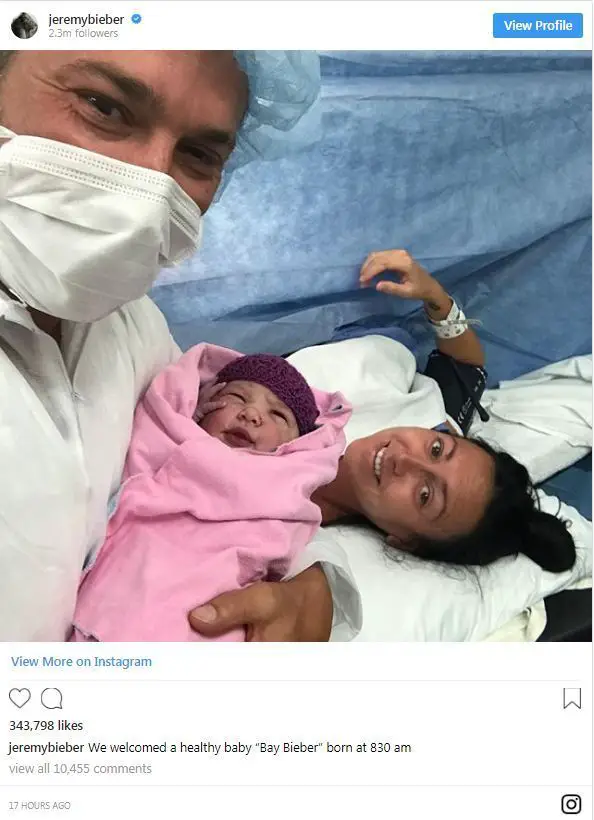 Jeremy Bieber, wife Chelsea welcomed a baby daughter on 16 August 2018 (Photo: Jeremy Bieber's Instagram)
Jeremy also tweeted on the Twitter about the arrival of his bundle of joy writing:
"Just welcomed a beautiful baby girl into the world. Bay Bieber #babygirl #biebergirl"
It was not just Bay's father who announced her arrival but also her popular brother Justin Bieber announced her arrival to the world. Justin took to Instagram on 16 August 2018 to share her newest Bieber quoting "Meet the newest Bieber, my little sister BAY BIEBER," among his 102 million followers.
Bay is the fourth child of 43-year-old Jeremy, who is the father of 8 years Jaxon, ten years Jazmyn and 24-year-old pop star. Also, she is the second child to 30-years old Chelsea as she is the mom to the 11-year-old daughter Allie.
More About Justin Bieber:- Who is Victoria Model Barbara Palvin Dating After Romance With A-List Boyfriend? Bio Reveals
Jeremy's wife, Chelsea documented her entire pregnancy journey and had been updating about her growing bump to the followers via Instagram. In addition to this, Jeremy's and Chelsea's children also featured in her Instagram post.
The birth of the bundle of joy is another bliss for the family following the engagement of  Jeremy's eldest son Justin and girlfriend Hailey Baldwin's engagement in July 2018.
The 21-years old singer and model couple are reported to rushing to the altar as soon as possible. A source said to People that they don't want a long engagement and so they have already planned an intimate wedding ceremony.
Also, another insider added that the engaged couple would be more likely a private affair rather than the celebrity wedding.
"As of now, they want a small ceremony with their families. They are not planning a huge, celebrity wedding. They are getting married for love and don't want a flashy wedding." 
While attending the wedding of his father, he was knitting the future with the former girlfriend Selena Gomez and this time; he is planning to spend his rest of the future with his fiancee.