Entertainment
Jeremy Bieber All Set to Turn Girlfriend Into Wife! He's Taken The First Step
Jeremy Bieber All Set to Turn Girlfriend Into Wife! He's Taken The First Step Jeremy Bieber has been dating for a long time now, and their bond is on the verge to be escalated into a marital relationship. Well, let's take a look at their love lie and find out if they have plans to getting married in the near future!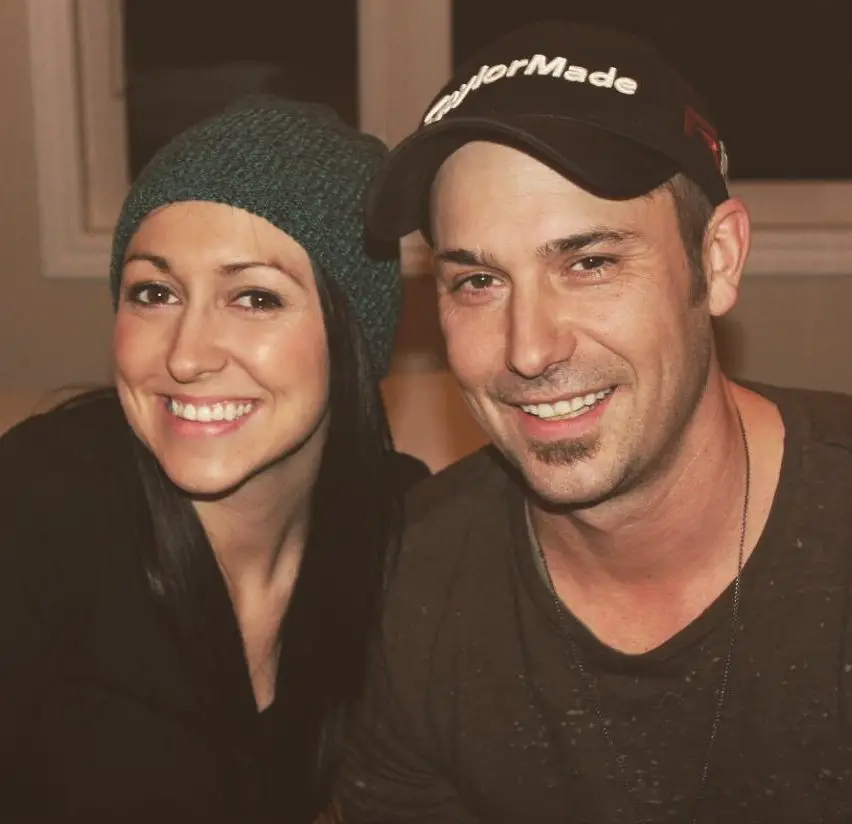 People are not usually fond of revealing their proposal video on the internet.
But that does not apply in the context of Jeremy Bieber, as despite his failed relationship in the past, he is still positive and has moved on to be in the bond of marriage again.
Jeremy Bieber has been dating for a long time now, and their bond is on the verge to be escalated into a marital relationship. 
Well, let's take a look at their love lie and find out if they have plans to getting married in the near future!
Jeremy Bieber: A New Relation
Jeremy Bieber(age 42), popularly known as the father of the Canadian Pop Sensation 'Justin Bieber', has been in a long-term dating relationship with Chelsea Rebelo, 28, for several years following his divorce with Erin Wagner.
But now it seems Jeremy and Chelsea have finally decided to escalate their relationship to the next level. Jeremy Bieber got down on one knee and put the ring on the finger of his lovely bride-to-be during their vacation in St. Barts. 
See Also:- Dylan Sprouse Reportedly Dating! Girlfriend Barbara Palvin, Caught At Event
Jeremy planned out the moment, and his friends captured their romantic moment, where Chelsea appears completely taken aback by the romantic proposal. 
She immediately burst into tears after realizing what was happening and leaned towards her future hubby for a sweet embrace.
Jeremy Bieber Proposed to his longtime Girlfriend Chelsea Rebelo (Published on February 25, 2016.)
During their getaway, Jeremy shared a number of adorable photos on Instagram, where the happy couple was seen enjoying their time together while relaxing in "paradise" and sharing some fine dining.
They even celebrated their first year anniversary of being engaged recently and shared their happy moment on the Instagram for their fans to witness.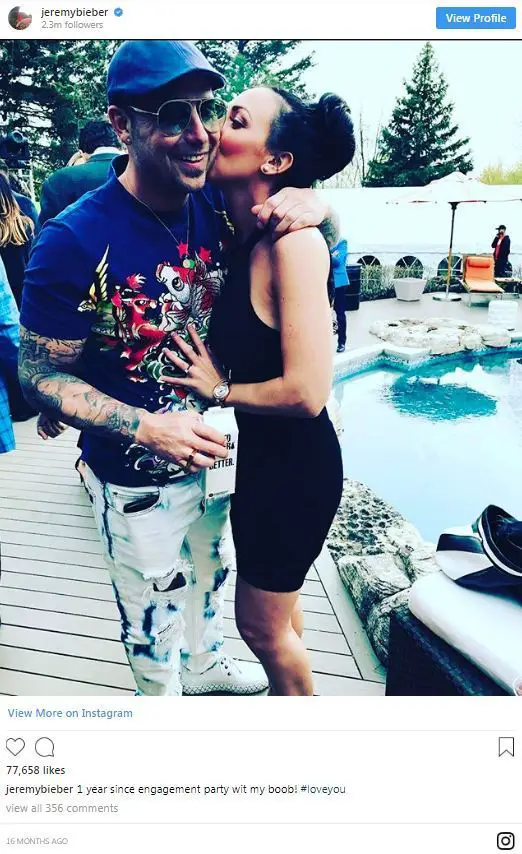 But such moment is not new for Jeremy, as he has experienced those moments before. 
Previously, he had been in seven years relation with Erin Wagner and in an on and off relationship with Justin's mother, Pattie Mallette 
Married To Fiancee; Welcomes Daughter 'Bay'
Jeremy tied the knot with his fiancee of two years, Chelsea on 19 February 2018 in an intimate wedding ceremony in Montego Bay. The couple exchanged the wedding vows in front of 30 attendees which includes his children Jazmyn, Jaxon, Justin and Justin's with his then-girlfriend Selena Gomez.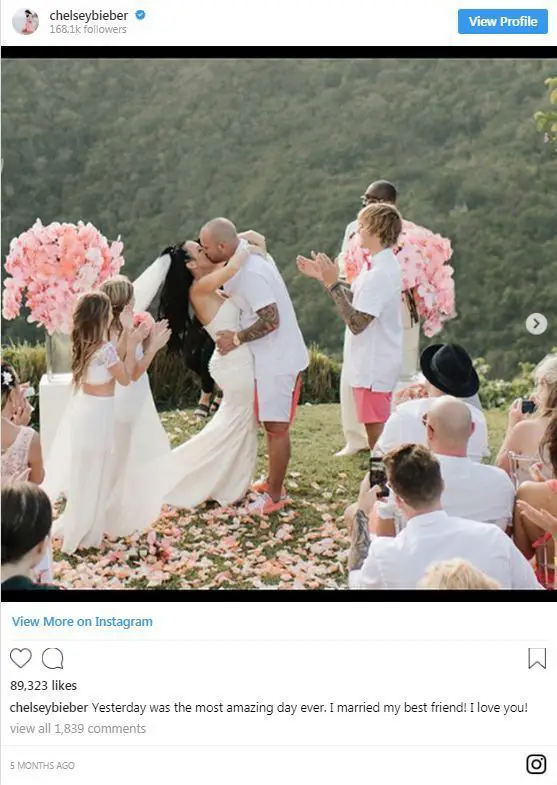 Jeremy Bieber got married to Chelsea Bieber on 19 February 2018 (Photo: Chelsea Bieber's Instagram)
After five months, Jeremy tied the knot with his best friend, the new couple was blessed with their first child, a daughter named Bay Bieber on 16 August 2018 at 8:30 am.
Read Also:- Mix Ethnicity Model Ashley Moore: Reason for Selena Gomez to Diss Boyfriend Justin Bieber?
The news about the new Bieber's arrival aired shortly after Bay's birth as Jeremy shared the glimpse of their newly born baby via Instagram on 16 August 2018. He captioned:
"We welcomed a healthy baby 'Bay Bieber' born at 8:30 a.m."
Also, the 43 aged father inked the named tattoo of his newly born daughter above his knee-cap. He took to Instagram with the adorable picture of Bay along with her name's tattoo back on 18 August 2018.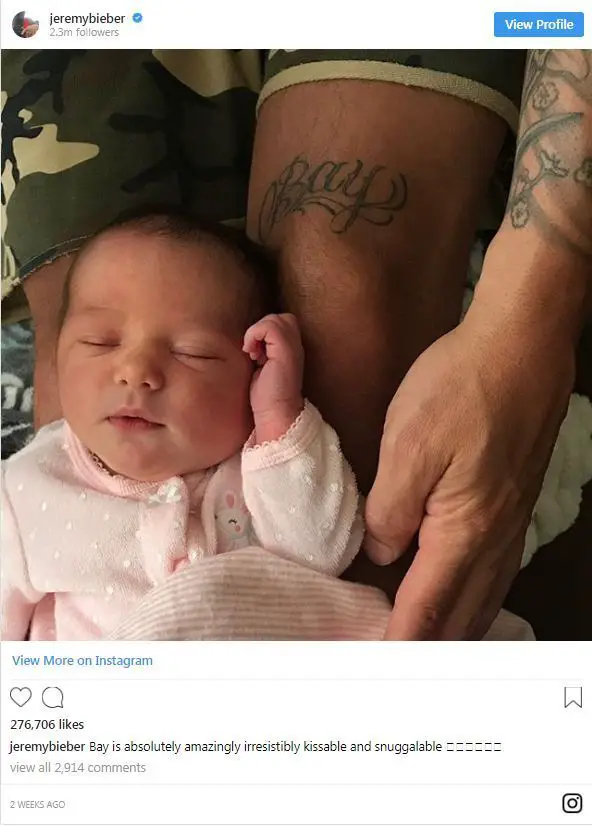 Jeremy Bieber inked the tattoo of 'Bay' (Photo: Jeremy Bieber's Instagram)
The good fortune seems to be hovering in the Bieber's family as with the arrival of Bay Bieber, Jeremy's eldest son Justin Bieber also disclosed to walking down the aisle with his fiancee model Hailey Baldwin as soon as possible. 
Jeremy Bieber's Wiki-Like-Bio:
Jeremy Bieber, born as 'Jeremy Jack Bieber' in Ontario, Canada on June 4, 1975, is the father of  Canadian Pop Sensation Justin Bieber.
Jeremy was in his late teens when he became a parent giving birth to Justin Beiber with Pattie Mallette. Jeremy was in the county jail for fighting on the day of Justin's birth.
Both teenagers; Jeremy and Pattie were actually engaged but called off the wedding when Jeremy was found to have cheated on her with a mutual acquaintance.
You May Also Like:- Dating Alert! Anwar Hadid Spotted Holding Hands with his New Girlfriend Nicola Peltz
He then moved to Winnipeg in Manitoba, Canada and got married to his ex-wife, Erin Wagner of 27, but they decided to split after seven years of togetherness. He shares two children with Erin Wagner, namely Jaxon and Jazmyn.
His previous relation was badly affected with his wild behavior; he was once a notorious troublemaker, known to police for his heavy drinking and fighting, and is also blamed to be a terrible influence for Justin.
However, he has always adored his son Justin but wasn't mature enough to be a responsible parent. Alike his famous son, he is also a musician and has played in several bands as his attempt to create a career.
But unfortunately, his attempted career wasn't a success like his son. Even at this date, Jeremy, whose height is 5ft 10inch, has never changed his attitude towards partying and living the high-life.
Besides taking care of the legal matter of Jeremy, his son, Justin with a net worth of $200 million, gifted a house as he wanted his siblings to have a nice roof over their heads. Such a thoughtful son, right?
As of 2018, Jeremy Bieber, who accumulates a net worth of $5 million, is the popular social media personality and producer, who is known for producing the 2016's documentary Bodyguards: Secret Lives and appeared in the documentaries Justin Bieber: Never Say Never and Justin Bieber's Believe.