Entertainment
Jessica Barden Gives Away Dating Status In An Interview! Has A Boyfriend
Jessica Barden, an English actress, whose beauty does her acting skills justice, shouldn't be an unfamiliar name as her outstanding portrayals both in TV series and movies have boosted her career significantly.
But apart from her blooming career, something else is on the verge of flourishing in her life: her dating relationship with her boyfriend. For those who didn't have an idea, yes, Jessica Barden is dating, as made evident by herself in an interview.
Jessica Barden Reveals Identity Of Boyfriend In An Interview
Well, not everybody prefers to gush about their private life happenings, relationships being the most prominent one they like to keep away from the media. However, considering the curiosity of fans, some celebrities frequently drop hints or the information itself on the matter.
In this regard, Jessica serves her fans right. She knows how to keep her fans updated, as she gave away her dating status in an interview back in December 2017. Now, if you were shipping Jessica and her co-star, Alex Lawther, from the series, The End of the F***ing World, sorry to let you know, it isn't him!
Interesting:- Twice Married Pete Hegseth Of Fox News Still Content Post Divorce; How?
Instead, her boyfriend is a crew member from the movie The New Romantic, which she was a part of. The two met during its filming in Canada. The New Romantic is set to hit the US theaters on 9th November 2018, as per Jessica's 21st September 2018 Instagram post.
As for her role in The New Romantic, judging by the film's trailer, she will portray a character of a sugar baby. Her boyfriend's role in the film is yet to be disclosed.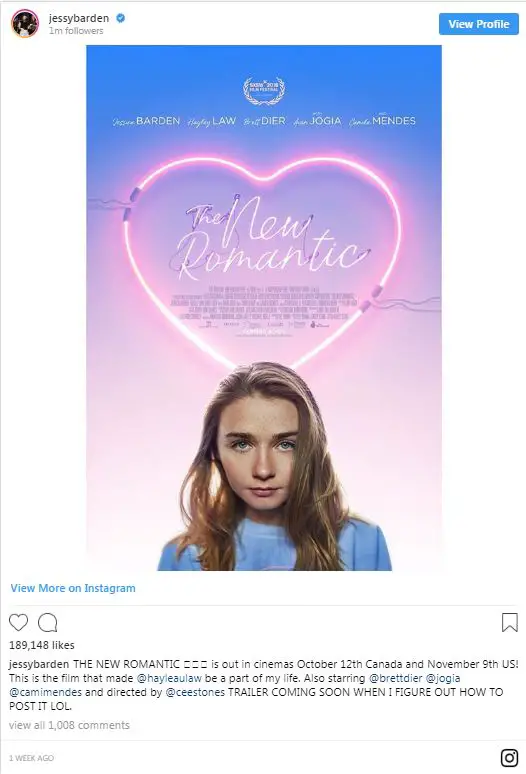 Jessica announces the premiere date for The New Romantic (Photo:- Jessica Barden's Instagram)
As per the report, Jessica recently began dating her boyfriend in December of 2017, and she didn't want to talk more about it because their relationship was so new. However, their love is budding, and Jessica shared that she will soon embark a road trip from California to Nashville with her boyfriend.
Furthermore, it isn't the first time Jessica has been in a relationship, as she has had few dating affairs in the past which didn't work out well due to her work being the priority for her. Jessica, in an interview, opened up about not losing sleep over her past affairs that didn't work out well.
"I'm obsessed with my career. I'm 25 – it shouldn't really be any other way. I've had boyfriends in the past who haven't understood that, but I didn't lose any sleep over it. If a man has a problem with the fact I work 20 hours a day, I don't have to explain myself."
Keeping up with the 26-year-old's busy shooting schedule, she is set to star alongside Charlie Hunnam, and Jack O'Connell in the Max Winkler directed film Jungleland.
See Also:- NBC's Matt Lauer Family life: Affairs, Wife, and Divorce
Jessica Barden's Bio Including Family, Parents & Height
Jessica, an English actress, born on July 21, 1992, in North Yorkshire, England, is 25 in age and 5' 2'' in height. Jessica grew up alongside her two brothers in the Barden family where her father is a prison officer and mother an accountant.
The End Of The Fu**ing World star shares a close-knit bond with her siblings. It is a ritual among the Barden children to wish each other on birthdays via Instagram.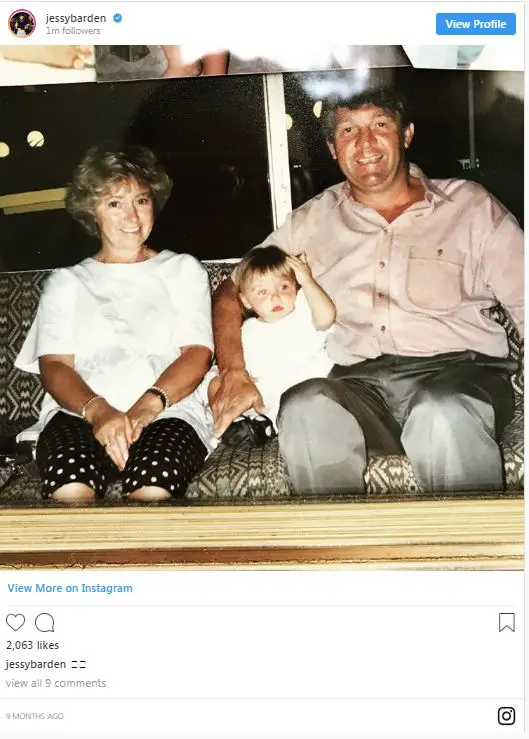 Jessy shares an early childhood photo of her with her parents (Photo:- Jessica Barden's Instagram)
Jessica, who has encouraging parents, also believes that everyone in her family is a storyteller though only Jessica is associated with the acting industry.
Discover:- Pregnant Kelli Giddish & Husband Lawrence Faulborn are Welcoming 2nd Baby!
In an Interview with The Scotsman, Jessica jokingly expressed that all her family members are hilarious. She said,
"I always say everybody in my family could do my job – they have a lot to say and are very funny – but they wouldn't cos they're a bit smarter than I am."
Well, she must have inherited her sense of humor and the skills required for her career from her parents!