Entertainment
Jessica Lowndes Revealed Dating Affair With Older Boyfriend For Fun! But It Back-lashed
Jessica Lowndes Revealed Dating Affair With Older Boyfriend For Fun! But It Back-lashed Aspiring actress Jessica Lowndes has proved the same, where love doesn't see the decades of the age gap, as recently, she has hit the headline with her relationship status, where she revealed something unusual.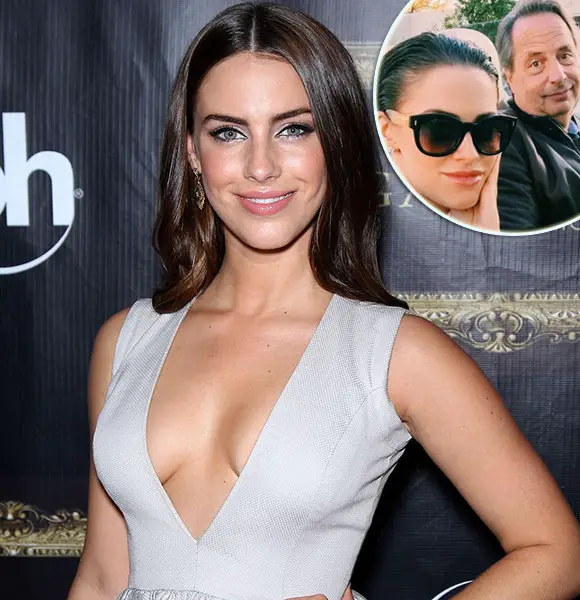 Love and relationship are not tangled with the word 'Age,' as it is said, love is blind and ageless!
Aspiring actress Jessica Lowndes has proved the same, where love doesn't see the decades of the age gap, as she hit the headline with her relationship status, where she revealed something unusual. 
So let's stroll down to find out what that is!
Dating a Boyfriend, But How Is That Unusual?
Jessica Lowndes, 30, surprised her fans with her tagged headline "New man in her life," that left everybody in amusement. The star didn't flash the name out, instead marked him as her 'Mystery Lover.'
Jessica initially shared a proverb hinting at her relationship with the older boyfriend. She affirmed,
'Old cows like to eat young grass' and then wrote beside it: 'And I love me some old cows...' 
Her flow of posts in social media was conquered by her so-called mystery lover, which resulted into her fan asking if her account was hacked; but in return, she expressed she was super excited to share the new love of her life.
See Also:- Jeremy Bloom Almost Got Married! But Now has a Girlfriend - What Went Wrong?
She, then, uploaded a photo with a man's hand on her inner thigh, that showed the new man to be a little older than her, since the picture of the hand on her leg was from a man quite older than her.
Engagement is something that no one had expected so soon; all her fans were surprised when she shared a photo of a large ring on her left hand, indicating herself to be 'Engaged.'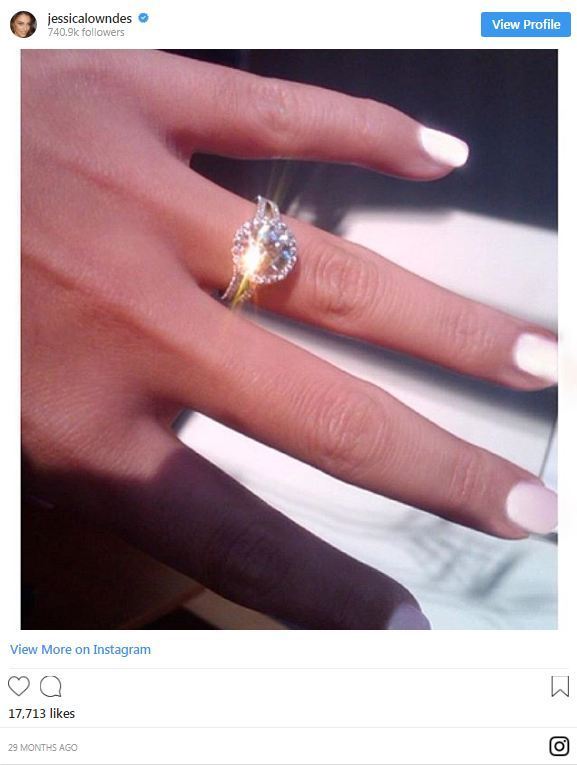 Jessica Lowndes engagement ring (Photo: Jessica Lowndes' Instagram)
Controversies arose later, as she unmasked her new man to be Saturday Night Live's, Jon Lovitz (age 59). With more than three decades age gap between them, it seemed rather an unlikely pairing.
Don't Miss:- Jon Lovitz Sparked 'Getting Married' Rumors With Notably Young Girlfriend But Was That All True?
Not only Jessica but Jon too hinted their relationship through Twitter. Just two days after Jessica suggested the affair, Jon uploaded an image of the duo on Twitter with the caption, "Easter with my bunny."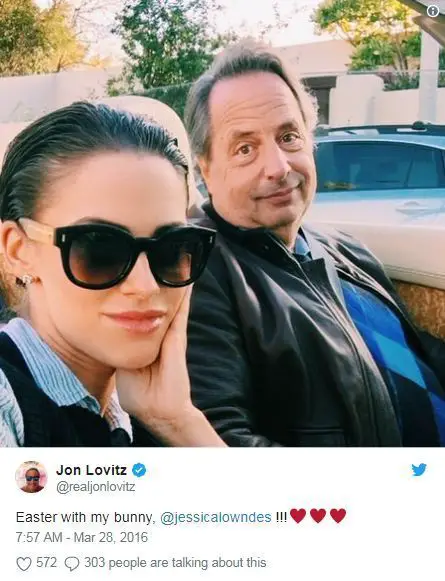 Jessica Lowndes with Jon Lovitz (Photo: Jon Lovitz's Twitter)
The post added more fuel to the rumor; the fan even criticized her relation with the three-decade older boyfriend. So to end the controversies, she finally responded to the curiosity of fans.
In an Instagram video, she claimed it to be an early April Fool's Day Prank, and he was the first person to come on her mind for the prank she made a headline with.
It seems she experimented a new way to promote her new music video. Her main motive behind the scene was evidently achieved, as her new music video hit the headlines as per her expectation. She explained her prank as,
"All the smarties know to start f***in with people now for a successful April fool. Hell I started months ago."
Isn't Jesica cruel for playing with her fans' emotions like that? Surely, her fans ought to forgive her for toying with their feelings.
Engaged Or Married? No Shortage Of Husband Prospect
Her relation with her "prank husband" sounded like a well-made play, and despite that, she has not yet talked about being married and her future husband.
However, in the past, she was involved in a seven-month-long romantic relationship with Rugby player Thom Evans, which ended back in 2013. Also, she was dating the Olympic Skier Jeremy Bloom for a year before calling it to quit in March 2013.
Her ex-boyfriend Jeremy is now engaged-to-be married or so did his 2nd April 2015 Instagram post would make the fans believe. Her former boyfriend indicated that he was indeed turning a new leaf by committing to his yet-to-be-identified fiancee.
Not surprisingly though, the former Olympian later revealed that the announcement was nothing but a - you guessed it - a harmless prank on April Fool's Day. Maybe, Jessica's playful nature rubbed off on him during their time together.
Read Also:- Actress Lucy Walters Wiki: Age, Height, Net Worth, Boyfriend, Ethnicity
As of now, she is not engaged in any romantic relationship. But she has a best friend named Jamie Shepherd whom she regards as the "favorite human" on earth. On the 30th birthday of Jamie, she wished him via Instagram back on 26 July 2018 sharing the video which included their adorable memory. She wrote:
Happy 30th Birthday to my best friend/favorite human on earth @jayshepshep! I love you so much and thank God every day for bringing you into my life! (got my first speeding ticket with Jamie while singing/dancing/driving to this song #sclubparty) 
Less than four months later, her husband-like best friend reciprocated the love on her 30th birthday. Taking to Instagram, he shared an image of the two on the bed which was accompanied by a lengthy caption. In his own words:-
"So long as you're with me for the next 30+ that's all that matters. I have spent the majority of my adult life looking at you in amazement."
Born and bred in Welsh and currently taking residence in London, Jamie is a TV Producer/Programme Editor at ITV and Channel 5.
Moving on, since she was just having fun with the prank about her engagement, her parents whom she regards as the "role-model" embarked into the 37th anniversary of their married life. She took to Instagram with the adorable picture of her parents wishing them on the 37th anniversary, writing:
"37 years later... Happy Anniversary to my amazing parents! Thank you for always showing me and teaching me what unconditional love feels like. I couldn't have asked for better role models." 
Well, she is not indulged into any dating relationship, she seems to be more concern for her career for now. In 2018, Jessica starred as Elizabeth Bennett in the Hallmark film Christmas at Pemberley Manor. Previously, she was cast as lead to portray Brie Traveston in another Hallmark movie titled Merry Matrimony.